Jon Moss had been due to take his ex-bandmates to court in a dispute over the group's earnings.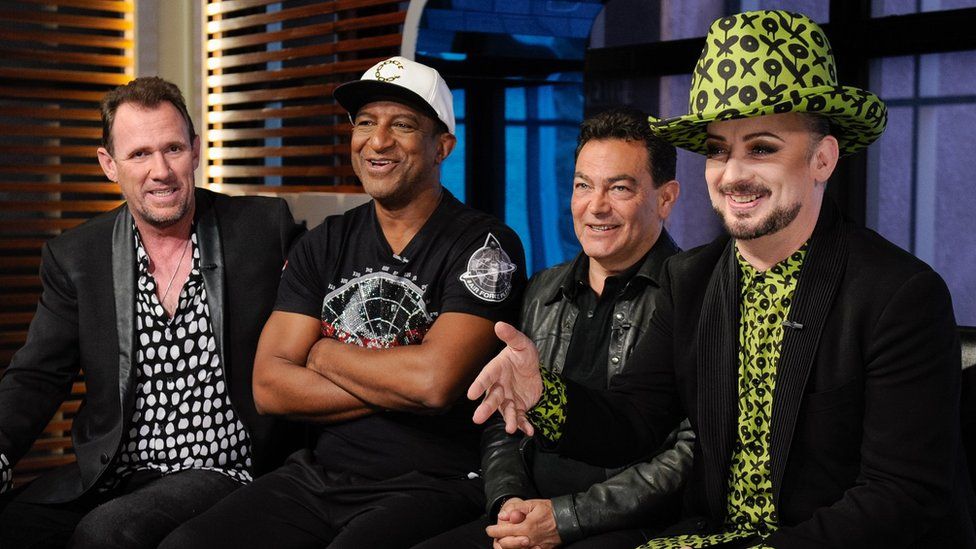 Culture Club will pay former drummer Jon Moss £1.75m to end a legal battle after he claimed they "expelled" him.
Mr Moss had been due to take his ex-bandmates to court in a dispute over the group's earnings next week.
The case will not go ahead after singer Boy George, guitarist Roy Hay and bassist Mikey Craig agreed a judgement should be made in favour of Mr Moss.
The quartet found fame in the 1980s with pop hits such as Karma Chameleon and Do You Really Want To Hurt Me?
Mr Moss took legal action after allegedly being "expelled" by the group's manager in September 2018.
A six-day High Court trial in London had been due to determine the value of the Culture Club name, the profits made by the band since Moss's alleged expulsion, and the amount he might be entitled to receive.
Boy George, whose real name is George O'Dowd, Mr Craig and Mr Hay were all previously defending against Mr Moss's claims.
But a court order published on Tuesday said the band had agreed to end the dispute, and are required to pay Mr Moss £1.75m immediately.
It also said the drummer had agreed to relinquish any right to the Culture Club name and its use, including in connection with concerts and merchandise.
Tour claim
Mr Moss and Boy George were romantic, as well as musical partners in the band's early days, but later fell out.
The group reunited in 2014 but Mr Moss has said he was fired during the Life tour in 2018.
The High Court trial had also been due to cover Mr Moss's additional claim that he was owed an "outstanding balance" of $246,000 (£201,000) under the terms of a band agreement for the tour.
He claimed Boy George "conspired to defraud" him over the tour money and that funds were released to a US company which he stated was controlled by the singer. The company, You Give Me Life, and another, Other Places Drama, were also named as defendants in the case.