Councils say government plans for consistent waste policies across England could be unworkable.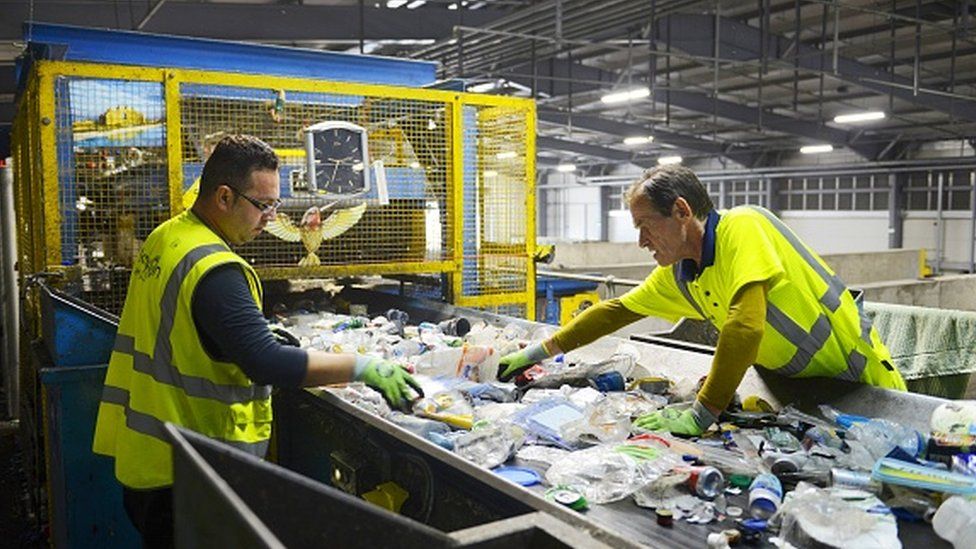 The UK government's plans to introduce consistent waste collection policies across England could prove chaotic and unworkable, councils have warned.
The details of major government reforms to waste collection in England are expected to be confirmed soon.
The changes could see councils ordered to arrange the separate collection of six types of recyclable waste.
The government said standardisation will increase recycling rates and simplify waste management.
But council leaders told the BBC the changes could backfire, with one saying it would be "madness" to force local authorities with different needs to collect waste in the same way.
Peter Fleming, the Conservative leader of Sevenoaks District Council in Kent, said the reforms would mean more bin lorries on the roads and do nothing to encourage household waste reduction through behavioural change.
"The idea that standardisation – a national bin service – is the way forward makes absolutely no sense," he told the BBC.
Waste management is largely a devolved matter in the UK, with the administrations in Scotland, Wales and Northern Ireland setting their own policies.
At the moment, councils in England have discretion over how and when waste is collected from households and businesses.
But last year, the government passed a new law that required a consistent set of recyclable waste materials to be collected separately from all households and businesses.
Local authorities will be required to collect the recyclable waste streams separately unless it is not technically or economically practicable, or there is no significant environmental benefit in doing so.
The Environment Act, which became law in 2021, also requires that food waste collection must take place at least once a week.
The government also wants councils to collect garden waste for free, but give them the right to charge for this beyond the basic service.
Progress on recycling across the UK has been slower in recent years, with the rate in England hovering around the 45% mark since 2015.
The UK government has committed to meet a 65% municipal recycling rate by 2035.
In 2021, the Department for Environment Food and Rural Affairs (Defra) ran a public consultation on the best way to use its waste collection powers under the Environment Act.
The BBC has been told councils expect the government to release its long-awaited response to the consultation this week. A Defra source did not deny this but would only say the response would be published "in due course".
The consultation says the government expects councils to start implementing these new waste policies this year.
Cost concerns
The proposals in the consultation would cost more than £465m per year for the first seven years of implementation, according to research by the District Councils' Network, a lobby group.
The government has said it would "fully fund" all new waste collection burdens on local authorities.
Given the pressure on council budgets, "it is essential that the full implementation and running costs of any changes are reimbursed", a spokesperson for the District Councils' Network said.
The spokesperson said they were concerned about the reforms and "their potential to reduce local freedom to deliver services that work in the best way for our communities".
Those concerns were echoed by Sarah Nelmes, the leader of Three Rivers District Council in Hertfordshire.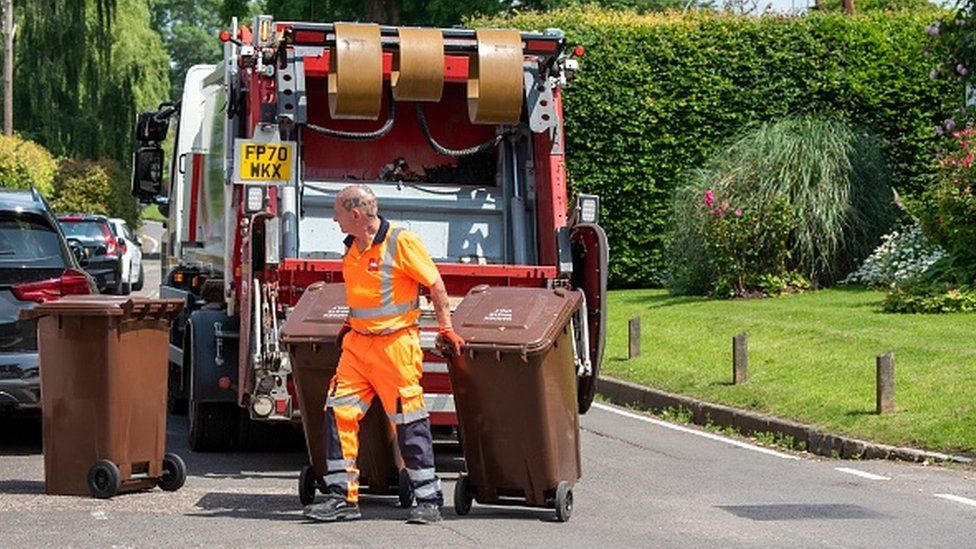 Three Rivers says its residents currently recycle 63.5% of their waste and the council is consistently near the top of the league table for recycling in England.
"Our residents do the recycling, we just make it easy for them," Ms Nelmes said. "If we change the rules, some people just won't bother. If I had to have another three boxes, would I recycle?"
She said if the changes go ahead as planned, there may be "hidden costs" for councils and "bottlenecks" as they scramble to buy new bin lorries and expand depots.
"I'm concerned it will be chaos because everybody will be trying to do the same thing at the same time," she said.
"If every council in the country is having to buy different bins, that's not going to work great."
Recycling complexities
Following the outcome of this consultation, Environment Secretary Therese Coffey will specify the types of materials to be collected within each recyclable waste stream, in new regulations.
Charlotte Paine, who leads South Holland District Council's operational services, said collecting recyclable materials separately was appealing, in principle.
"But trying to say that has to be done in a particular way just will not work given the complexities of different areas," she said.
"Much depends on where your waste goes, your local recycling facility, and how well they can deal with that. That's where this consistency is going to fall down."
Mr Fleming questioned the environmental benefits of forcing councils to buy more plastic bins and expanding waste collection operations.
He said: "In a place like mine, where the majority of people don't live in the towns, why should we be running 26-tonne diesel vehicles all over the countryside to pick up Mrs Miggins's jam jar, or a bit of peeling from her potatoes?
"This does feel like some kind of zealot in Defra pushing this through. And I'm not sure they'll achieve the environmental outcomes they're looking for."
A Defra spokesperson said the reforms to waste management would "make recycling easier and ensure that there is a comprehensive, consistent service across England".
"This will help increase recycled material in the products we buy and boost a growing UK recycling industry," the spokesperson said. "We have held a public consultation on the proposed changes and will announce further details shortly."