A think tank examined what wages might be if the growth seen before the 2008 crash had not fallen away.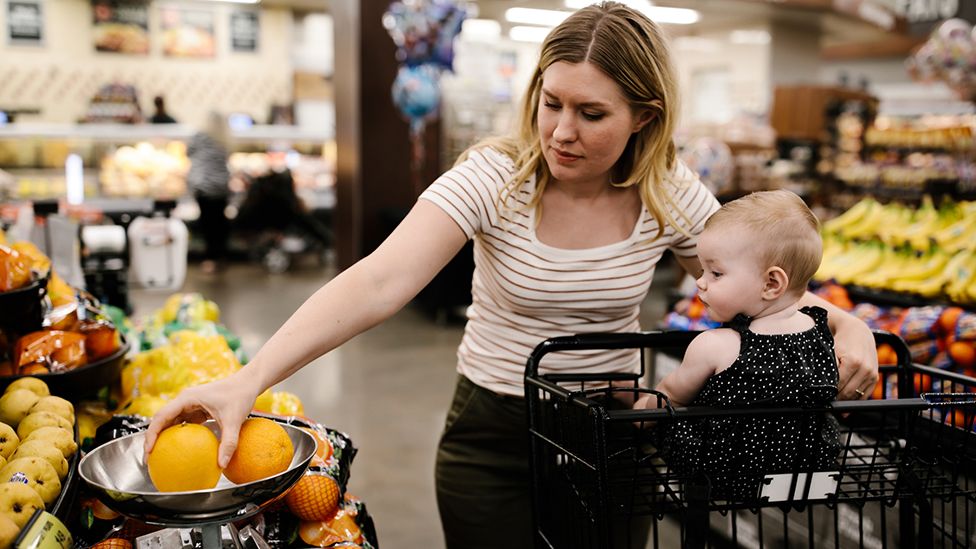 Fifteen years of wage stagnation has left British workers £11,000 worse off a year, according to research shared exclusively with BBC Panorama.
The Resolution Foundation, which focuses on low-to-middle income families, examined what wages might be today if growth seen before the 2008 financial crisis had not fallen away.
It also found typical UK household incomes have fallen further behind those in Germany. In 2008, the gap was over £500 a year, now it is £4,000.
But the Treasury says the economy is more resilient than many predicted.
In his Budget speech last week, Chancellor Jeremy Hunt acknowledged there is still enormous pressure on people's finances.
In recent months, wages have failed to keep up with rising costs, meaning that millions of Britons have, in effect, had a pay cut.
But experts have told Panorama that problems with incomes go much further back.
The Resolution Foundation calculated that had wages continued to grow as they were before the financial crash of 2008, the average worker would make £11,000 more per year than they do now, taking rising prices into account.
And Ipsos polling of more than 6,000 adults suggested that two-thirds of them think the economy is going to get worse in the coming year.
Lower wages than our neighbours
At the Budget, Chancellor Jeremy Hunt said that inflation, which measures how prices change over time, "destroys the value of hard-earned pay".
The government argues that problems with living standards are the result of rising prices, which have been driven up by the war in Ukraine and the legacy of Covid.
But the roots of the cost-of-living crisis go deeper.
In fact, what are known as "real wages" haven't seen sustained growth for 15 years.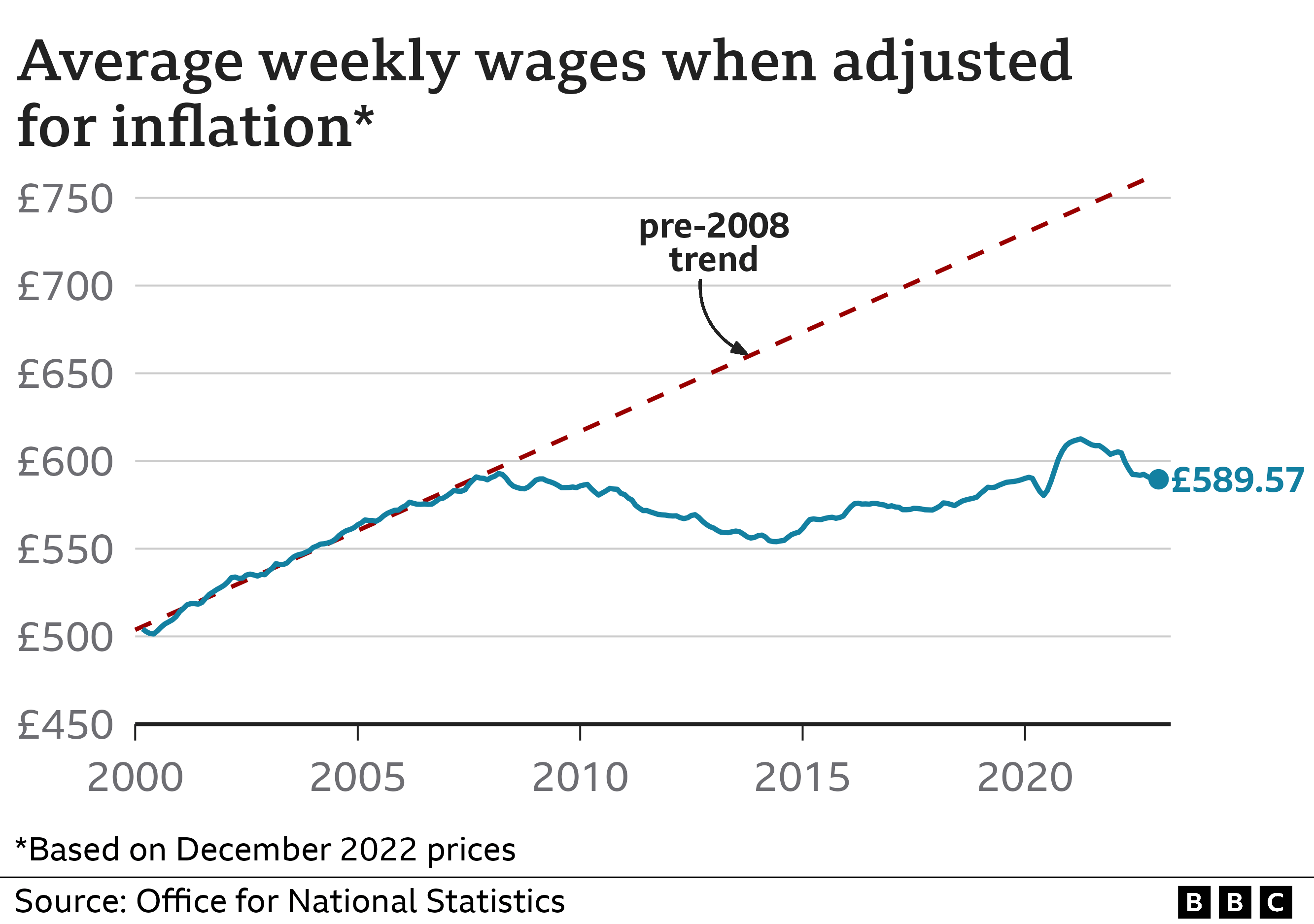 Torsten Bell, chief executive of the Resolution Foundation, says that the wage stagnation of the past decade and a half is "almost completely unprecedented".
"Nobody who's alive and working in the British economy today has ever seen anything like this.
"This is definitely not what normal looks like. This is what failure looks like," he added.
Xiaowei Xu, senior research economist at the Institute for Fiscal Studies think tank, describes this as an "absolutely massive difference in living standards" that ends nearly 60 years of consistent growth.
The online polling of 6,189 adults conducted by Ipsos in February suggests that one in four people are struggling on their current income, and nearly half are worried about their financial situation.
British wage stagnation has also meant the UK is not keeping up with its neighbours – as the comparison between typical household incomes in the UK and Germany by the Resolution Foundation shows.

Ros Atkins asks whether we are getting the full story about the scale of the challenges facing the UK economy.

The productivity problem
So what's behind this stall in wage growth? Economists say the key to increasing wages is productivity – a measure of workers' output.
"Productivity is how much you produce with a unit of labour or with a machine," says Dr Mohamed El-Erian, a former deputy director of the International Monetary Fund and president at Queens' College Cambridge.
"The more you can produce, the more you get rewarded for it."
The UK has lower productivity than countries such as France and Germany, and the gap is getting bigger.

Since the financial crash of 2008, many countries have struggled to increase productivity. But the UK has struggled more than most.
It averages growth of 0.4% a year, well below the average of developed nations. One reason for that is the make-up of the UK economy.
Services, like finance, retail, hospitality and leisure, make up 80% of our economy. It is traditionally harder to increase productivity in these areas.
But that's not the only factor. Our slow productivity growth is partly down to decades of low investment.
A failure to invest
One commonly-accepted way to increase productivity is by increasing investment.
New technology, machinery, buildings and skills are all ways to boost the amount that workers can achieve.
Panorama visited Callestick Farm in Cornwall which recently invested more than £1m in order to make more ice cream – part of a new deal with Marks and Spencer.
New equipment, including a spiral freezer that chills ice cream much more quickly, has tripled the amount they make every day. More ice cream per day means more ice cream for sale.
It's a productivity boost that can lead, in the long term, to more cash for pay rises. It shows the difference that investment can make, whether in new equipment, infrastructure or training.
But the UK has historically failed to invest as much as it could.
On average, capital investment has only been worth 16% of the total value of the economy in the years since 1997.
That's the lowest proportion of any developed country in that period.
Prof Diane Coyle of Cambridge University told Panorama: "A lack of investment over decades has held back the economy, and made the UK less resilient than comparable countries to shocks like Brexit, Covid and the invasion of Ukraine."
What effect has Brexit had?
Since 2020, the government has increased its own investment, but business investment hasn't kept up. A big part of that story is what has happened since the Brexit referendum.
The Office for Budget Responsibility, the government's independent watchdog, says that since the UK's vote to leave the European Union in 2016, business investment in the UK has "stalled".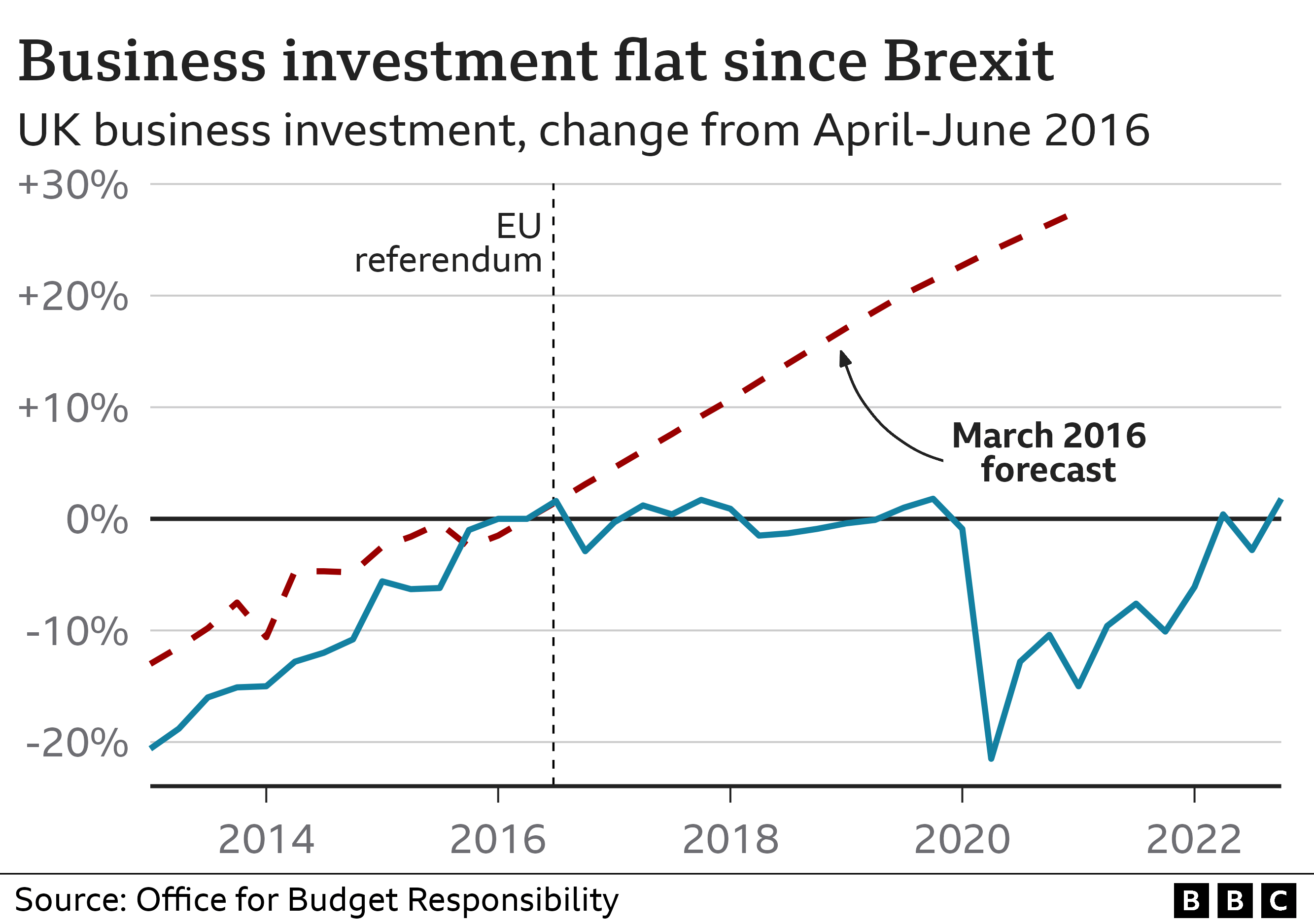 They say that while shocks, including the pandemic and energy price rises, have hurt investment everywhere, UK investment "has continued to underperform relative to other G7 countries".
Since 2016, as well as Covid and the war in Ukraine, there have been five prime ministers, years of uncertainty over Brexit, and the financial turmoil of Liz Truss's leadership.
"Any economist would tell you the number one thing you can do to incentivise business investment, and therefore drive growth, is to have stability and certainty and strong institutions," says Tim Pitt, a former senior adviser to Conservative chancellors Sajid Javid and Philip Hammond.
"We seem to have gone out of our way over the past few years to undermine some of those things."
The government says Brexit is a long-term plan. When he became prime minister, Rishi Sunak spoke of "building an economy that embraces the opportunities of Brexit".
That is a question for the future, but right now business investment in the UK is low compared to other developed economies.
That's been true for years, and it's been exacerbated in the short term by Brexit.
Your device may not support this visualisation
At the Budget last week, the chancellor didn't deny the UK has problems that need addressing.
When Panorama put its findings to the government, a Treasury spokesman said the government was increasing incentives for investment and pointed to low unemployment – and its plan to increase growth – as signs the country was on the right track.
But what remains to be seen is if the plan can match the scale of the problem.
Additional reporting by Sachin Croker and Lora Jones


How are you coping with the rising cost of living? Share your experiences by emailing haveyoursay@bbc.co.uk.
Please include a contact number if you are willing to speak to a BBC journalist. You can also get in touch in the following ways:
If you are reading this page and can't see the form you will need to visit the mobile version of the BBC website to submit your question or comment or you can email us at HaveYourSay@bbc.co.uk. Please include your name, age and location with any submission.