He has just returned to BBC sports coverage after being taken off air in an impartiality row.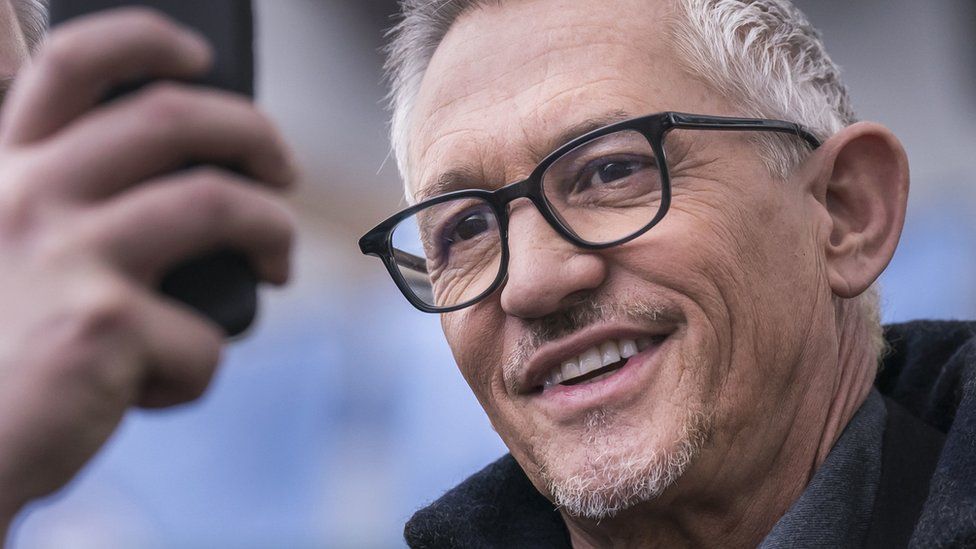 Gary Lineker will not present FA Cup quarter-final coverage as planned on Sunday after losing his voice.
He had returned to BBC football shows on Saturday, having been taken off air following an impartiality row with the BBC.
Alex Scott will present instead as Brighton face Grimsby, the BBC said.
Lineker could be heard struggling with his voice on Saturday's live coverage of Manchester City v Burnley, and it deteriorated overnight.
On Monday the BBC said it would hold an independent review of its social media guidelines, particularly for freelancers like Lineker.
But they said the 62-year-old could return in the meantime.
The row followed a critical tweet Linker sent on the government's asylum policy, describing it as an "immeasurably cruel policy directed at the most vulnerable people in language that is not dissimilar to that used by Germany in the 30s".
As a result, the BBC took him off air saying that he had broken social media guidelines. Last weekend's Match of the Day was then broadcast without presenters or commentary and was only 20 minutes long after many of Lineker's BBC Sport colleagues walked out in solidarity with him.
When he returned to TV screens for Saturday's quarter-final, he said it was "great to be here".
At the start of the programme, his BBC Sport colleague Alan Shearer acknowledged it had been a "difficult situation for everyone concerned" and it was "good to be talking about football again".
But Lineker stressed on Twitter that he was never going to present Match of the Day this weekend, with Mark Chapman taking on that role instead. Instead, he was focusing on the FA Cup games.
BBC director general Tim Davie has said he is committed to looking at how the corporation's impartiality guidelines apply to freelance staff, accepting there are "grey areas".