Italy's right-wing government prompts an outcry by halting registration of children of same-sex parents.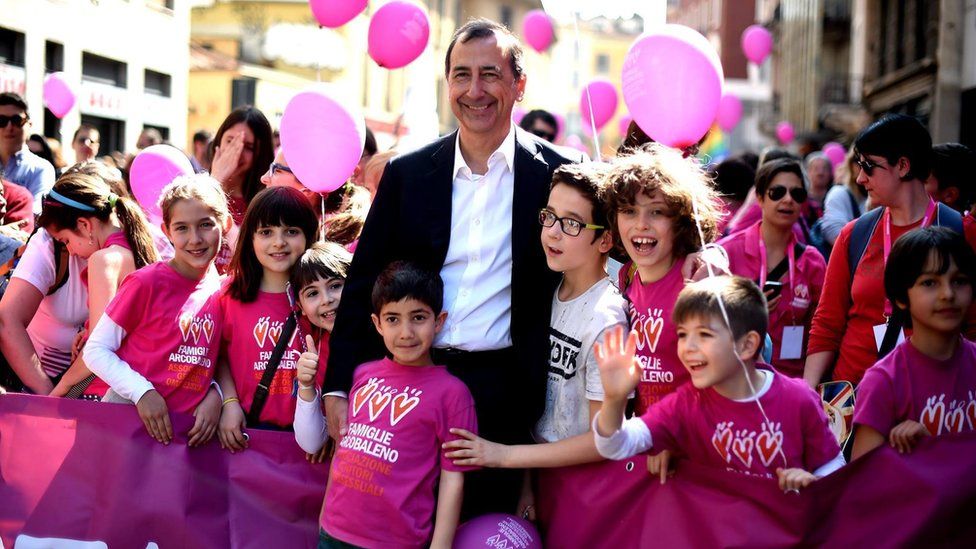 In 2018, Maria Silvia Fiengo and Francesca Pardi were among Italy's first same-sex couples to be registered as parents.
The mayor of Milan, Giuseppe Sala, took a progressive stance and allowed children born to parents of the same gender to be acknowledged in the absence of clear national legislation.
For Maria Silvia and Francesca – and their four children Margherita, twins Giorgio and Raffaele, and Antonio – being finally recognised as a household after years of legal challenges and discrimination was "truly incredible".
This week, however, what was then seen as a major victory for equality and acceptance by the LGBT community was reversed.
Italy's right-wing government instructed Milan's city council to stop registering the children of same-sex parents, reigniting a debate around Prime Minister Giorgia Meloni's conservative agenda.
Families, activists and political opponents are to protest against the ban in Milan on Saturday.
Ms Meloni, who leads the far-right Brothers of Italy party, made anti-LGBT rhetoric a cornerstone of her electoral campaign, promising to protect traditional values.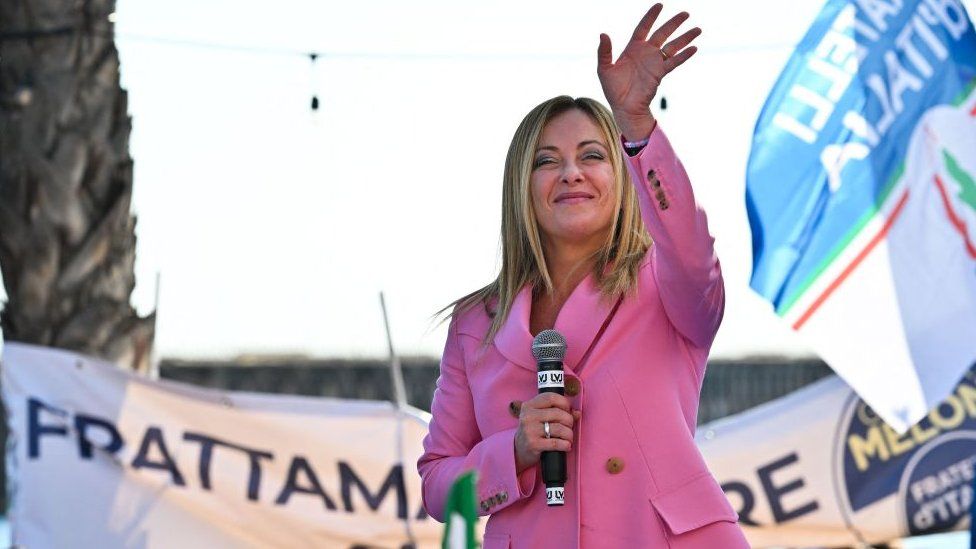 "We were always a family, but being officially recognised as such by our own mayor made us feel welcome," said Maria Silvia Fiengo. "Today, looking at what the government is doing, and knowing that other families won't be able to have the same opportunity, we feel discouraged."
Italy legalised same-sex civil unions in 2016 under a centre-left government.
However, stiff resistance from Catholic and conservative groups meant that the law stopped short of granting adoption rights to same-sex couples as well. Opponents said it would encourage surrogate pregnancies, which are still illegal in Italy.
That left a regulatory vacuum surrounding several aspects of LGBT family life, including adoption. Solutions aimed at getting around bureaucratic hurdles were reached on a case-by-case basis, as cases went to court.
Some local administrators, including the centre-left mayor of Milan, decided that children of same-sex couples would be registered independently.
Mr Sala has now announced he has been forced to halt the practice after he was sent a letter by the interior ministry. It cited a ruling by Italy's highest court requiring court approval for legal recognition of parental status.
"It is a clear step backwards, politically and socially, and I put myself in the shoes of those parents who thought they could count on this possibility in Milan," said the mayor in his daily podcast Buongiorno Milano, adding that he was left with no other choice.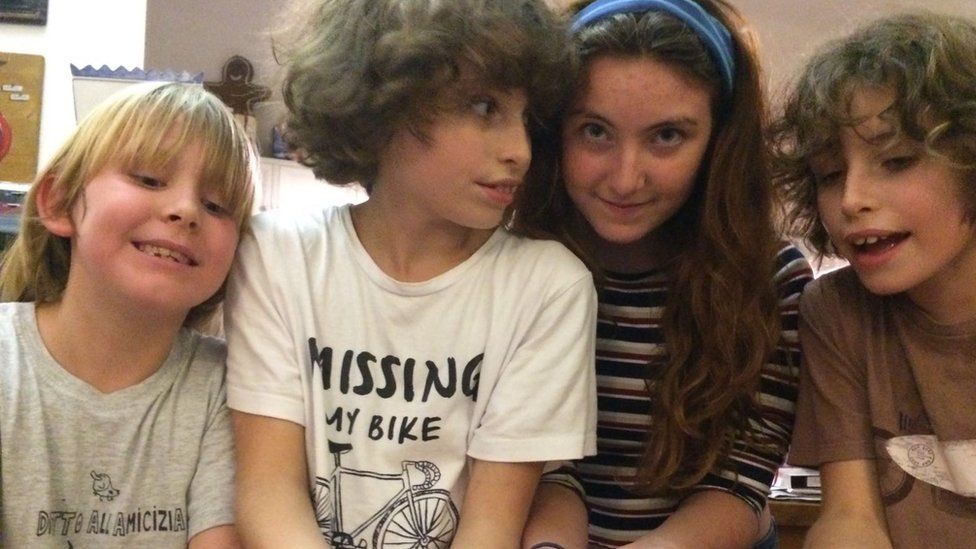 Children who are denied the right to have both parents recognised on their birth certificate are left in a legal limbo.
Their families face a range of challenges. In the most extreme scenario, if the legally recognised parent were to pass away, the children could become wards of the state and face the prospect of being orphaned.
In Italy's LGBT community, this has led to a growing sense of frustration and anxiety, while the Meloni government's hostile approach to LGBT rights has further exacerbated the issue.
"Children end up having limited access to key services and benefits, such as healthcare, inheritance and child support," said Angelo Schillaci, law professor at Sapienza University in Rome.
"At present, only one parent is recognised by law, the other one is a ghost. In real life, parents and children play together, cook together, play sports and go on holiday together. But on paper, they are apart, the state does not see them. It's a paradoxical situation."
The prime minister, elected last September, has been a vocal supporter of traditional family and Christian values, campaigning against what she calls "gender ideology" and the "LGBT lobby". Months before she came to power, she proposed a law that would make surrogacy by an Italian citizen a universal crime, and it is still on her party's agenda.
"Boys and girls with two mothers and two fathers already exist in Italy, Prime Minister Meloni should get over it," said Alessia Crocini, president of the Rainbow Families association. "We must guarantee our children the same rights as their peers."
"We feel under attack," said Angela Diomede, who will take part in the Milan rally with her wife and their six-year-old girl. "I don't understand this obsession of the government with targeting children, it doesn't lead anywhere."
Italy's Senate this week also rejected a proposal for a standardised European parenthood certificate that would be recognised across all 27 member states of the EU.
For children, it would mean proof of parenthood and for parents it would be a guaranteed right to be recognised across the EU, protecting rights such as inheritance and citizenship.
But for Italy's far-right infrastructure minister, Matteo Salvini, it was a step too far. "A person can be heterosexual, homosexual or bisexual: love is free, beautiful and sacred for all," he tweeted.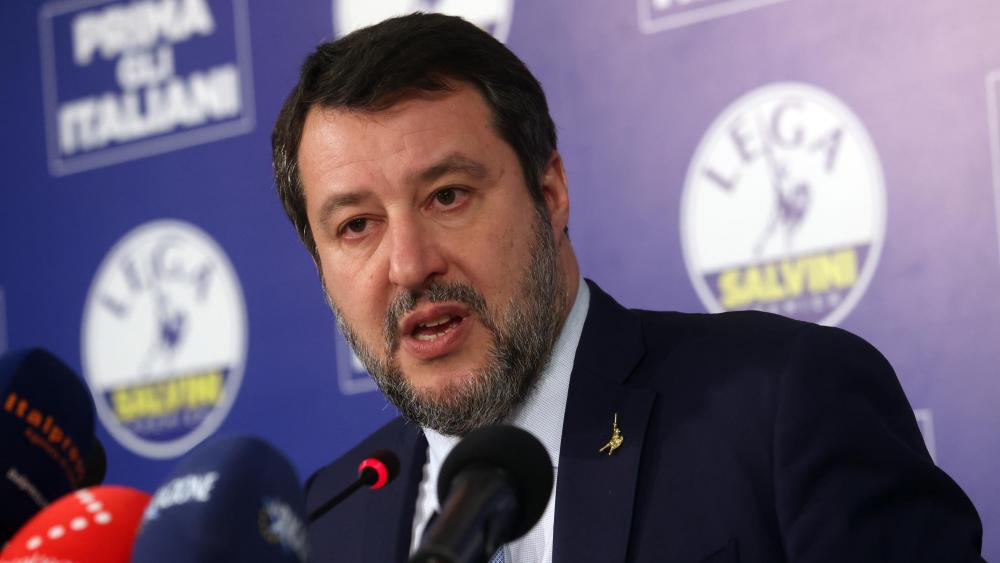 MATTEO BAZZI/EPA-EFE/REX/Shutterstock
Brussels cannot impose the concept of family on us: a child needs a mother and a father. Children are not bought, not rented, not chosen on the internet

Riccardo Magi, an opposition MP in favour of the Europe-wide certificate, complained: "The world goes one way, the [Italian] government goes the other."
The debate is being followed closely from the north-eastern city of Udine by Stefano Zucchini and his husband Alberto.
They have two six-year-old twins, who were born in California through surrogacy, and hope to be legally recognised as a family one day. In the US, they are both recognised as parents. But in Italy, Stefano is listed as a single father, and that legal status makes life complicated.
"Even things that are normal for most people, such as driving the kids to the kindergarten or to a doctor appointment, can become a challenge," he told the BBC.
"They don't see us, but our love is as strong as ever. That, for sure, exists."