The Taoiseach is at the White House for traditional St Patrick's Day reception with the US president.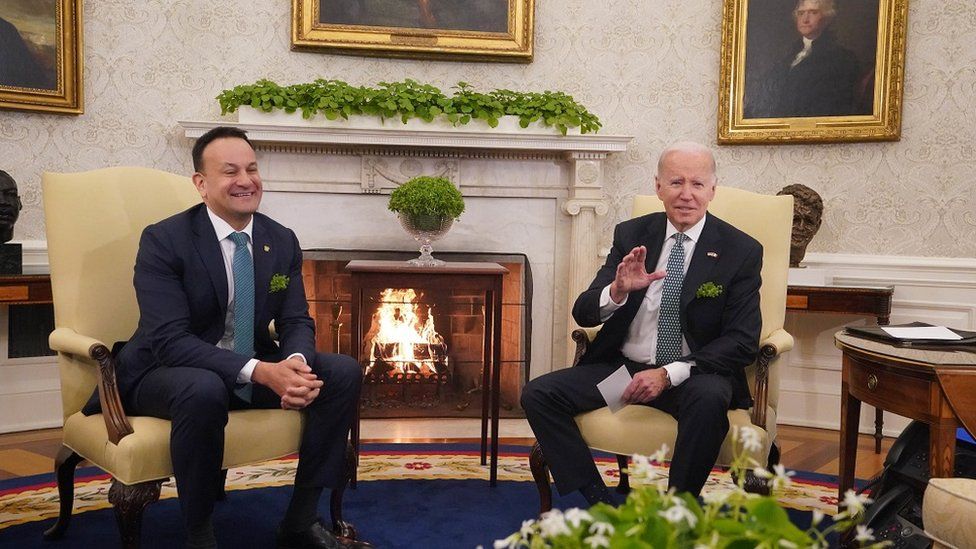 President Biden has said he will make a visit to the island of Ireland "soon".
He is hosting Taoiseach (Irish PM) Leo Varadkar at the White House as part of events to mark St Patrick's Day.
He is also set to meet the leaders of the five main Stormont parties later on Friday.
However, he has yet to confirm if he will visit Northern Ireland to mark the 25th anniversary of the Good Friday Agreement next month.
He ignored most questions from reporters during a press conference in the Oval Office but when asked about a visit to Ireland he said it would happen "soon".
He said that he reaffirmed his administration's support for the Good Friday Agreement.
"It's a vital, vital step and it's going to help to ensure that all the people in Northern Ireland have an opportunity to realise their full potential," he told Northern Ireland's political leaders during a lunch event on Capitol Hill.
On Sunday PM Rishi Sunak said he had extended an invite to the president to visit Northern Ireland to take part in events relating to the peace deal.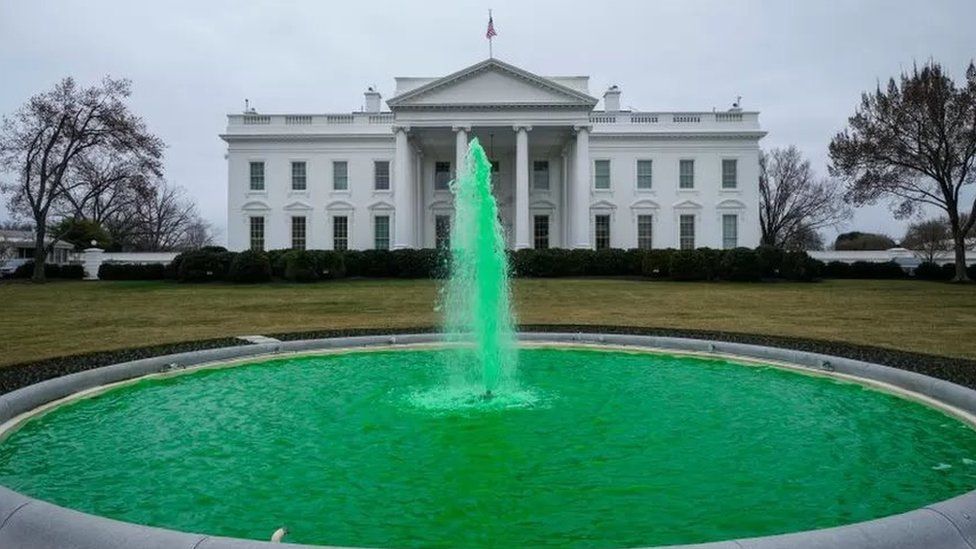 Mr Varadkar said he appreciated the "support and understanding" from the US over Brexit and the Northern Ireland Protocol in recent years.
Both leaders also thanked each other for co-operation in relation to the war in Ukraine.
Traditionally US presidents make a visit to Ireland halfway through a presidential term.
Mr Biden has made much of his Irish roots and it is expected he will make a trip covering Northern Ireland, Dublin and County Mayo, where his ancestors are from.


It all followed a familiar script.
Warm words about a warm friendship complete with log fire and shamrock bowl.
Then a barrage of questions from 50-plus reporters but not one answer.
As we were being rushed out the Oval Office door I tried again.
When are you coming to Ireland Mr President? He smiled and said "soon".
Both leaders were well warned to give nothing away.
Details of the presidential trip may emerge later or maybe not.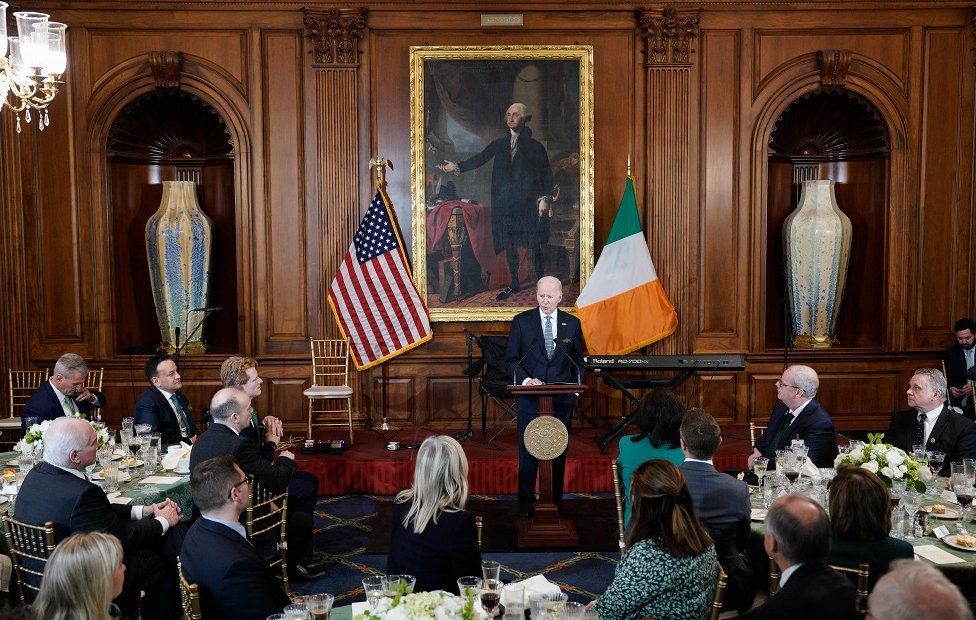 Northern Ireland political leaders, business figures and PSNI Chief Constable Simon Byrne were among those to join President Biden at the House Speaker's lunch on Capitol Hill.
"Let me say how important it was to see you standing shoulder to shoulder with Chief Constable Byrne confirming your commitment to the future following the attempted murder of Detective Chief Inspector Caldwell," said Mr Biden.
"We all have to continue to work to protect peace and stability," he added.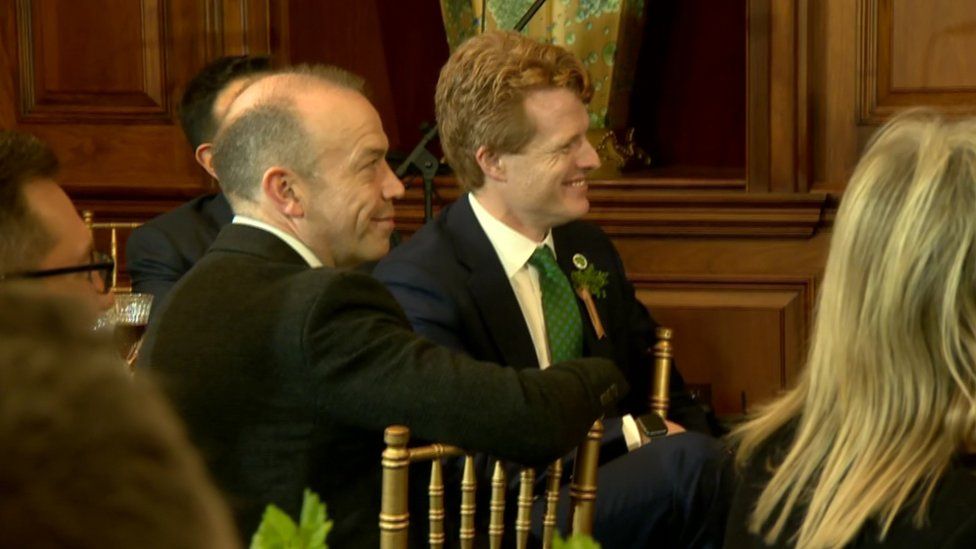 On Thursday night the taoiseach apologised for an "ill-judged" remark that was seen as a reference to the Clinton-Lewinsky scandal, made during a speech in the city.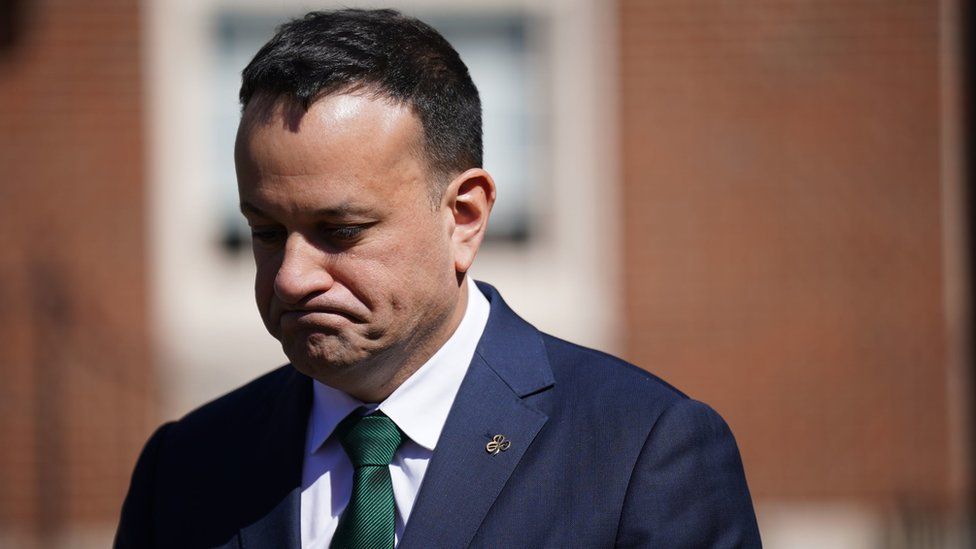 The taoiseach was making an address to the Washington Ireland Programme, which helps young people develop career skills.
He took part in the programme in 2000 and in his speech on Thursday he made reference to possible concern about being an intern at the time in the White House.
After the event a spokesperson for Mr Varadkar said "the taoiseach was reminiscing about his time in Washington DC as an intern 23 years ago.
"He made an ill-judged off the cuff remark which he regrets," said the spokesman.
"He apologises for any offence caused to anyone concerned."
Trade deal back on the table?
There has been speculation for some time that Mr Biden will make a visit to Northern Ireland next month to mark the 25th anniversary of the Good Friday peace agreement.
Former Speaker of the US House of Representatives Nancy Pelosi has she hoped that devolved government at Stormont would be up and running again by then.
She was speaking after receiving an honorary doctorate from Ulster University at a ceremony in Washington.
Last year Ms Pelosi warned the UK government against undermining the Good Friday Agreement through its actions against the post-Brexit trade rules for Northern Ireland.
She had warned that if that happened there would be no US-UK trade deal.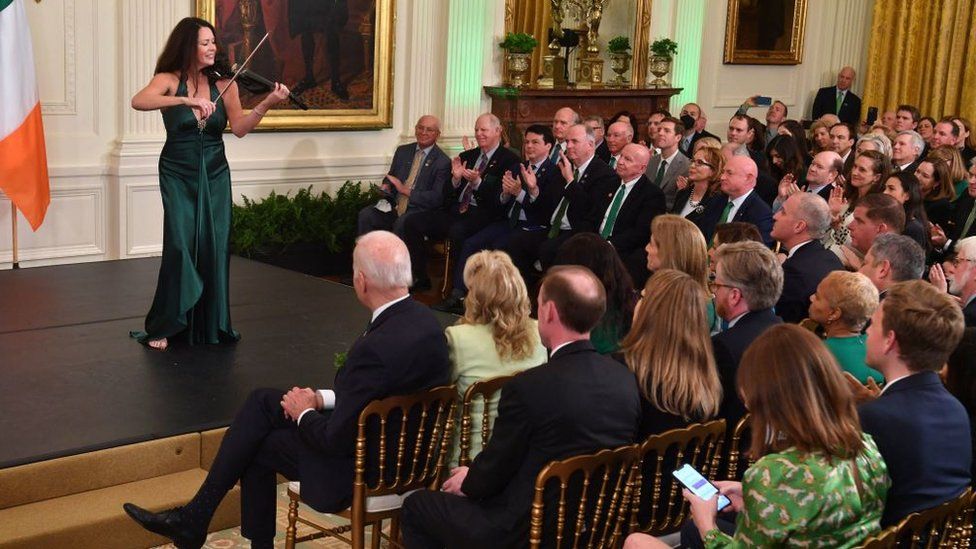 But last month a deal was struck between the UK and the EU on trading arrangements for Northern Ireland.
Ms Pelosi said she "fully supports" that agreement – known as the Windsor Framework – and that it opened up the possibility of a trade deal between the US and the UK.
The DUP has been boycotting power-sharing at Stormont over its opposition to the trade arrangements that resulted from the original Brexit deal.