The disgraced former policeman and his now-ex-wife lied about their taxable income between 2014 and 2019.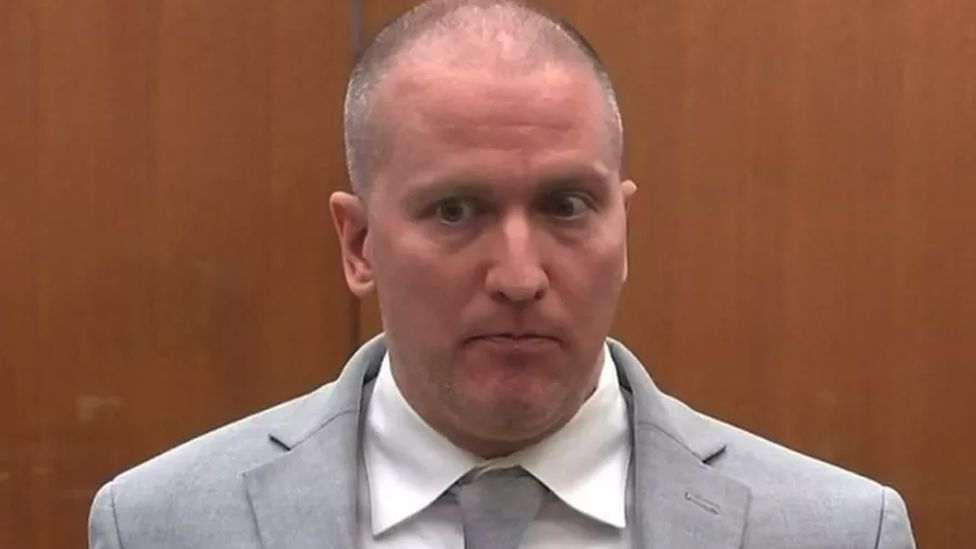 Ex-Minneapolis police officer Derek Chauvin, who is serving a 22-year sentence for killing George Floyd, has pleaded guilty to tax fraud.
He admitted to two counts of aiding and abetting tax fraud, after he and his now ex-wife underreported their taxable income between 2014-19.
Chauvin was sentenced to 13 months in prison and ordered to pay restitution.
The May 2020 killing of Floyd, an unarmed black man, led to mass protests around the United States.
Chauvin and his ex-wife, Kellie May Chauvin, were charged with tax crimes shortly after Floyd's killing.
She pleaded guilty to the same charges last month, and is expected to be sentenced to community service at a hearing in May.
The disgraced ex-officer entered his plea on Friday in a virtual hearing from a federal prison in Tucson, Arizona.
Chauvin worked part-time security jobs that were separate to his work as a police officer, and failed to report to tax officials over $95,000 (£78,000) in cash payments that he received for the work.
Kelly Chauvin, who filed for divorce after murder charges were announced, worked as a real estate agent and ran a photo business.
The charges cover a time period when they were married and filing taxes jointly.
According to the Minneapolis Star Tribune newspaper, officials began to suspect tax fraud after interviews with Chauvin's father, an accountant who prepared his 2014-15 taxes.
One day after tax documents were taken from Chauvin's home by detectives, Kellie Chauvin called his husband in jail to say that investigators were looking into their tax returns.
Chauvin suggested they get help from the person "who we have used to handle for many years", the newspaper reports.
She responded: "Yeah, well we don't want to get your dad involved because he will just be mad at me, I mean us for not doing them for years."
The probe uncovered that the Chauvins did not report their entire income in 2014 and 2015, and did not file tax returns at all in 2016, 2017, or 2018.
The couple ultimately failed to pay more than $20,000 and have been ordered to pay state tax officials nearly $38,000 in restitution.
Friday's sentence will run concurrently with the murder conviction, as well as Chauvin's later 20-year sentence for violating Floyd's civil rights during the murder.