Unions urge nurses, ambulance staff and other members to back deal including a one-off payment.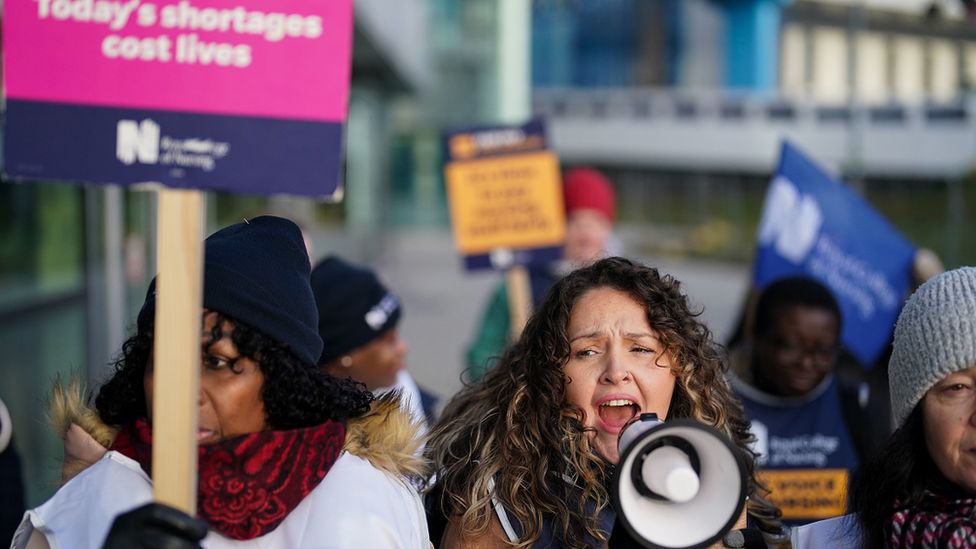 A 5% pay rise from April has been offered to NHS staff in England, including nurses and ambulance workers.
In addition, staff have been offered a one-off payment of at least £1,655 to top up the past year's pay award.
Unions are recommending members back the deal after nearly two weeks of talks with ministers, raising hopes the bitter dispute may be coming to an end.
The offer covers all NHS staff except doctors, who are on a different contract.
Health Secretary Steve Barclay said it was a "fair pay rise" which would also protect the government's commitment to halve inflation.
"I hugely admire the incredible work of NHS staff. I look forward to continuing our work together to make the NHS a better place to work."
He said there had been movement on both sides and praised the "constructive engagement" of the unions.
'Shame it took so long'
Fourteen unions were represented at the talks covering nurses, ambulance staff, physios, midwives and support staff, including cleaners and porters.
The biggest three – the Royal College of Nursing, Unison and the GMB – have all said they are backing the deal.
Unite has said it cannot recommend it to members, but it will put it out to vote.
Unison head of health Sara Gorton said: "It's a shame it took so long to get here.
"Health workers had to take many days of strike action and thousands more had to threaten to join them to get their unions into the room and proper talks underway."
She said if her members accepted the deal it would meant a "significant" boost in pay.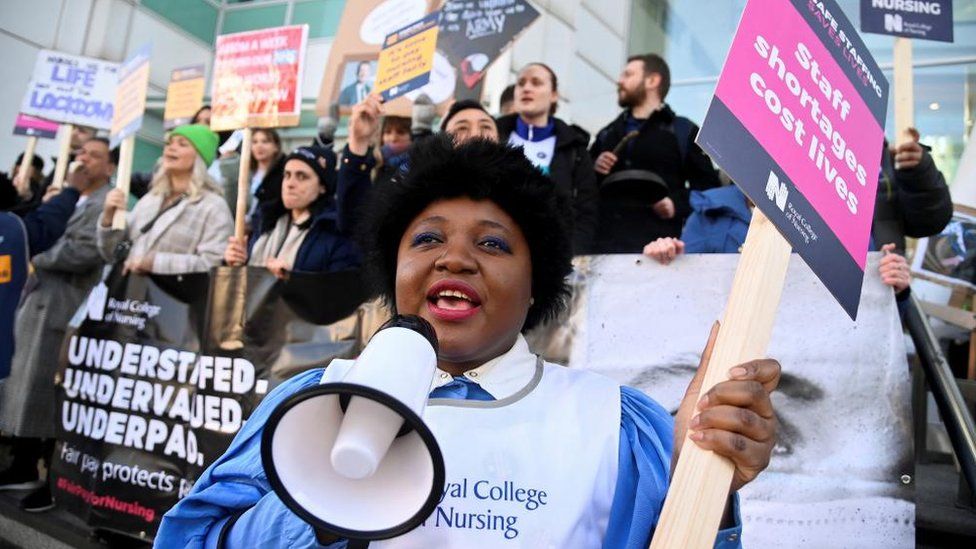 RCN general secretary Pat Cullen added: "Members took the hardest of decisions to go on strike and I believe they have been vindicated today."
It comes after a winter of industrial action which has seen nurses, ambulance staff and physios all go on strike.
The unions put further action on hold after the two sides agreed to enter discussions last month.
'Sigh of relief'
NHS staff have seen a pay rise by an average of 4.75% during 2022-23 – with the lowest paid getting the biggest rises – but unions had been asking for above-inflation rises – which at one point would have equated to an increase of more than 14%.
The one-off payment to top up that pay award starts at £1,655 for the lowest paid staff such as cleaners and porters and rises to just over £2,400 for the most senior frontline roles, such as nurse consultants. For staff in management positions such as directors of nursing and chief finance officers the one-off payment is worth up to £3,789.
An offer of 3.5% from April for the 2023-24 financial year had been suggested originally by the government, but during the talks ministers agreed to increase this to 5%. The lowest paid will get more.
Matthew Taylor, of the NHS Confederation, which represents managers, said health leaders will "breathe a sigh of relief".
"We now await the decision of union members."
He also urged the British Medical Association to enter talks – junior doctors took part in a three-day walkout this week in their fight to get a 35% pay rise.
They say this is needed to make up for below-inflation wages rises over the past 15 years.
Ministers have offered talks to the BMA on the same basis as they have held the with the other unions, but the BMA has said no.
Ministers have said the junior doctors' pay demands are unaffordable.