Harvey Borrington was non-verbally autistic and therefore could not tell of Leila Borrington's abuse.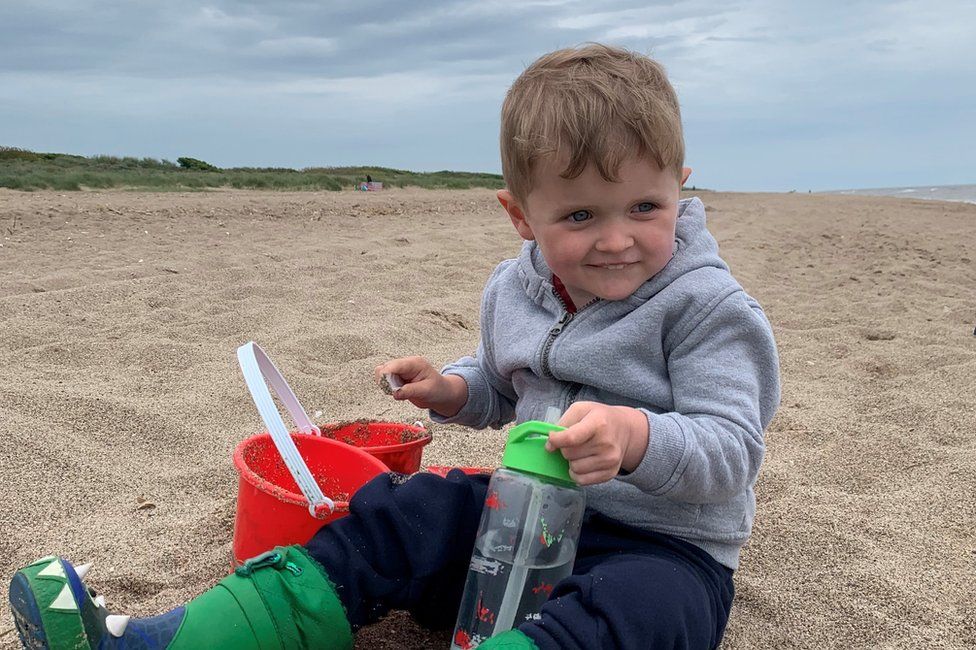 A woman who killed her disabled three-year-old stepson and filmed him as he lay dying has been given a 15-year prison sentence.
Harvey Borrington died from head injuries including a fractured skull and a bleed on the brain.
Nottingham Crown Court heard Harvey was non-verbally autistic and could not tell his mother he was being abused.
The prosecution said the 23-year-old struck Harvey several times to the head at her home in Nottinghamshire in August 2021.
She then filmed him lying unconscious on the floor and sent the video to Harvey's father, with a text saying: "Why does this happen to me?"
She did so before she called 999 for an ambulance, and then lied to paramedics when they arrived, claiming Harvey had fallen and hit his head.
Harvey's biological mother, Katie Holroyd, cried as she told the court: "To this day I can't bear to think of him lying on that floor with him dying and her filming him, delaying getting medical help for him."
The video, shot on Borrington's phone, showed her taking Harvey's left arm, lifting it up and letting it drop loosely to the floor.
She then continued to film as he lay not moving on the living room floor.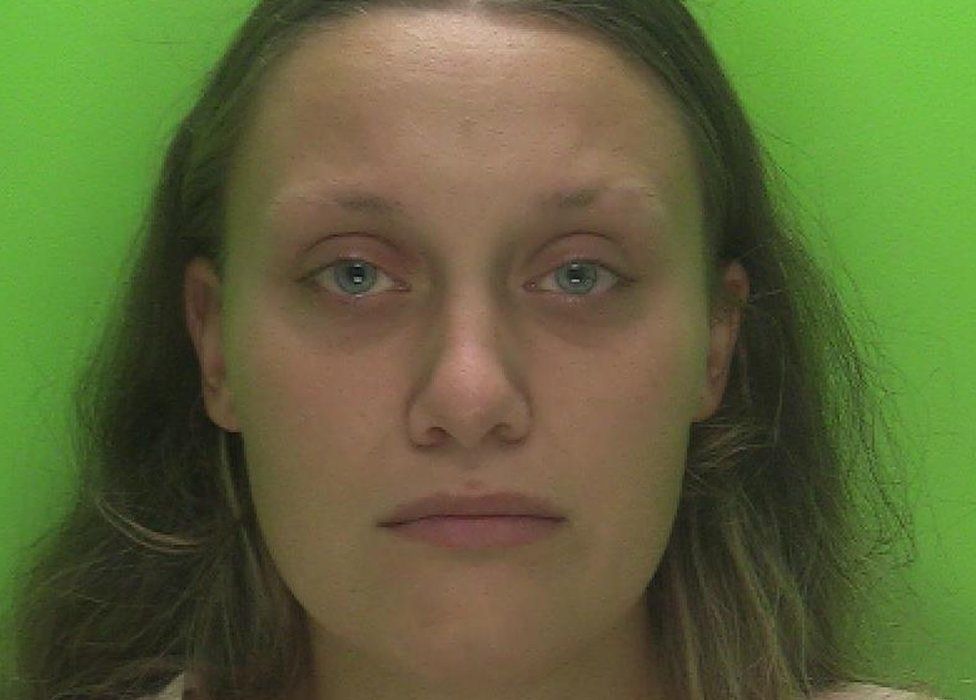 Borrington assaulted Harvey at her home in Main Road, Jacksdale, which she shared with Harvey's father.
She inflicted the fatal injuries on 7 August 2021 and he died in hospital two days later.
The court heard Harvey was killed following a history of abuse by Borrington.
Jonas Hankin KC, prosecuting, said Harvey's age and disability made him vulnerable, which were aggravating features.
"He was severely non-verbally autistic," Mr Hankin said.
"His challenging behaviour demanded greater empathy and kindness from his carers. It cannot justify the defendant's offending in any way."
Borrington told the trial she had never harmed Harvey, maintaining he had fallen off a sofa and banged his head.
However, an expert witness called by the prosecution said she believed Harvey had died as a result of "direct blunt force trauma", sustained after Borrington assaulted the youngster.
'A recurring nightmare'
Sentencing Borrington, Mr Justice Nicklin told her: "Precisely what happened to Harvey only you know, but by their verdict the jury were sure that your account of Harvey having fallen, hitting his head on the floor, was not the truth or at least not the full truth.
"The jury's verdict shows they were sure you had assaulted Harvey, causing the very serious head injuries that led to his death."
Borrington was also convicted of inflicting grievous bodily harm for previously breaking Harvey's arm, and assault occasioning actual bodily harm for an incident in which she squeezed his cheeks.
She was given a two-year prison sentence and a six-month term for these offences, to be served concurrently with her manslaughter sentence.
He also said she would serve two-thirds of the 15-year sentence in prison before being released on licence.
Harvey's mother described him as "my world" and a "treasured grandson" to her parents.
"To have it confirmed that Harvey before his death had been assaulted by Leila Borrington will be a life-long trauma for me, a recurring nightmare which I will never be able to wake from," she told the court.
She cried as she explained that her son's disability meant he could not tell her about the abuse being inflicted by his stepmother.
"He couldn't tell me he didn't want to go [to stay with Borrington]," she said.
An NSPCC spokesperson said the case "highlighted the vulnerability of young children and those with disabilities, who are entirely dependent on those who care for them and are at increased risk of abuse".
'Disturbing and upsetting'
Dona Parry-Jones, a senior crown prosecutor at CPS East Midlands, said Harvey had "died at the hands of someone who should have been there to care for him and nurture him".
Det Insp Simon Harrison, of Nottinghamshire Police, said the case had been "disturbing and upsetting" to work on.
"The death of any child is a tragedy, but there is something especially awful about cases of this nature," he said.
"As a police officer I am pleased that justice has now been done, but I am aware that no custodial sentence can adequately reflect the pain and anguish felt by Harvey's family.
"My thoughts, and the thoughts of my colleagues, remain with them today."

Related Internet Links
The BBC is not responsible for the content of external sites.