Shirley Lyons says she felt unsafe after a colleague at Starplan sexually harassed her in 2017.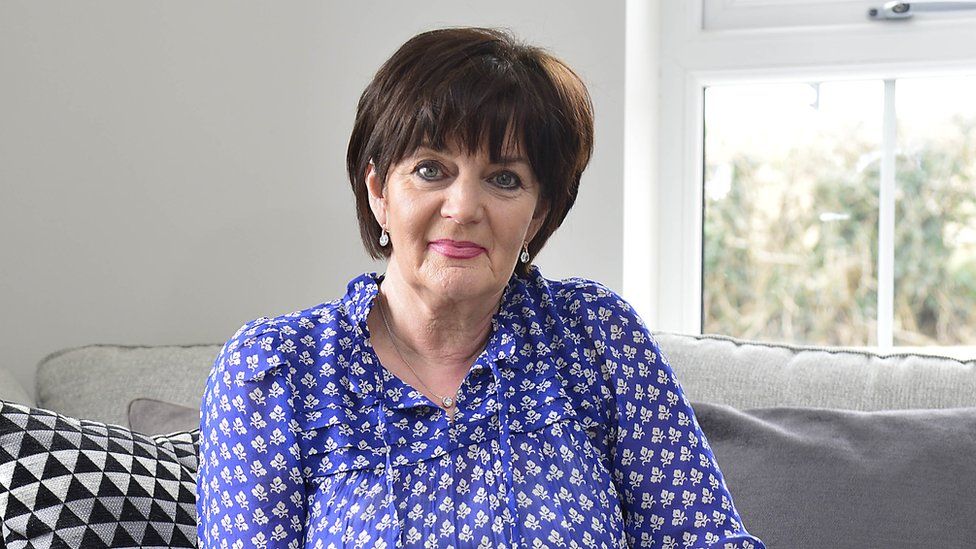 A woman who says she was left feeling unsafe in the workplace after being sexually harassed at a Christmas party has been awarded nearly £19,000.
Shirley Lyons claimed a colleague from Starplan had touched her bottom, hugged her from behind without her consent, and made comments about her breasts.
An employment tribunal said this "amounted to unlawful sexual harassment".
Ms Lyons worked for the furniture company in Portadown, County Armagh.
She was a designer and sales consultant.
After complaining about the incident, she said she was victimised by some colleagues and that her employer had failed to protect her.
"My workplace no longer felt safe for me and I felt physically sick going into work in the mornings," she said.
"I stood up to behaviour that shouldn't be happening in any workplace and my manager, and my employer, totally failed to protect me both from the harassment and from being victimised afterwards.
"I had no option but to resign."
Ms Lyons, 60, was the only female employee, along with six male employees from the Portadown and Dungannon showrooms, to attend the company's Christmas party in December 2017.
She said she had been "surprised and upset" by her colleague's behaviour at the party, which also included a suggestion that they might have an affair.
She subsequently complained to her line manager and a grievance investigation was carried out.
'I lived it'
Ms Lyons later raised allegations of victimisation against three of her colleagues, claiming she was being ignored, excluded, threatened, and subjected to intimidating and abusive language and behaviour after making her initial complaint.
"I was threatened, I was totally isolated by the other ones," Ms Lyons told the BBC.
"At times I thought it was so hopeless, I thought, 'what on earth?'
"But my strength came from I knew exactly what happened.
"I lived it, I experienced it, and that was the biggest thing for me – I could tell the truth and I would be standing by that.
"And I thought if this is the treatment they're going to give me, I'll stand my ground. I will fight this."
Ms Lyons's complaints of sexual harassment and victimisation were partially upheld by the employment tribunal.
The tribunal panel found her claim of unfair dismissal was well founded, while other lesser claims were not upheld.
Ms Lyons, who waived her right to anonymity in the proceedings, was awarded £18,857.18 in compensation.
The tribunal also found that Starplan had not put in place "any guidelines or instruction for standards of behaviour and the consumption of alcohol for attendees" at the Christmas party, and that "the most senior person present was not formally delegated responsibility for supervising".
The Equality Commission, which supported Ms Lyons, said her case highlighted important lessons for employers.
Chief commissioner Geraldine McGahey said work social events were an extension of the workplace.
She added that the employer should have taken action to prevent victimisation by colleagues after it became known that Ms Lyons had formally lodged a grievance with the company.
"Work parties and outings can be an important element of reward, recognition and team building but, like any other area of work, employers must ensure everyone attending is safe and their dignity is respected, and if that doesn't happen, and staff have cause to complain, they must be protected from victimisation," she said.
BBC NI is attempting to contact Starplan for its response to the tribunal's findings.