Complaints about officers' treatment of women are highly unlikely to result in action, say police chiefs.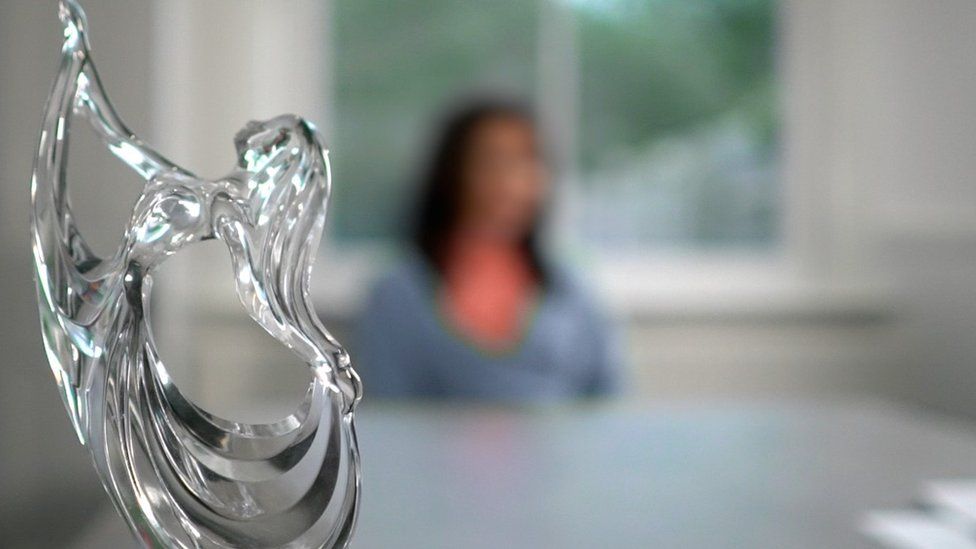 Complaints about police officers' treatment of women are highly unlikely to result in action, according to new police data for England and Wales.
The National Police Chiefs' Council says nine in 10 complaints were dropped in the six months to March 2022.
It comes as the former wife of a West Yorkshire Police firearms officer says the force failed to fully investigate her allegations of domestic violence.
West Yorkshire Police says it has now suspended an officer.
"Alice", not her real name, says the experience has destroyed her trust in the police.
"I think it's scary, the fact that he's had little control of himself and then been able to go to work and get a loaded gun out and be walking the streets," she told BBC News.
Officers accused
According to the new figures, where cases were completed, no further action was taken against police officers and staff accused of violence against women and girls in:
more than nine in 10 complaints from the public
and seven in 10 internal reports from police against colleagues.
During the six months to March last year, the National Police Chiefs' Council (NPCC) found 1,539 officers had been implicated in alleged police-perpetrated violence against women and girls.
The report says the true figures are likely to be far higher because of under-reporting by police staff, and inaccuracies and inconsistencies in data collection across forces.
Among the complaints from the public, 63% were accusations over use of force, 9% overbearing or harassing behaviour, and 6% sexual assault.
The NPCC concludes it is highly unlikely a police officer will face proceedings over an allegation, with only one in 100 sacked.
The report follows the cases of:
serial rapist and former Metropolitan Police officer David Carrick, jailed in February for violent and degrading sexual offences against a dozen women over two decades
and former Met officer Wayne Couzens, already serving a whole-life sentence for the murder of Sarah Everard, sentenced to 19 months in March for indecent exposure.
"We need to be harsher in the sanctions that we are imposing upon anyone where there are allegations of this type of behaviour," said Deputy Chief Constable Maggie Blyth, NPCC co-ordinator for violence against women and girls.
Ms Blyth said next year's data was likely to show more cases "as we shine the light and turn those stones, but speeding up that dismissal and removal from the service".
'Exhausting and frightening'
Alice says her former husband claimed she would never be believed against his word as a police officer.
She describes West Yorkshire Police's response as an "intentional overlooking of his behaviour".
"I have cited to them extreme controlling and coercive behaviour and no investigation was opened," she told BBC News.
"The reality is, in my case, that it's not taken seriously and it feels as though they cover up for one another.
"It's quite unbelievable that the people that are meant to protect you are the ones that are helping the person who's abused you, and poses a threat to you.
"It's just an exhausting and frightening place to be in."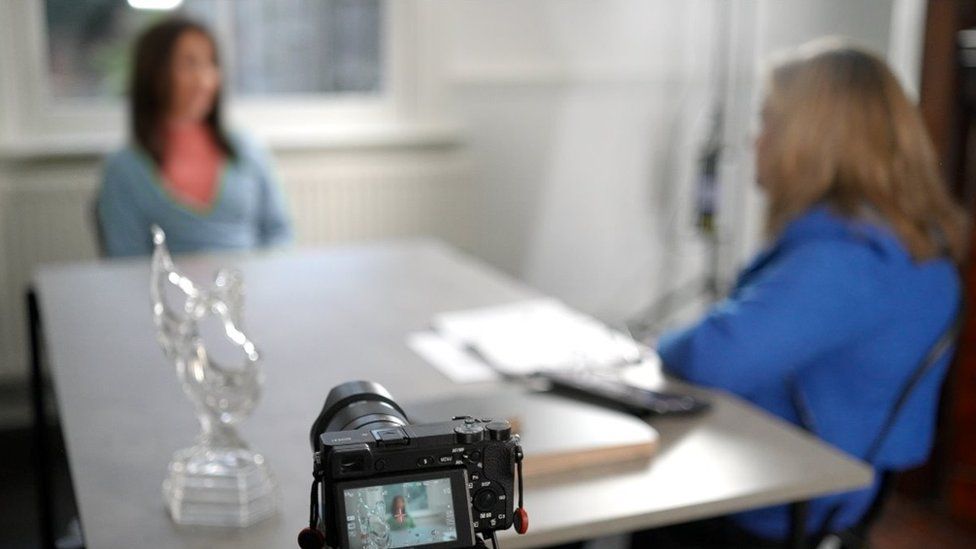 After speaking to Alice, the BBC contacted West Yorkshire Police. An officer has been suspended and the matter referred to the police watchdog, the Independent Office for Police Conduct.
"While we cannot comment further on this specific matter, we encourage anyone who is a victim of domestic abuse to contact us.
"Allegations are taken seriously, including allegations involving West Yorkshire Police officers and staff, and will always be fully investigated," said a spokesperson for the force.
During the six months to March 2022, there were 447,431 recorded domestic abuse crimes and, overall, at least 507,827 crimes of violence recorded against women and girls.
Similar to other crimes, only 6% of these resulted in charges, and domestic abuse survivors have told BBC News that support from police too often falls short.
Your device may not support this visualisation
In Barnsley, a survivor support group, Resolute, helps women who have suffered domestic abuse.
Its founder, Deborah Jones, told BBC News: "Domestic abuse is destroying women and children's lives on a daily basis."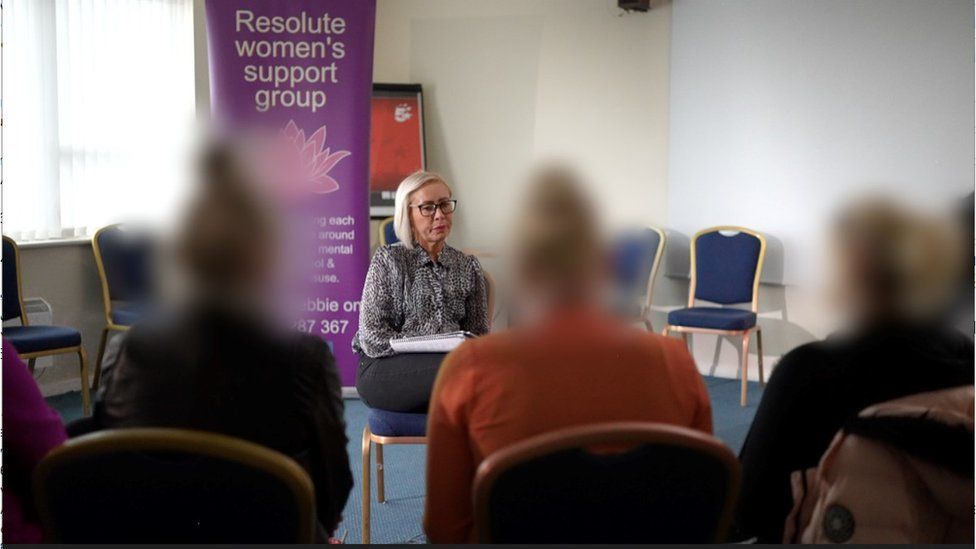 The BBC spoke to women at a Resolute meeting. All were anonymous for their own safety.
One young woman said she had been covered in bruises on the chest and neck after her abuser tried to strangle her in the street.
A member of the public called the police, but support from officers was "very minimal", she said.
"They didn't even take me back home."
"They have no compassion whatsoever," said an older woman.
"They make you feel like it's your fault for going with this person in the first place."
A shortage of trained officers is a big problem, according to another. The first police officer the woman was allocated admitted that she had not been trained in dealing with domestic violence, but had been trained in firearms. The woman said it was "just horrendous".
In another case, even contacting the investigating officer was a struggle.
"I found out in October who the officer was. I didn't get any more contact from her until January. She didn't respond to any of my messages."
A spokesperson for South Yorkshire Police said the force was "continuously working" to improve its response to domestic abuse, listening to the views of victims and delivering specialist training to staff in direct contact with victims and perpetrators.
"Often victims live in fear behind closed doors and may find it difficult to come forward, which is why we're committed to bringing those responsible to justice and supporting those affected," said the statement.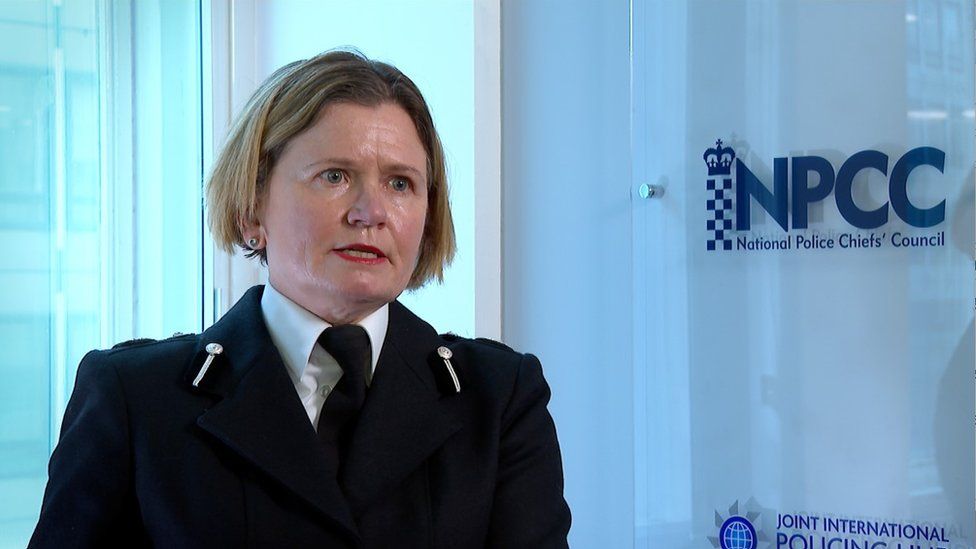 Responding to the overall figures on police investigations, Ms Blyth said forces should focus investigations "consistently on the behaviour of suspects" and improve the treatment of victims.
"We will only rebuild trust when the public and our staff see results and feel the impact of our actions," she added.
If you or someone you know is experiencing abuse, you can call the freephone, 24-hour National Domestic Abuse Helpline, run by Refuge, on 0808 2000 247. A directory of other women's support services is also available on the End Violence Against Women website.