President affirmed US government's support for Belfast Agreement at a St Patrick's Day event in 2022.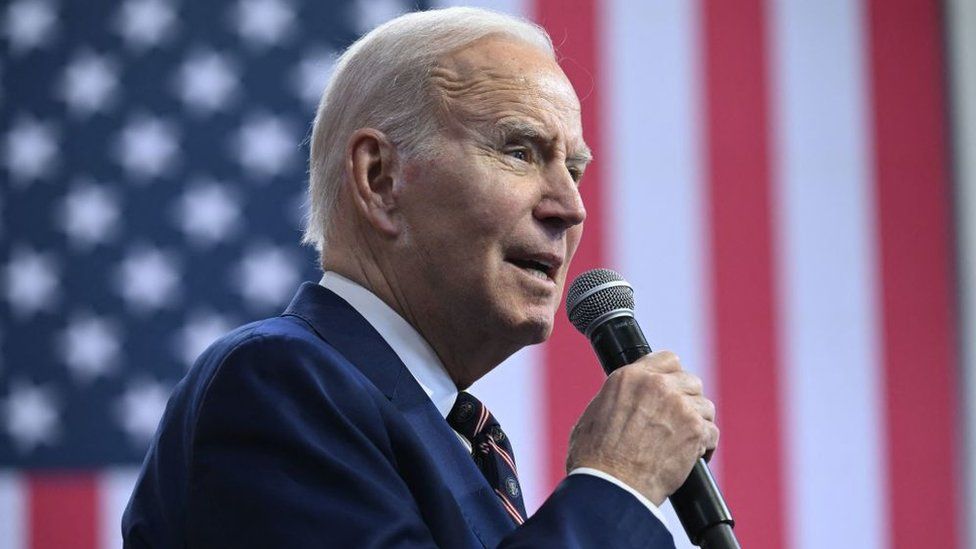 The prime minister has said he will formally invite Joe Biden to Northern Ireland to mark the 25th anniversary of the Good Friday Agreement.
Rishi Sunak was speaking to reporters as he flew to California to meet the US president.
He described next month's anniversary as a "very important milestone to commemorate and celebrate".
"I know reports have said that the president is keen to come to Ireland at some point, but I'll be inviting him formally to come celebrate the Good Friday Anniversary in the first instance" the prime minister said on Sunday.
"Hopefully he will be able to make it."
The deal kept Northern Ireland in the EU's single market for goods, avoiding a hard border with the Republic of Ireland.
But it introduced new checks on goods arriving from Great Britain, leading the Democratic Unionist Party (DUP) to withdraw from the Stormont Executive in protest.
'Positive step'
In February, the UK and EU agreed to a new Brexit deal called the Windsor Framework, which aims to fix issues surrounding the protocol.
Speaking as he travelled to San Diego to meet Mr Biden and Australian PM Anthony Albanese for talks on a new defence agreement, Mr Sunak described the framework as a "positive step".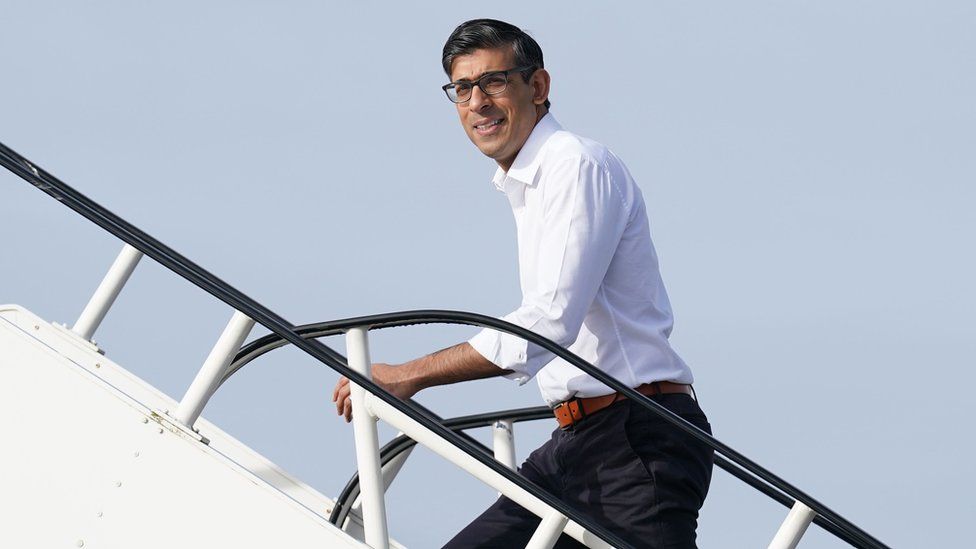 "What I'm concentrating on now is talking to everyone in Northern Ireland so we can find a positive way to move forward and get power-sharing up and running – that's my priority," he said.
Mr Biden previously said the framework was an essential step to ensure hard-earned peace and progress was "preserved and strengthened."
"I am confident the people and businesses of Northern Ireland will be able to take full advantage of the economic opportunities created by this stability and certainty, and the United States stands ready to support the region's vast economic potential," he said.

What is the Good Friday Agreement?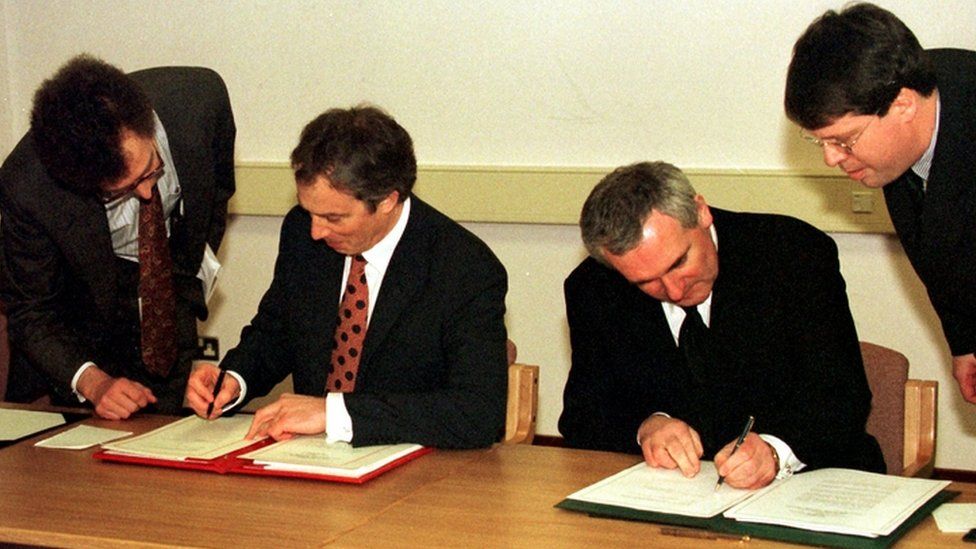 The Good Friday Agreement, also known as the Belfast Agreement, was a political deal designed to bring an end to 30 years of violent conflict in Northern Ireland, known as the Troubles.
It was signed on 10 April 1998 and approved by public votes in Northern Ireland and the Republic of Ireland.
It is based on the idea of co-operation between communities and helped to set up a new government for Northern Ireland, representing both nationalists and unionists.
The 25th anniversary of the deal will fall on 10 April 2023, which will be Easter Monday.

He warned too much "blood, sweat and tears" have been shed to get the deal done.
Large-scale silent video portraits of the 14 politicians who negotiated the peace deal will be displayed at UU's Belfast campus from 15 to 20 April.
Other events by UU include a new leadership programme, a tourism summit and an education project based on journalist Lyra McKee's legacy.
A three-day conference to mark the event will take place on QUB's campus from 17 April.
The guest list has not yet been confirmed but will include "local, national and international political figures".
The university's vice-chancellor, Prof Ian Greer, said he would love to have President Biden on campus, but added "at present, I can't confirm that the president will be visiting Ireland."