"We have had lots of discussion" with Gary Lineker, Tim Davie says, as social media review announced.
BBC director general Tim Davie insists he has not backed down in the face of an uproar over the suspension of Gary Lineker.
He said he took "proportionate action" after a row erupted over impartiality when Lineker criticised the government's asylum policy in a tweet.
He added: "We believe we did the right thing. I think I did the right thing."
The suspension brought chaos to schedules as pundits and commentators walked out in solidarity.
After a compromise was reached to bring Lineker back on air, he tweeted his thanks to Davie and acknowledged he has an "impossible job keeping everyone happy".
In an interview with the BBC the director general told me: "What we've agreed and I've spent time talking to Gary and we've had lots of discussion is that between now and when the review report is out, Gary will abide by the editorial guidelines, and that's where we are."
I asked Davie how was he so out of touch with his own corporation, staff and programmes that he did not foresee the chaos that would happen.
Davie replied: "They obviously were put in a very difficult situation.
"I think people across the BBC, if you talk to them, are all very passionate about our standing as an impartial broadcaster.
"I want to fight for a BBC where we can have proper calm debate, facilitate free speech."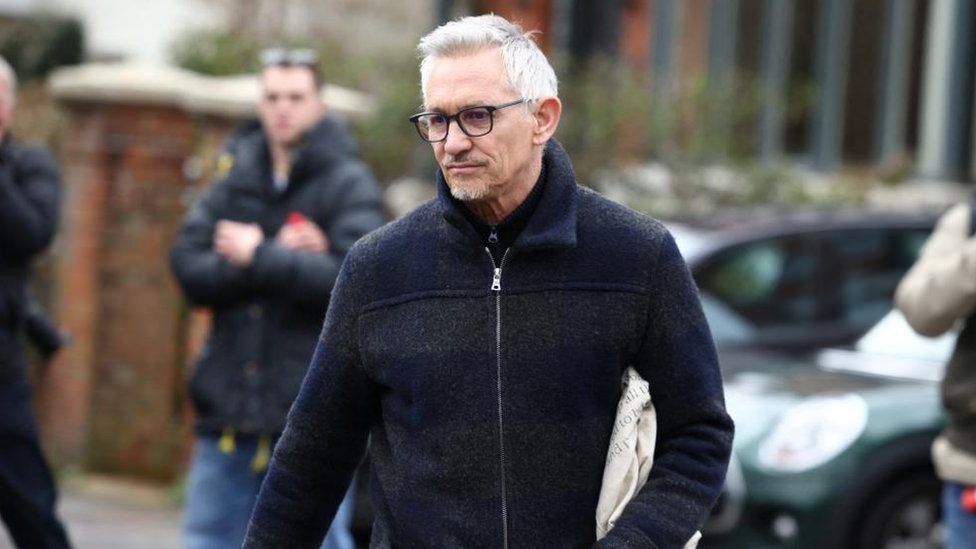 Davie said the decision to pull Lineker off air was always about buying some time until the two sides could come to an agreement over his political tweets – and said that was exactly what had happened.
Lineker has "agreed to abide by the guidance whilst the independent review takes place," he added.
The word "guidance" indicates this is about the BBC's social media guidance introduced by Davie in 2020.
Back then it outlined "high-profile presenters" – even those not directly involved in news and current affairs – have an "added responsibility" to avoid being seen taking sides on matters of political controversy.
As with all guidance, the challenge will be how that is interpreted.
'Impossible job'
But, there seems to be an agreement on both sides to try to calm things down while an independent reviewer examines the rules.
In a series of tweets Lineker said he was overwhelmed by support and was pleased he and the BBC "have navigated a way through this".
Lineker added: "I'd like to thank Tim Davie for his understanding during this difficult period.
"He has an almost impossible job keeping everybody happy, particularly in the area of impartiality.
"I am delighted that we'll continue to fight the good fight, together."
The disruption to programmes has also clearly surprised the BBC's top managers.
They were probably expecting that Match of the Day might look a bit different – in the end it went on air but was cut to a 20-minute highlight reel with no punditry, commentary or opening theme, though viewing figures were up by almost half a million at 2.58m.
But, other radio and television programmes dropping off the schedules and being radically truncated is a pretty clear sign there are many within the BBC who feel Lineker has been treated unfairly.
BBC Two's Sunday afternoon coverage of the Women's Super League went ahead without studio analysis and had to rely on world feed commentary, while Radio 5 Live was forced to plug gaps in the schedule with pre-recorded programmes for a second straight day.
Match of the Day 2 followed the main programme's much-reduced format – airing for just 15 minutes – and was without the usual commentators and host Mark Chapman.
The show started the same as Saturday's Match of the Day, where a continuity presenter apologised for the lack of commentary, which was followed by the opening credits that featured the words: "Premier League Highlights" without the usual theme tune and credits.
There are also those who are furious that such a highly-paid star of the BBC has not been punished for describing a statement by the home secretary on a key matter of public policy as "beyond awful" and comparing the language used to set out the government's asylum plan to "that used by Germany in the 30s".
Nor has there been an apology from Lineker for tweets that the BBC says broke their guidelines.
It's bought the BBC some time but as soon as the review findings are announced millions will be watching Gary Lineker's tweets very carefully.