Chancellor Jeremy Hunt says it and the Bank of England are working through the weekend to find a solution.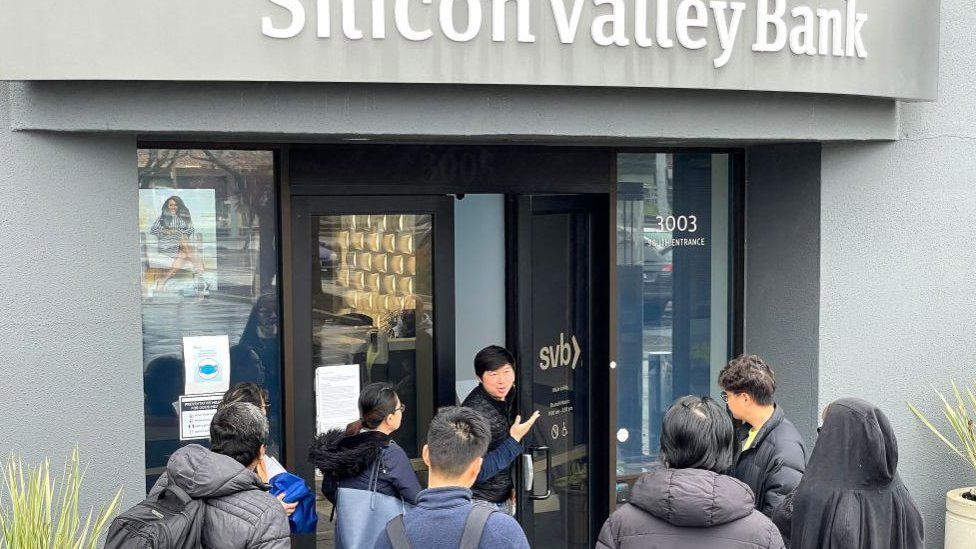 The government is working on a plan so that UK tech firms caught up in the collapse of Silicon Valley Bank won't run out of cash, it has said.
The Treasury wants to "minimise damage to some of our most promising companies in the UK" after the collapse.
The bank's UK subsidiary will be put into insolvency from Sunday evening.
Prime Minister Rishi Sunak, Chancellor Jeremy Hunt and Bank of England Governor Andrew Bailey have been holding talks over the weekend in response to the collapse of Silicon Valley Bank UK.
The Treasury said on Sunday morning that the the issue is a "high priority".
It said the bank's failure could hit UK tech companies hard, and that it was "working at pace" on a solution.
It added it would "bring forward immediate plans to ensure the short term operational and cashflow needs of Silicon Valley Bank UK customers are able to be met".
More than 250 bosses of UK tech firms signed a letter addressed to Mr Hunt on Saturday calling for government intervention.
SVB collapsed in the US after failing to raise to raise $2.25bn (£1.9bn) to plug a loss from the sale of assets, mainly US government bonds, that were affected by higher interest rates.
Its troubles prompted a run on the bank in the US and sparked investor fears about the general state of the banking sector.
Silicon Valley Bank specialised in lending to early-stage businesses, and the company banked nearly half of US venture-backed technology and healthcare companies that listed on stock markets last year.
The firm, which started as a California bank in 1983, expanded rapidly over the last decade. It employs more than 8,500 people globally, with most of its operations in the US.
But it has been under pressure as higher rates make it harder for start-ups to raise money through private fundraising or share sales. More clients were withdrawing deposits in a trend that snowballed last week.
Silicon Valley Bank UK has stopped making payments or accepting deposits prior to going into insolvency from Sunday.
The move will allow individual depositors to be paid up to £85,000 from the UK's deposit insurance scheme.
"SVBUK has a limited presence in the UK and no critical functions supporting the financial system," the Bank of England said after the US collapse.