The rollout of four technical courses in England is being pushed back because of quality concerns.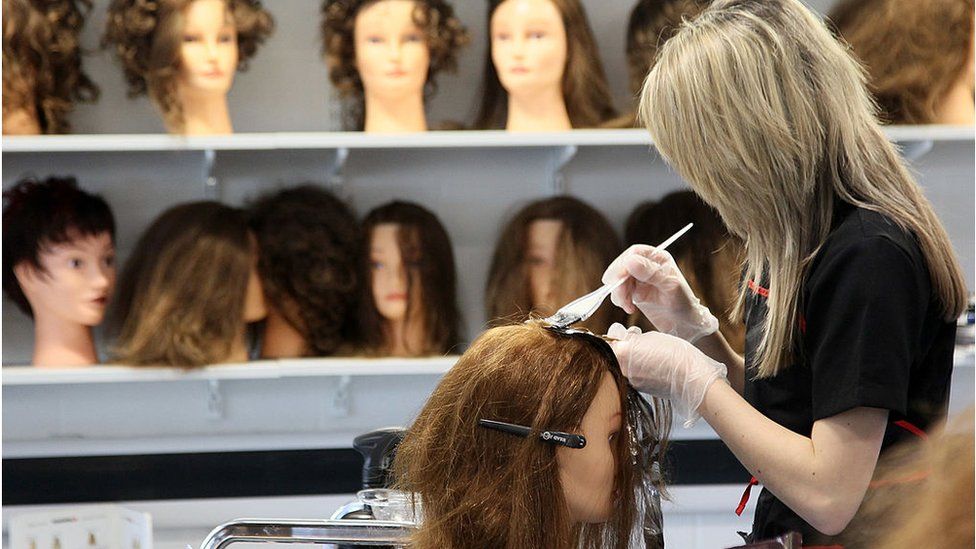 The government has delayed four of its flagship T-levels, which had been due to roll out in England from September.
Technical qualifications in areas such as hair and beauty are among those that had been planned for the coming academic year.
But the Department for Education (DfE) said more work was needed to ensure they were of sufficient quality.
The Association of Colleges (AoC) welcomed that decision but said the news had caused "massive disruption".
The qualifications started in 2020 and were taken by 1,029 students in England.
Six further T-levels were due to launch in September – but three of them are now being delayed until 2024:
hairdressing, barbering and beauty therapy
craft and design
media, broadcast and production
A fourth, in catering, is being delayed until "beyond 2024".
"T-Level technical qualifications will only be approved for delivery where we are sure they are good enough and can be delivered to a high standard," she said. And more work was needed, which would "not be possible in time for launch this September".
AoC chief executive David Hughes said the DfE was "right to ensure only T Levels of high enough quality enter the market" but added: "Colleges will be massively disrupted by this announcement happening so late in the year.
"Colleges already had plans in place for how to deliver these now delayed T-levels and have been marketing them to potential learners.
"Alternative arrangements will now need to be made urgently."

Technical levels (T-levels)
developed alongside employers
two-year courses
equivalent to three A-levels
80% classroom learning
20% industry placement – at least 315 hours (about 45 days)
successful students are awarded a pass, merit, distinction or distinction*

T-levels were "an important addition to the qualification landscape", he said. But new qualifications involved "risks" and T-levels should be completed by two year groups of students before other qualifications were defunded.
The government has said there will be "at least one year" between the introduction of a T-level and the removal of funding for overlapping qualifications, such as BTecs.
A total of 18 T-levels will be available from September – and the following courses will roll out as planned:
legal services (2023)
agriculture, land management and production (2023)
animal care and management (2024)
marketing (2025)