Charles Bronson says he has had "more porridge than Goldilocks and the Three Bears".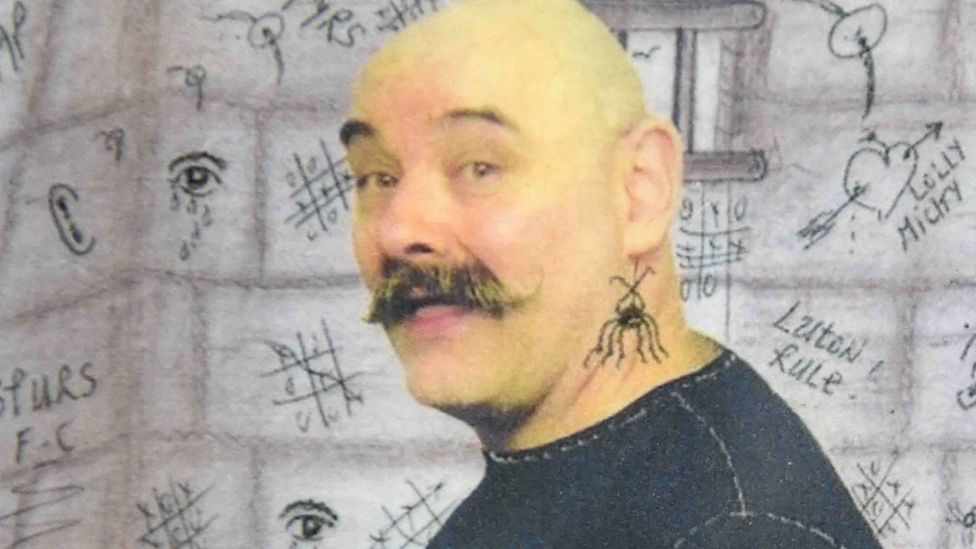 Charles Bronson, one of the UK's longest-serving prisoners, would not cope with being released, a Parole Board panel has heard.
He told the panel he had had "more porridge than Goldilocks and the Three Bears, and I'm sick of it".
The first witness, his prison offender manager, said Bronson would not have the skills to cope with being released.
The panel heard that he spends 23 hours a day in his cell and only associates with three other inmates.
When he was told the Parole Board panel hearing the case had not watched a recently-broadcast television documentary about him, he replied "I find that hard to believe".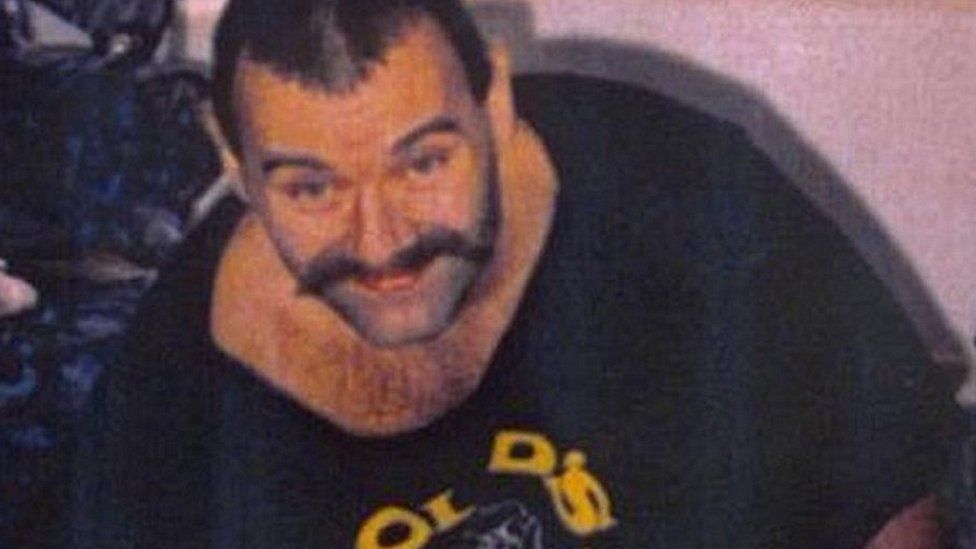 Shaven-headed Bronson was wearing a suit and his trademark small round sunglasses.
Within minutes of the hearing starting, he spilled some liquid over himself while drinking from a carton.
He told the panel he had not wet himself, but used stronger language, and later swore and said "we'll be all day" when his prison offender manager paused while giving evidence.
'Struggle in community'
The prisoner – who now uses the last name Salvador – is being held at a specialist close supervision centre at Woodhill Prison in Milton Keynes.
Members of the press and public filled Court 76 at the Royal Courts of Justice to watch the hearing on a live video link.
His prison offender manager said that his ability to manage his emotions had improved. 
"There's less outbursts," she said.
"There's been no violence. There has been some flexibility with his thinking and willingness to engage." 
She was asked what would happen if Bronson was released from prison. 
"He would struggle in the community. He wouldn't have the skills to cope with such a vast change so quickly," she said. 
Asked if Bronson was ready for "open" prison conditions, she replied: "I think he still has a way to go".
'I'm getting bored mate'
The panel heard Bronson is allowed out of his cell for about an hour a day.
He comes out to collect his food and goes out to the yard or to the gym, or he walks along the balcony.
He is allowed to associate with three other inmates, but the panel heard that he did not get along with one of them.
While in his cell for 23 hours a day he his listens to the radio or does artwork.
The panel was told he receives mail from more than 500 people. A panel member asked the prisoner offender manager if Bronson replied to them all.
"Bloody hell, I can't reply to all of them," Bronson interrupted.
When the panel heard Bronson had tried to place a football bet through a third party he said: "We all love a bet guv, come on."
After about an hour of court proceedings, Bronson said: "I'm getting bored mate."

Who is Charles Bronson?
Charles Salvador's real name is Michael Gordon Peterson.
Originally from Luton, he was convicted of armed robbery in 1974, aged 21, and apart from a couple of brief spells of freedom, he has been in prison ever since.
He changed his name to Charles Bronson in 1987 and most of his notoriety came after that moment.
Most infamously he took an art teacher hostage in 1999, for which he received a life sentence.
In 2014, he changed his name, again, to Charles Salvador as a tribute to the Spanish surrealist artist Salvador Dali.
He was last convicted in 2014 of assaulting a prison governor.
His prison record also details an alleged attempt to commit an assault against a governor at Frankland prison in Durham in April 2018 because of a withheld photo of his mother.
He also allegedly made threats to a governor at the same prison in February 2019, and again made threats to a governor at Woodhill Prison the following month.

The Parole Board panel is deciding whether he is still a risk to the public, or whether he can be released from prison.
If they decide against releasing him they are also being asked to consider allowing Bronson to be moved to "open" prison conditions where he would have much more freedom.

Related Internet Links
The BBC is not responsible for the content of external sites.