A car is found in the early hours two days after the group went missing after a night out.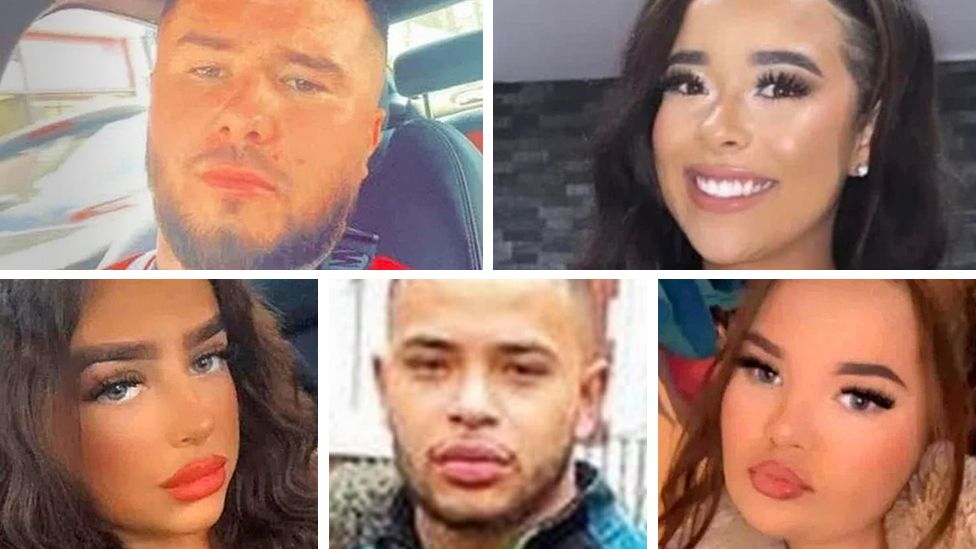 Police searching for five people have found three dead and two seriously injured two days after they went missing following a night out.
Gwent Police said it believed the group had been involved in a car crash.
Sophie Russon, 20, Eve Smith, 21, Darcy Ross, 21, Rafel Jeanne, 24, and Shane Loughlin, 32, were last seen at about 02:00 GMT on Saturday in Cardiff.
The car they were last seen in was found by a member of the public early on Monday on the A48 in St Mellons.
The road is a major route into Cardiff and the car was found near a busy roundabout close to a garden centre.
A long police cordon marks out the crash scene at what would normally be a busy stretch of dual carriageway, connecting Cardiff and Newport.
Just below the slipway, down a small bank is a wooded area where the car was discovered. Officers have been working there, hidden from view by the trees, recovering the bodies and investigating the scene.
They will be trying to establish exactly when the car crashed there following the last sighting of the group, and why it took until the early hours of Monday for it to be discovered.
Near the cordon, a group of young men have laid flowers, in memory of their friends who went missing on a night out and never came home.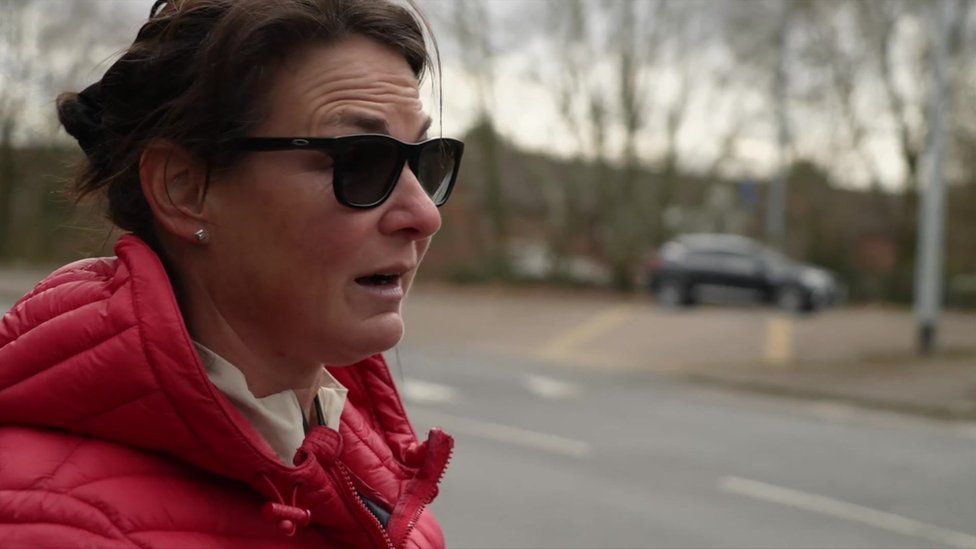 A woman who lives nearby said many people felt shocked after waking up to hear about the tragedy, feeling it could have been anyone's children who lost their lives.
Jo Warner, who lives near the crash site, said walking past the scene made it feel horribly real.
She added: "What they've been through, you can't bear thinking about it can you? I wouldn't like to surmise what happened but it's just heart-breaking.
"It could have been anyone's kids. It could have been mine."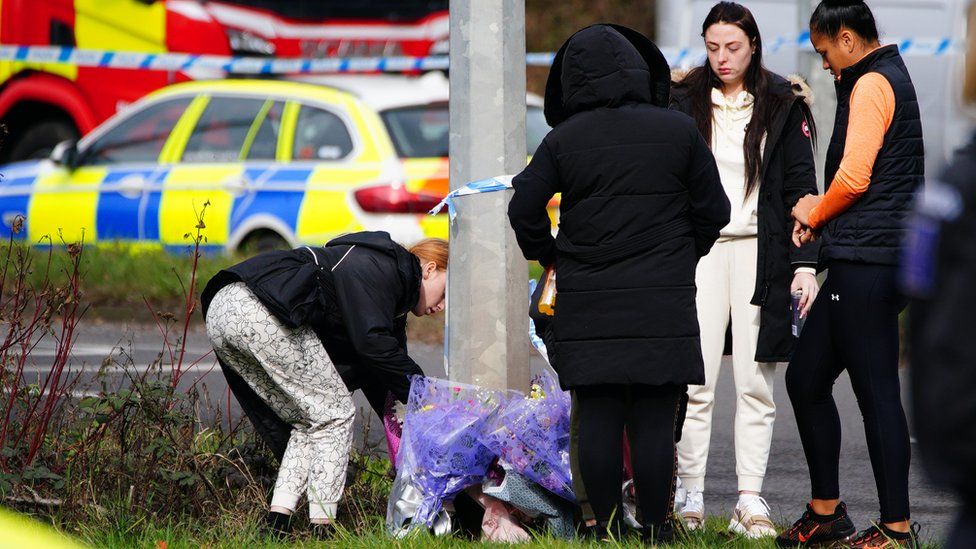 Over the weekend, family and friends of the missing group appealed numerous times on social media to find them.
The women, from Newport, had gone to The Muffler club in the Maesglas area of the city late on Friday.
They then travelled 36 miles (58km) to Trecco Bay, a caravan park in the seaside resort of Porthcawl, Bridgend county, with the two men, both from Cardiff.
They were last seen in Llanedeyrn, Cardiff, in the early hours of Saturday, but it is not yet clear when the crash happened.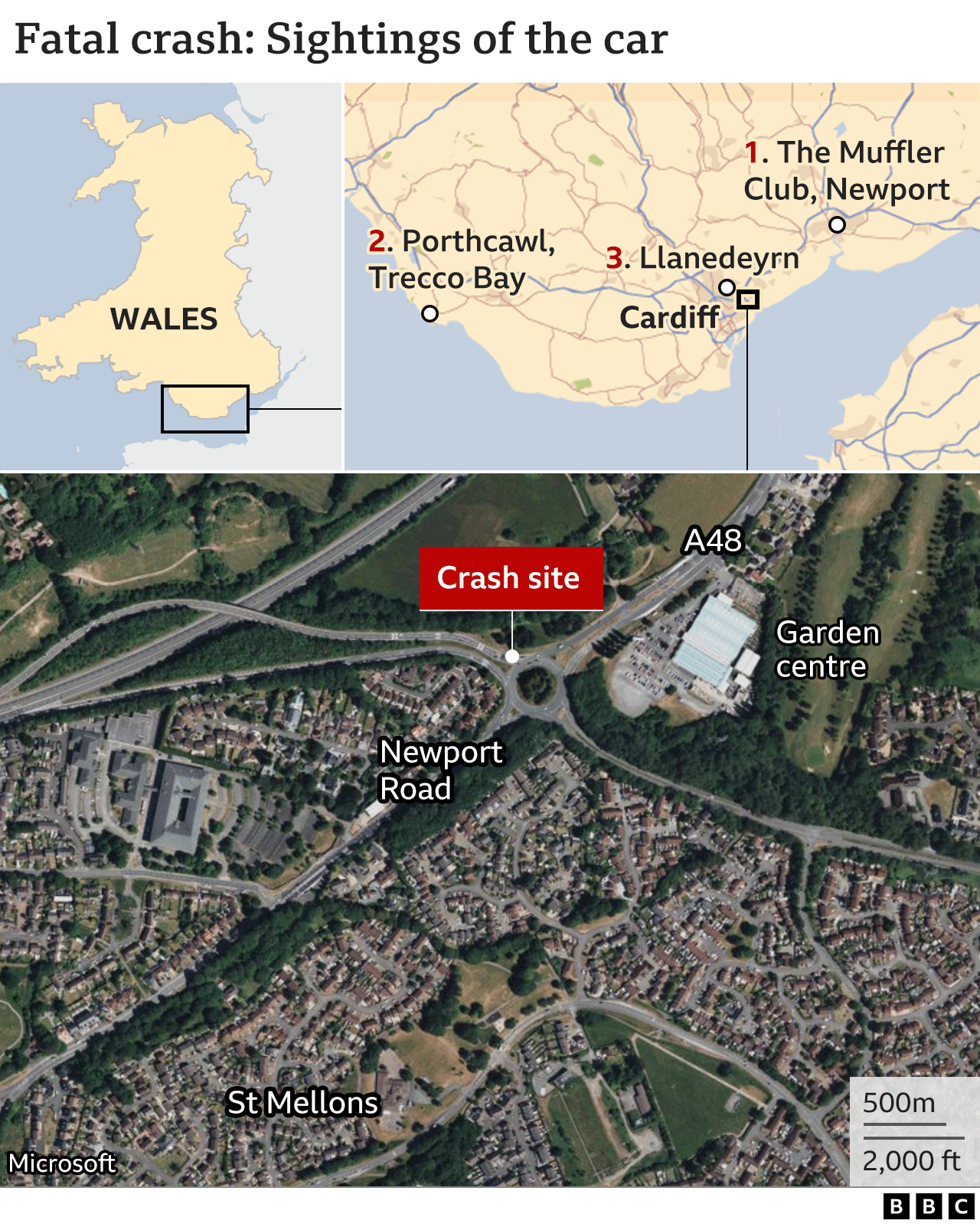 Sophie's mother Anna Certowicz, 42, was driving around the Gwent and Cardiff areas in a desperate search for her daughter after police officers told her to "stop ringing" the station for updates.
She told the Daily Mail: "They didn't seem to care. I had to drive to Cardiff to knock on doors myself because they were doing sod all. They just didn't seem to think it was worth investigating. It was so frustrating.
"I think they assumed that Sophie was hungover somewhere, but she's a sensible girl who works in a bank and hasn't taken a day off for three years.
"She's not someone who's out clubbing in Cardiff all the time. On Friday nights she's more likely to be babysitting so other people can go out. She wouldn't just vanish like this unless something was wrong.
"The police asked me to stop ringing but at the end of the day I'm a mum I'm going to worry. Her little sister is worrying too, she's only 13 and she's wondering where Sophie is."
Ms Certowicz said that Sophie had known Eve and Darcy since childhood.
"They're incredibly close, they message every day. We worked out earlier that this is the first time in 347 days that Sophie hasn't replied to her.
"Sophie, Eve, and Darcy have been friends since they were ten years old, I know the families and they haven't heard anything either."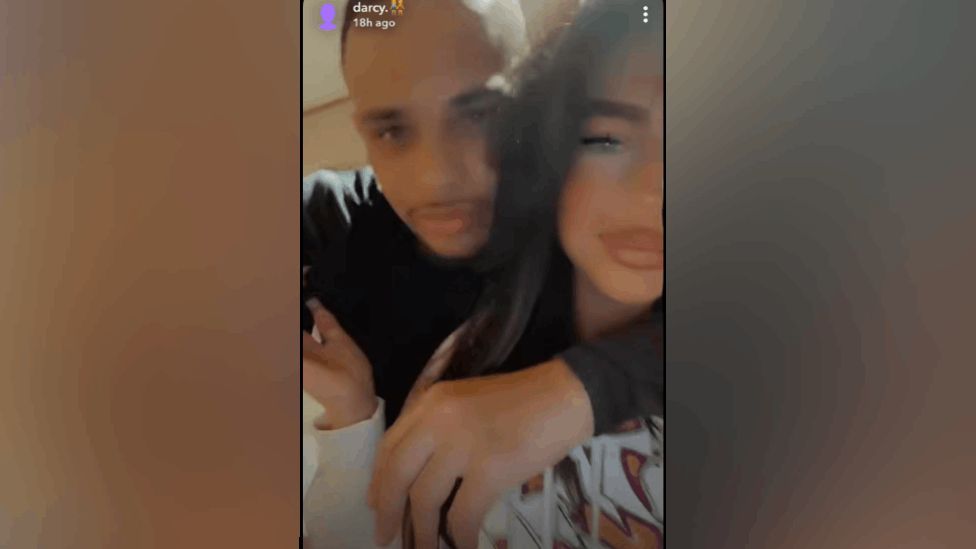 Writing on Twitter, Hollie Smith said her cousin, Ms Russon, had been taken to hospital in a critical condition.
"Sadly, the three other passengers have died and we're thinking of the families who have lost their loved ones," she wrote.
The Volkswagen Tiguan they were travelling in was found in the early hours of Monday near a busy roundabout on the A48, close to Cardiff Garden Centre.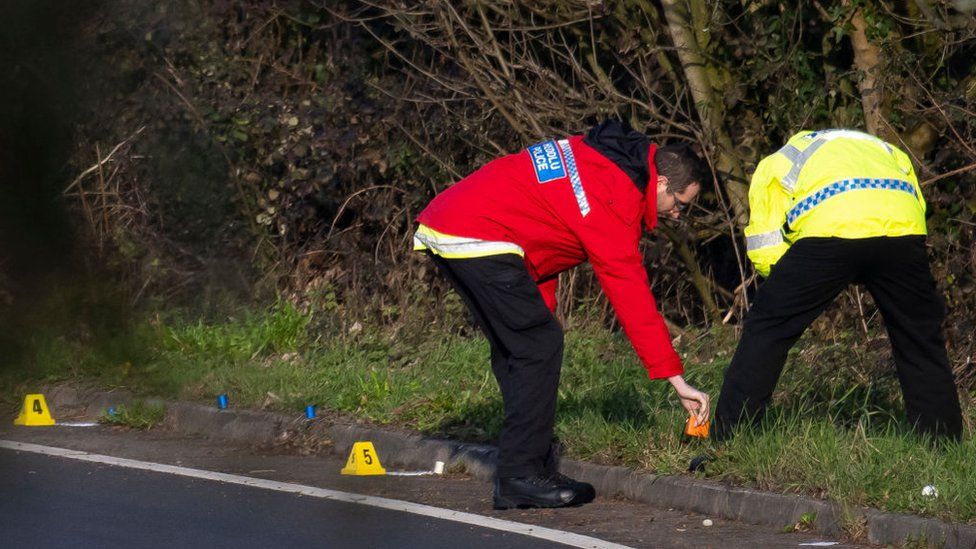 Ms Russon is one of two in hospital with serious injuries, while the three dead have yet to be identified.
The road remains closed and a temporary fence has been put up at the side of the carriageway where officers have been concentrating their investigation.
Before the car was found, one of the girls' aunts said there had been "no contact and no social media presence since the early hours of Saturday morning".
In an appeal to find them, Tori Preece posted a message on Facebook saying that "all of the families involved are extremely concerned".
"They are not girls who take unnecessary risks and are always in close contact with their families," she wrote.
"The police are involved and they have been recorded as missing persons."
Ms Preece shared a post from Lauren Doyle who wrote: "Thank you to everyone who has tried to find and send information – your help is appreciated."
Ms Doyle's post added it was "unusual" the girls had not made contact and friends and families were "worried sick and thinking the worst".
Specialist officers are supporting the families, police said.
The case has been referred to the Independent Office for Police Conduct (IOPC) in line with normal procedure.
The IOPC said: "We can confirm that Gwent Police have advised us that they are making a referral in connection with this tragic incident and we will carry out an assessment in due course to determine what further action may be required from us."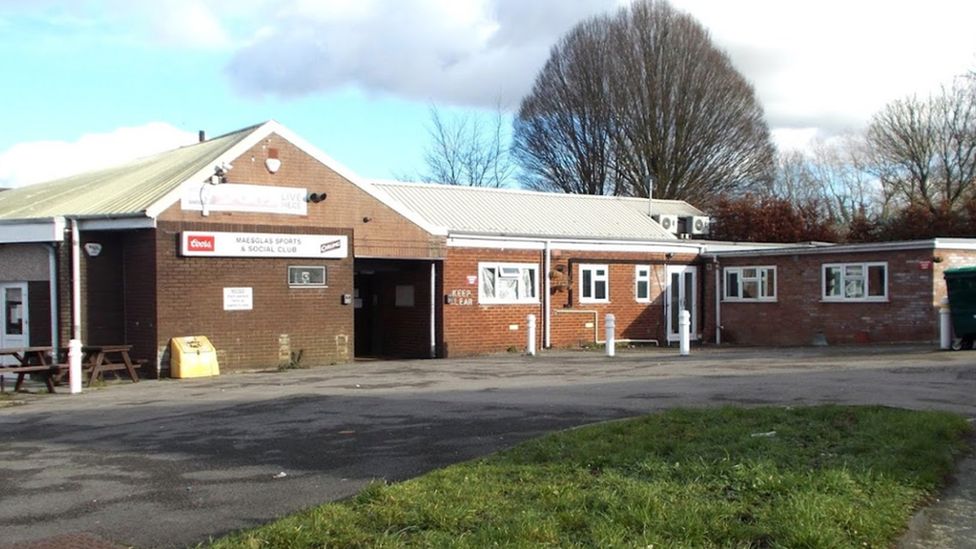 Gwent Police has confirmed that South Wales Police is investigating the crash.
South Wales Police said it received a call at 00:15 "to a report of a car being located" off the A48 in St Mellons.
"We would like to thank the public for their patience and their cooperation whilst the road is closed," it said.
"Our thoughts are with the those affected by this incident."
The A48 Eastern Avenue in St Mellons has been closed in both directions as police inquiries continue.
The morning traffic has been heavy and the road closure has seen traffic backing up on roads coming from Newport.