The flight from Iceland to Kenya was diverted to Stansted Airport after communications went down, police said.
RAF jets scrambled to escort an aircraft which lost communications caused a sonic boom, police have said.
The Ministry of Defence (MoD) said Typhoon jets from RAF Coningsby in Lincolnshire were authorised to fly supersonic to assist a civilian plane.
Essex Police said the aircraft – flying from Iceland to Kenya – was diverted to Stansted Airport, landing at 12.50 GMT.
It comes after people heard a "loud bang" in Leicestershire, Northamptonshire and Oxfordshire.
Two people – a pilot and co-pilot – were on board, Essex Police said.
The force said officers carried out enquiries and were satisfied there was a loss of contact due to "equipment malfunction and nothing of any concern".
The plane and those on board have now been released to continue their journey.
A sonic boom is caused when planes fly faster than the speed of sound.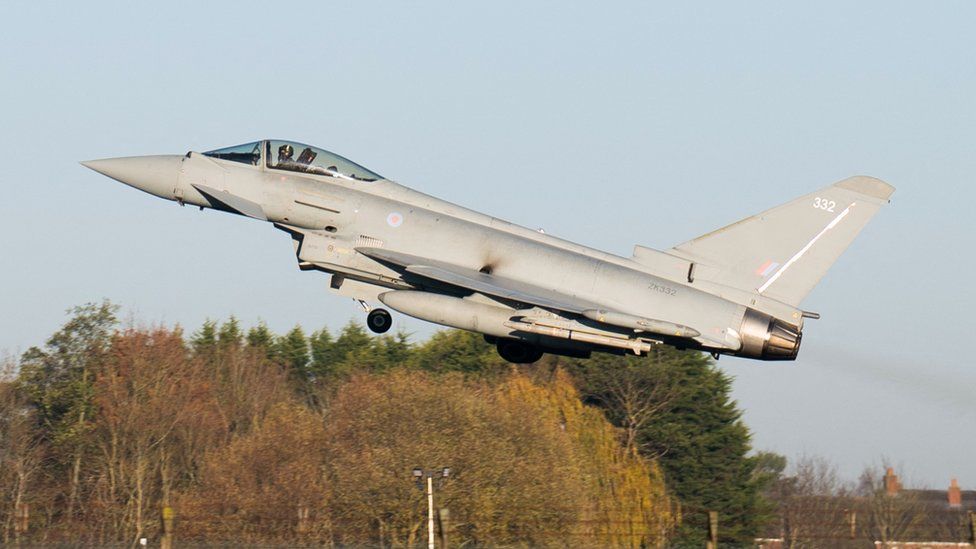 Lee Shellard, from Syston, Leicester, said he was watching TV when he heard the bang.
"It shook ornaments and bits around the house," he told the BBC.
"But it wasn't like an earthquake, more like a big lorry had gone past. So we nipped outside to see what had happened and other people were looking out of their windows as well
"That's when I went back and checked the CCTV footage."
'Airspace closed'
Departures from Gatwick airport were reportedly suspended for 15 minutes earlier.
BBC journalist Phil Mercer tweeted he had been sitting on a plane at the airport after passengers were told "all airspace over London is closed as an aircraft has stopped communicating with air traffic control".
BBC East Midlands reporter Will Jefford in Daventry, said he thought his boiler had exploded.
"The whole house shook and we jumped out of the sofa to check if everything was okay," he said.
"You could feel the noise through the floorboards. It almost hit you in the chest – I managed to drop half my cup of tea.
"We initially thought the boiler had blown up, but I could hear a jet overhead so realised it was probably a sonic boom."
A sonic boom is caused when planes fly faster than the speed of sound, which at ground level is around 761mph.
When travelling at this speed, also known as Mach 1, the aircraft displaces the air and creates pressure waves that become compressed and are then released in a shock wave.
As long as the aircraft is flying at Mach 1 it will generate continuous sound waves, known as a boom carpet and an aircraft flying at 20,000 feet would create a sonic boom cone 20 miles wide.
Louise Gourlay in Bicester, Oxfordshire, said her military training kicked in and hit the floor when she heard the bang.
"I'm ex-military, so I immediately 'jumped on my belt buckle' that's a move where I jumped straight down stomach to the floor," she said.
"I didn't know if it was an explosion or something, the house shook violently."
'Low boom'
Anne Marie Oostveen near Chipping Norton in Oxfordshire, told the BBC her "whole house shook".
"I was watching TV with my cat Jones and I heard a loud boom sound.
"There is some building work going on nearby so at first I just thought there was a skip being delivered to the yard next door.
"But the videos online make it sound like an explosion, to me it sounded like a low boom.
"My cat just looked up and then went back to sleep."
Rebecca Cockroft added: "Going to assume I didn't imagine the sonic boom over #Northampton a few moments ago judging by the car alarms going off and birds scattering?"
A spokesman for Leicestershire Police, said: "We have received numerous calls in relation to a large explosion sound heard from various parts of the city and county.
"We like to reassure you that there is no concern however thank you for your immediate response to us."

Related Internet Links
The BBC is not responsible for the content of external sites.