The coffee chain follows other retailers in boosting pay amidst a labour shortage.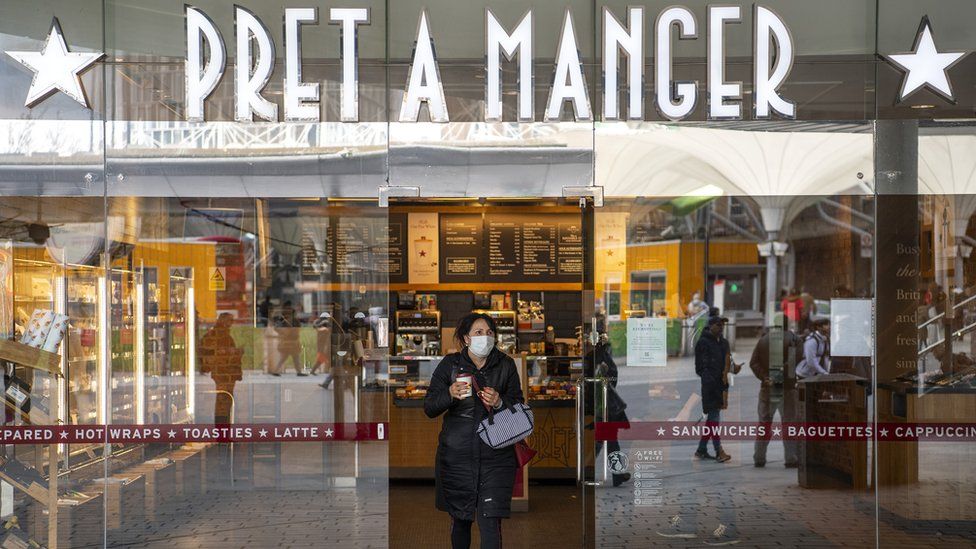 Coffee chain Pret A Manger will give staff their third pay rise in 12 months, following other firms in boosting wages amid a labour shortage.
Pret said the rise – to begin in April – amounts to a 19% bump in year-on-year basic pay for shop staff.
Retailers including Tesco have made similar moves in the past year as firms try to retain staff struggling with near-record high living costs.
Overall inflation, the rate at which prices rise, is at 10.1%.
Around 7,870 Pret A Manger staff were given pay rises in April and December 2022.
By raising base pay to above the rate of inflation, the chain said its baristas would be among "the highest paid in the industry", able to earn up to £11.80 to £14.10 based on location and experience.
It said that by April, for entry level staff, the rise amounts to a 15% pay rise year-on-year.
Pay bumps
In February, Britain's biggest grocer Tesco agreed to increase its workers' wages by 7%, marking their third pay rise in 10 months, whilst Asda said it would raise pay by 10%. Aldi and Lidl also announced pay bumps.
The UK has been suffering a shortage of workers, attributed to long-term sickness after the pandemic and a lack of foreign workers to help fill available roles.
The rising cost of living has also meant many staff are seeking roles at better paying firms.
Rising costs have also led to widespread staff walkouts, leading to strikes in sectors such as rail, nursing and teaching.
"As the cost of living continues to rise, we hope this latest increase in pay, and our expanded benefits package, goes some way in providing further support for our hardworking teams," said Guy Meakin, Pret A Manger's interim managing director.