A coroner tells the BBC that DNA has been collected from 57 bodies, as rail workers strike over the disaster.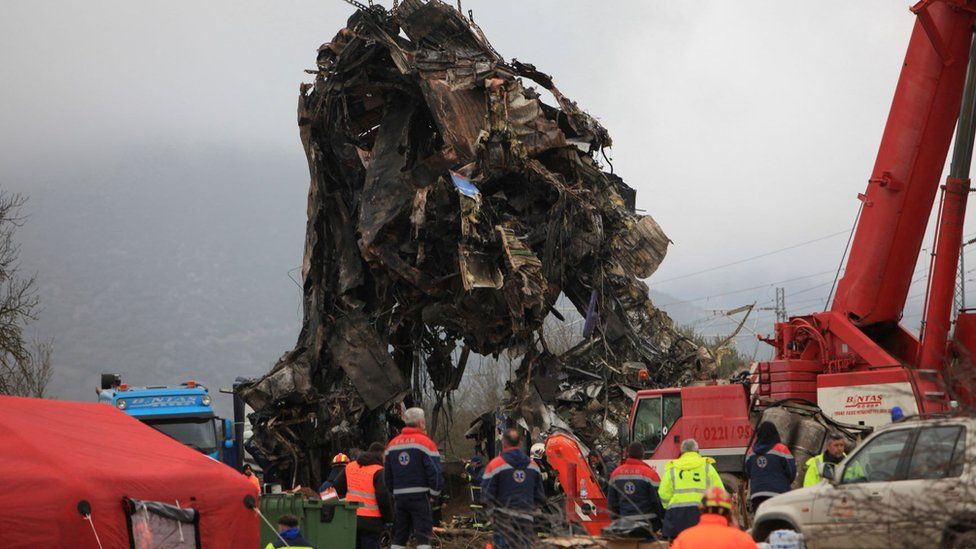 The death toll from Tuesday's train crash in Greece has increased to 57, a coroner has told the BBC.
Eleni Zaggelidou, one of ten coroners working on the investigation, said DNA had been taken from 57 intact bodies.
It came as rail workers across Greece took part in a one-day strike on Thursday amid growing public anger towards authorities.
The walkout follows protests in Athens, Thessaloniki and the city of Larissa, near the site of the disaster.
Rescue workers are still going through burned and buckled carriages, searching for victims.
This was the "most difficult moment", rescuer Konstantinos Imanimidis told Reuters news agency, because "instead of saving lives, we have to recover bodies".
The incident happened just before midnight on Tuesday. A passenger train carrying 350 people collided with a freight train after both ended up on the same track – causing the front carriages to burst into flames.
The railway workers' strike began at 0600 local time (0400 GMT), affecting national rail services and the subway in Athens.
Many in Greece see the crash as an accident waiting to happen, and the union blamed successive governments' "disrespect" towards Greek railways for leading to this "tragic result".
A 59-year-old station master in Larissa has been charged with manslaughter by negligence and is due to appear in court on Thursday. He has admitted to having a share of responsibility in the accident, his lawyer Stefanos Pantzartzidis said outside the courthouse.
"He is literally devastated. Since the first moment, he has assumed responsibility proportionate to him," Mr Pantzartzidis said, hinting that the station master, who has not been publicly named, was not the only one to blame.
The country's transport minister has resigned over the incident, saying he would take responsibility for the authorities' "long-standing failures" to fix a railway system that was not fit for the 21st Century.
Meanwhile, the government has promised an independent investigation that it promises will deliver justice.
But Prime Minister Kyriakos Mitsotakis's suggestion that "tragic human error" was to blame has caused anger.
Government spokesman Giannis Oikonomous said in a press conference that authorities shared in people's sorrow, and promised to carry out investigations and to fix the country's outdated rail network.
He said "chronic delays" in implementing rail projects were rooted in "distortions" in the country's public sector going back decades, adding that the government has tried to deal with this but "did not manage to eradicate it".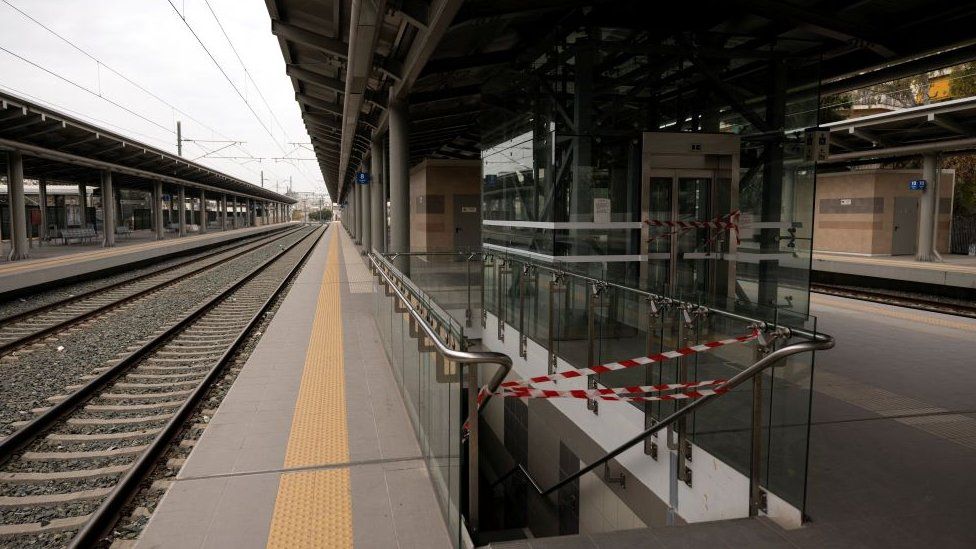 On Wednesday, rioters clashed with police outside the headquarters of Hellenic Train in Athens – the headquarters of the company responsible for maintaining Greece's railways.
Tear gas was used to disperse protesters, who threw stones and lit fires in the streets.
At a silent vigil in Larissa to commemorate the victims of the incident, one demonstrator said he felt the disaster had been long coming.
"The rail network looked problematic, with worn down, badly paid staff," Nikos Savva, a medical student from Cyprus, told AFP news agency.
The station master arrested should not pay the price "for a whole ailing system", he added.
"This is an inadmissible accident. We've known this situation for 30 years," Costas Bargiotas, a doctor based in Larissa, told AFP.
Many of the passengers on board were students in their 20s returning to Thessaloniki after a long weekend celebrating Greek Orthodox Lent.
Fire brigade spokesperson Vassilis Varthakogiannis said temperatures inside the first carriage – which burst into flames – had reached 1,300C (2,370F), making it "hard to identify the people who were inside".
Families have given DNA samples to help identification efforts, with the results expected on Thursday.
One of those, a woman called Katerina searching for her missing brother, a passenger on the train, shouted "Murderers!" outside the hospital in Larissa, directing her anger towards the government and the rail company, Reuters reports.
Kostas Malizos, a recently retired surgeon and Emeritus Professor at Greece's University of Thessaly, has returned to work to perform surgery on injured passengers.
"Now we're in the phase of trying to match the human parts that were found at the site of the crash and match it with DNA," he told the BBC.
Local media have reported that more than 10 people are still missing, as Greece observes three days of national mourning.
But Professor Malizos has said it is difficult to tell how many people are unaccounted for.
He also questioned how the prime minister could have reached such a quick a conclusion that human error was to blame and said an extensive independent investigation was essential.
"It's a disaster, it's catastrophic. Families are crying tonight. Unfortunately, the majority of the lost people are young students. They left home, happy after the long weekend, to go for their studies or to see their relatives and never reached them."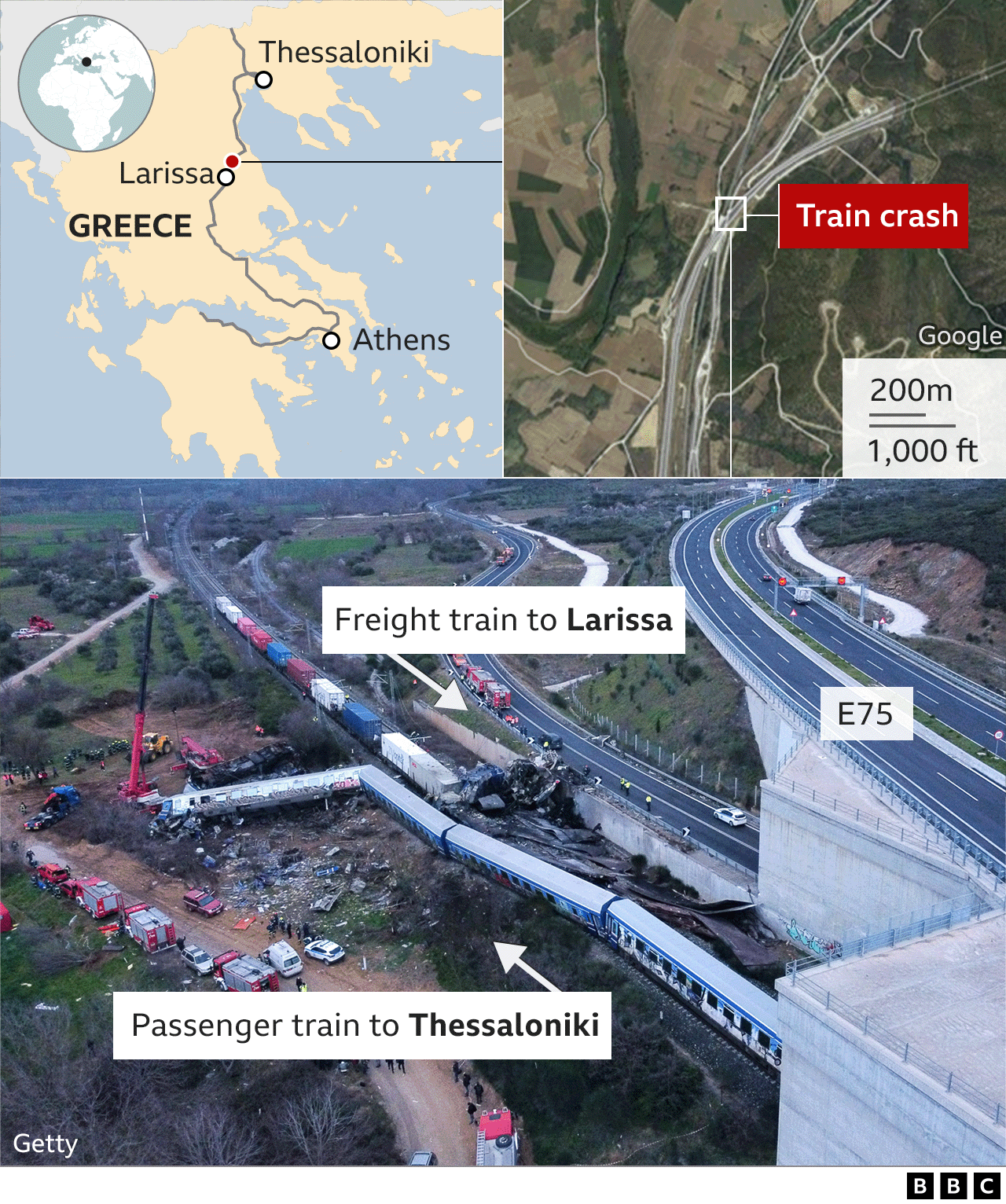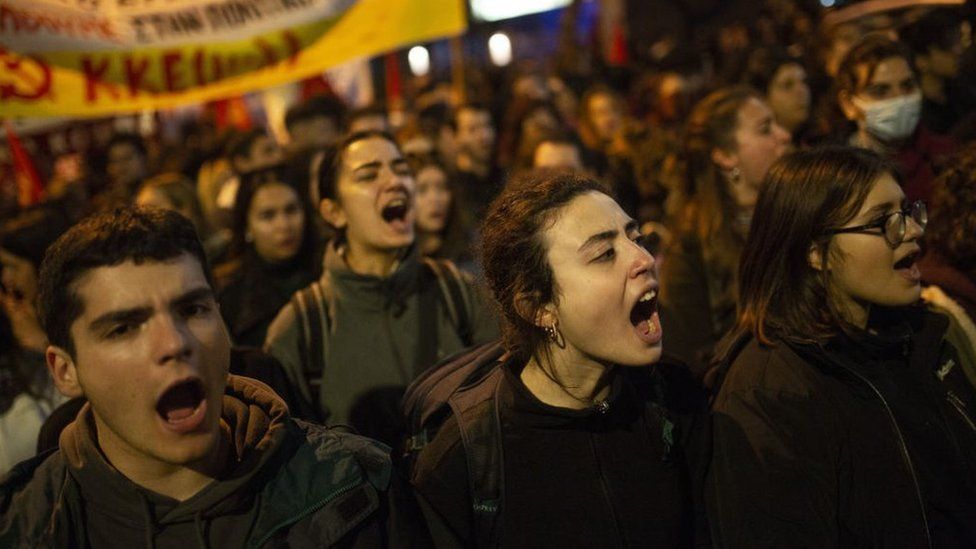 Please include a contact number if you are willing to speak to a BBC journalist. You can also get in touch in the following ways:
If you are reading this page and can't see the form you will need to visit the mobile version of the BBC website to submit your question or comment or you can email us at HaveYourSay@bbc.co.uk. Please include your name, age and location with any submission.