Israeli settlers burn Palestinian homes and cars in several villages after two settlers are shot dead.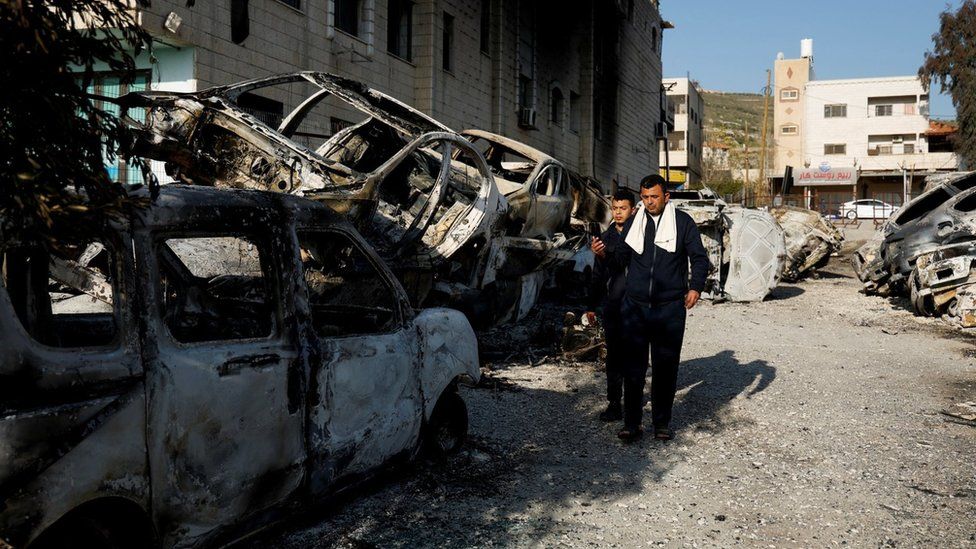 Israeli settlers have attacked Palestinian villages in the northern occupied West Bank, after two settlers were shot dead by a Palestinian gunman.
One Palestinian man was killed and more than 100 others were injured in the overnight violence near Nablus, the Palestinian health ministry said.
Dozens of cars and houses were also burnt, according to a local official.
It followed the killings of the two Israelis – brothers from a nearby settlement – along a highway.
The Israeli military said it was continuing to search for the Palestinian who shot Hillel Yaniv, 22, and Yagel Yaniv, 20, and that it had moved in extra troops.
Earlier on Sunday, Israeli and Palestinian officials had pledged to de-escalate tensions at a summit in Jordan.
Videos posted hours after the summit ended showed a large crowd of Israeli settlers entering the village of Hawara, about 4 miles (6km) south of Nablus, lighting fires and throwing stones.
A Palestinian official who monitors settlements in the Nablus region, Ghassan Daghlas, told Palestinian Wafa news agency that 30 houses were damaged by stones or burned down, and that 15 vehicles were torched.
Settlers also set a barn and three vehicles on fire in nearby Burin, as well as a house and a water tank in Asira al-Qabaliyya, he said.
The Palestinian health ministry said 37-year-old Sameh Aqtash died after being shot in the stomach during an attack by settlers in Zaatara.
This part of the West Bank falls under full Israeli control, and Palestinians criticised Israeli security forces for failing to protect them.
Palestinian President Mahmoud Abbas said he held the Israeli government fully responsible for what he called "the terrorist acts carried out by Israeli settlers, under the protection of the Israeli occupation forces".
Israel's Prime Minister, Benjamin Netanyahu, appealed for calm and urged settlers to allow the Israeli military and security forces to focus on finding the gunman who killed the two Israelis.
"I ask that when blood is boiling and the spirit is hot, don't take the law into your hands," he said in a video statement.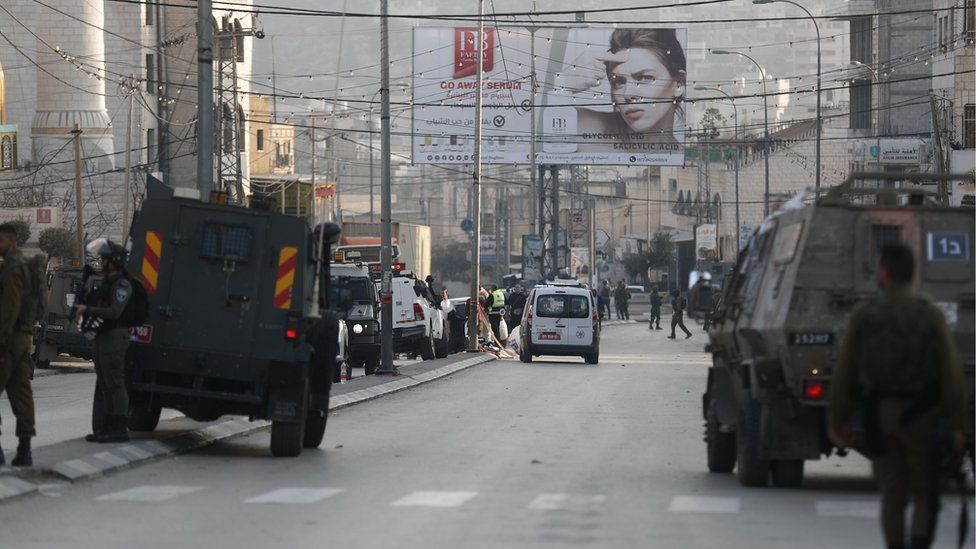 Settlers had called for a march to Hawara in order to "seek revenge" for the deadly attack on the brothers, who lived in the settlement of Har Bracha, which is 1.2 miles (2km) south of Nablus.
The two men were driving through Hawara when a Palestinian man rammed their car and then shot them both several times.
No Palestinian militant group has so far claimed they were behind the attack, but the gunman was reportedly wearing a shirt bearing the insignia of the Nablus-based Lions' Den.
Members of the group were the targets of an Israeli raid in Nablus last Wednesday in which 11 Palestinians, including several civilians, were killed – the deadliest such operation in the West Bank since 2005.
Israeli forces have been carrying out waves of search, arrest and intelligence-gathering raids in Nablus and the nearby city of Jenin, saying they are trying to stem the spate of deadly attacks against Israelis by Palestinians.
Since the start of this year, more than 60 Palestinians – militants and civilians – have been killed by Israeli forces. On the Israeli side, 13 people have been killed in attacks – all civilians, except for a paramilitary police officer.