At least 62 migrants have died, including children, with many still missing after the boat sank in rough seas.
There are fears that more than 100 people, including children, have died after their boat sank in rough seas off southern Italy.
At least 62 migrants are confirmed to have died.
The vessel, which is thought to have been carrying some 200 people, broke apart while trying to land near Crotone on Sunday.
People from Afghanistan, Pakistan, Somalia and Iran were on board.
Bodies were recovered from the beach at a nearby seaside resort in the Calabria region. There were 12 children among the victims, including a baby.
The coastguard said 80 people had been found alive, "including some who managed to reach the shore after the sinking", meaning many more remain unaccounted for.
Many of those on board were thought to be from Pakistan.
The country's Prime Minister Shehbaz Sharif referenced reports that more than two dozen Pakistanis were among the dead, and called the news "deeply concerning and worrisome". He instructed Pakistan's diplomats to "ascertain facts as early as possible".
Médecins Sans Frontières (MSF), is assisting people on the ground.
"We have cases of children who became orphans, such as a 12-year-old Afghan boy who lost his entire family, a family of nine people, including four siblings, parents and other close relatives," said Sergio Di Dato, from the charity.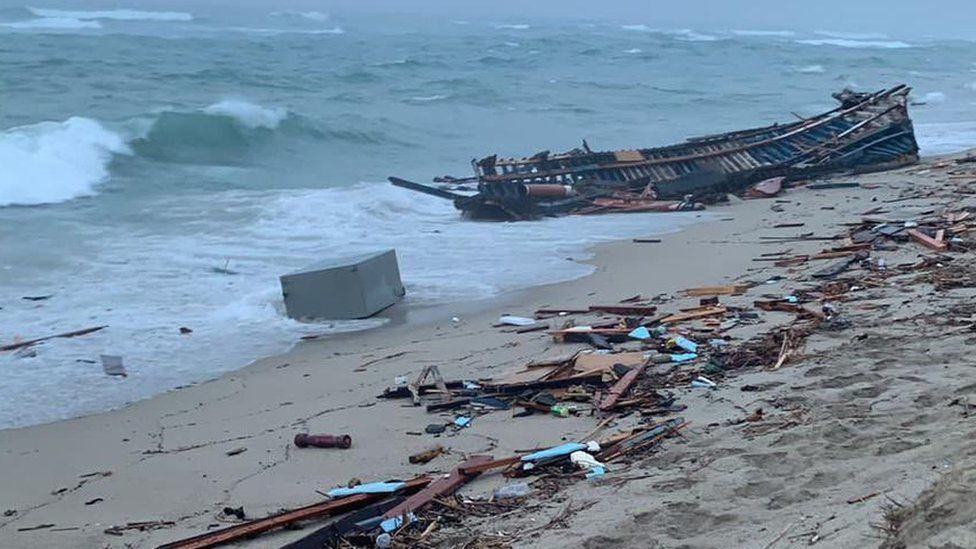 Speaking at the UN's Human Rights Council in Geneva on Monday morning, Secretary General António Guterres called on countries to do more to help refugees and migrants, and for safer travel routes and strengthened rescue operations.
"Just yesterday [Sunday], yet another horrific shipwreck in the Mediterranean claimed the lives of scores of people seeking a better future for themselves and their children. Refugee and migrant rights are human rights. They must be respected without discrimination," he said.
He added that while criminal gangs controlled migration routes, people would continue to die: "We need safe, orderly, legal routes for migrants and refugees. And we must do everything possible to prevent the loss of life by providing search and rescue and medical care as a humanitarian imperative and as a moral and legal obligation."
One survivor was arrested on migrant trafficking charges, customs police said.
Italian Prime Minister Giorgia Meloni – elected last year partly on a pledge to stem the flow of migrants into Italy – expressed "deep sorrow" and blamed the deaths on traffickers.
"It is inhumane to exchange the lives of men, women and children for the price of the 'ticket' they paid in the false perspective of a safe journey," she said in a statement.
"The government is committed to preventing departures, and with them the unfolding of these tragedies, and will continue to do so."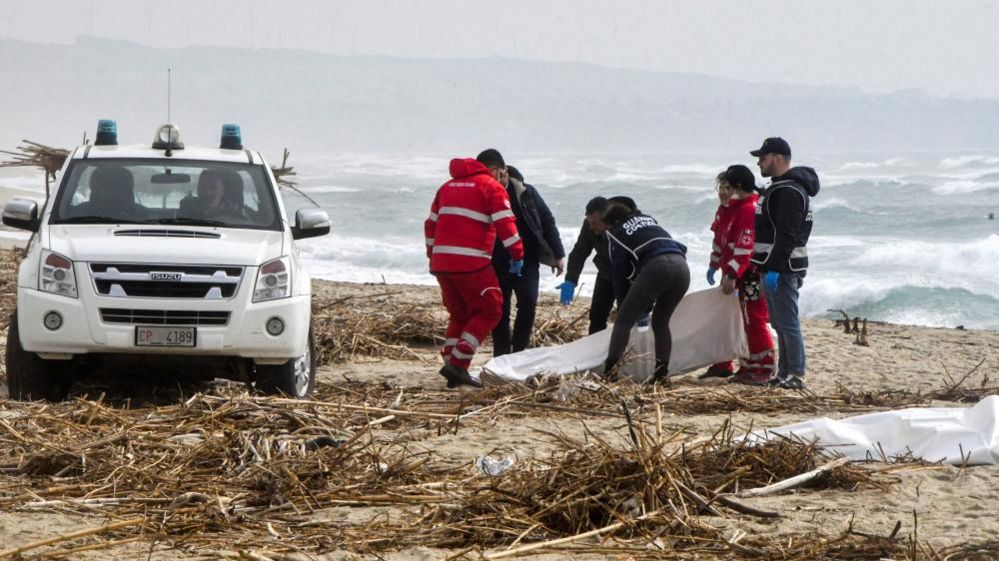 Ms Meloni's right-wing government has vowed to stop migrants reaching Italy's shores and in the last few days pushed through a tough new law tightening the rules on rescues.
The vessel, which had sailed from Turkey several days ago, is reported to have sunk after it crashed against rocks during rough weather, sparking a large search-and-rescue operation on land and at sea.
Video footage shows timber from the wreckage that had been smashed into pieces washing up on the beach, along with parts of the hull.
According to monitoring groups, more than 20,000 people have died or gone missing at sea in the central Mediterranean since 2014.