As rare talks were held in Jordan, a Palestinian gunman killed two Israelis in the occupied West Bank.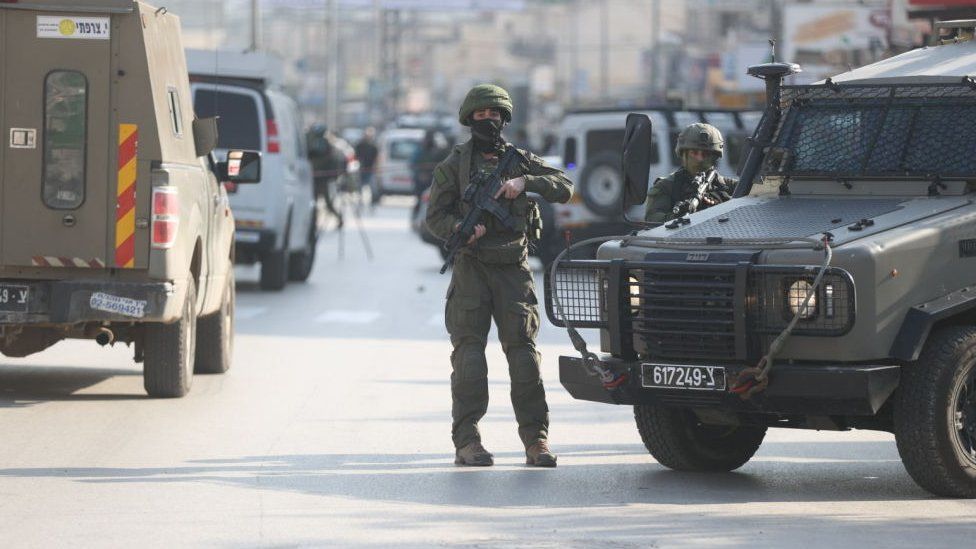 The Israeli government and the Palestinian Authority have announced a joint commitment to take immediate steps to end a surge in violence.
The move has emerged from rare talks in Jordan, also attended by US and Egyptian officials.
The meeting agreed to support confidence-building steps and "to work towards a just and lasting peace".
As the talks took place, a Palestinian gunman shot dead two Israelis in the occupied West Bank.
Israel's government described the killings in the village of Hawara, near Nablus, as "a Palestinian terror attack" and its military said it was pursuing the gunman.
Hours after Sunday's shooting, a large group of settlers entered the same village and began throwing stones and setting trees and cars alight.
At least 15 houses and a number of cars have been burned, according to Palestinian sources. Several families had to be evacuated from their homes.
Elsewhere in the West Bank, in Za'tara, a Palestinian man was killed after being shot when Israeli settlers and soldiers entered the village, Palestinian health officials say.
The summit in the Red Sea resort of Aqaba was called following a recent rise in deadly violence that has stoked fears of a wider conflict.
It brought together Israeli and Palestinian security chiefs for the first time in many years. The US president's top Middle East adviser, Brett McGurk, was also present.
The first point of the summit's communique read: "The two sides [Palestinian and Israeli] affirmed their commitment to all previous agreements between them, and to work towards a just and lasting peace.
"They reaffirmed the necessity of committing to de-escalation on the ground and to prevent further violence."
According to the statement, Israel made a commitment to stop discussing new settlement building for four months. In return, it is understood the Palestinians will not take action against Israel at the UN.
US National Security Adviser Jake Sullivan said he "welcomed" the commitments made by both sides, adding that more work is needed in coming months "to build a stable and prosperous future for Israelis and Palestinians alike".
But Israeli Finance Minister Bezalel Smotrich – the leader of the far-fight grouping in Benjamin Netanyahu's governing coalition – said "there will not be a freeze on construction and development in the settlement, not even for one day". He added that the Israel Defence Forces (IDF) will "continue to act to counter terrorism" without limitations.
Palestinian militant group Hamas, which controls the Gaza Strip, condemned the Palestinian Authority (PA) for taking part in what they called "worthless" talks.
The attack on two Israelis at Hawara on Sunday has underlined the lack of influence the PA has over armed groups and lone wolf attackers.
There was no immediate claim of responsibility for the shooting, which took place on a busy road that often sees friction between Palestinians and settlers.
Local media say the victims were brothers in their twenties who live in Har Bracha, a settlement 8km (5 miles) away.
Graphic footage from the scene showed the victims' car riddled with bullets and Israeli medics treating the casualties in the immediate aftermath.
In a statement afterwards, Israel's Prime Minister Benjamin Netanyahu said: "We will continue to act by all means, with security, operational activity and legislation, to deter the terrorists and maintain Israel's security. Our answer to terrorism is to hit terrorism hard and deepen our roots in our country."
Since the start of this year, more than 60 Palestinians – militants and civilians have been killed by Israeli forces – and on the Israeli side, thirteen people have been killed in attacks, all civilians, except for a paramilitary police officer.
The recent flare up in violence has included two Israeli military raids – in Jenin refugee camp and Nablus Old City which killed ten and 11 Palestinians respectively – in the most deadly operations of their kind since 2005, when the second Palestinian intifada or uprising ended.
In both cases, the IDF said that the aim was to arrest wanted men who had carried out shooting attacks targeting settlers or soldiers and were planning further attacks. Palestinian militants and civilians were killed.
Last month, a Palestinian shooting attack outside a synagogue in a settlement in occupied East Jerusalem killed six Israelis and one Ukrainian citizen. That was the most deadly attack of its kind since 2008.
There is particular concern about rising tension in the coming weeks when the Islamic holy month of Ramadan will again overlap with the Jewish Passover holiday.
In past years, during Ramadan there have often been clashes between Palestinian Muslim worshippers and Israeli police around the al-Aqsa Mosque, located in the Old City in Israeli-annexed East Jerusalem.
The bitterly contested holy site is the third holiest place in Islam but also the holiest place for Jews, who call it Temple Mount.
During Passover, there will be pressure to allow more Jewish visitors to the site.
Jordan – which acts as the custodian of the site – has pressed for guarantees that fragile status quo rules applied there will be upheld. These were also given in the joint statement from the Aqaba summit.
The five parties also agreed to hold further talks in Sharm el-Sheikh next month.