Det Ch Insp John Caldwell remains in a serious condition in hospital after being shot several times.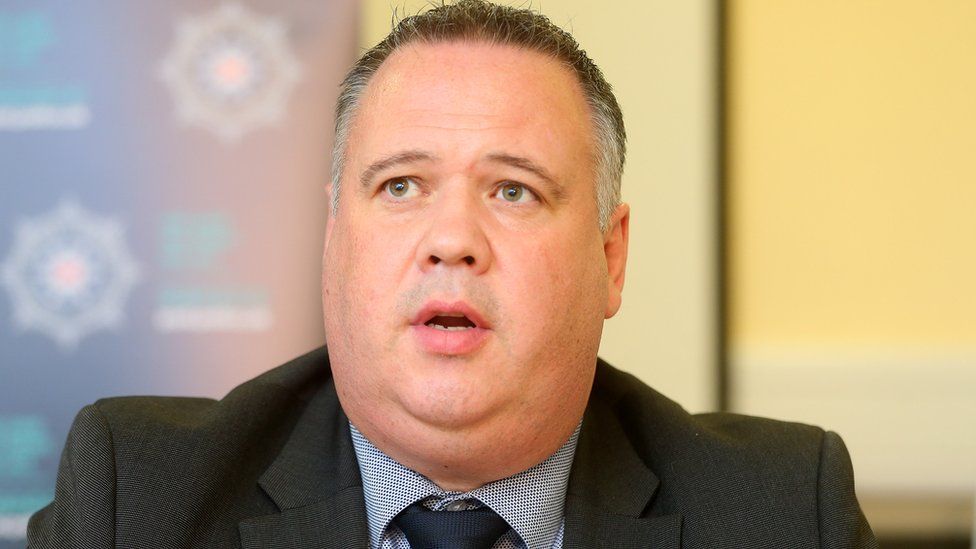 A fourth man has been arrested over the attempted murder of an off-duty detective chief inspector in Northern Ireland.
Two gunmen shot John Caldwell several times as he was putting footballs into his car with his son after an under-15 training session in Omagh, County Tyrone, on Wednesday.
The 48-year-old was in a critical but stable condition in hospital overnight.
Political leaders will meet the chief constable later to discuss the attack.
On Friday morning, the Police Service of Northern Ireland (PSNI) said a 22-year-old man had been arrested in the Coalisland area of County Tyrone under the Terrorism Act and is currently being questioned at Musgrave Serious Crime Suite.
The police investigation is looking at dissident republicans, with a focus on the New IRA.
Three men – aged 38, 45, and 47 – arrested in Omagh and Coalisland on Thursday remain in custody.
Young players traumatised
Det Ch Insp Caldwell is one of the best-known detectives in the PSNI, often fronting press conferences on major inquiries during his 26-year career.
The father-of-four had coached a Beragh Swifts training session at Youth Sport Omagh when the gunmen approached and shot him at about 20:00 GMT on Wednesday.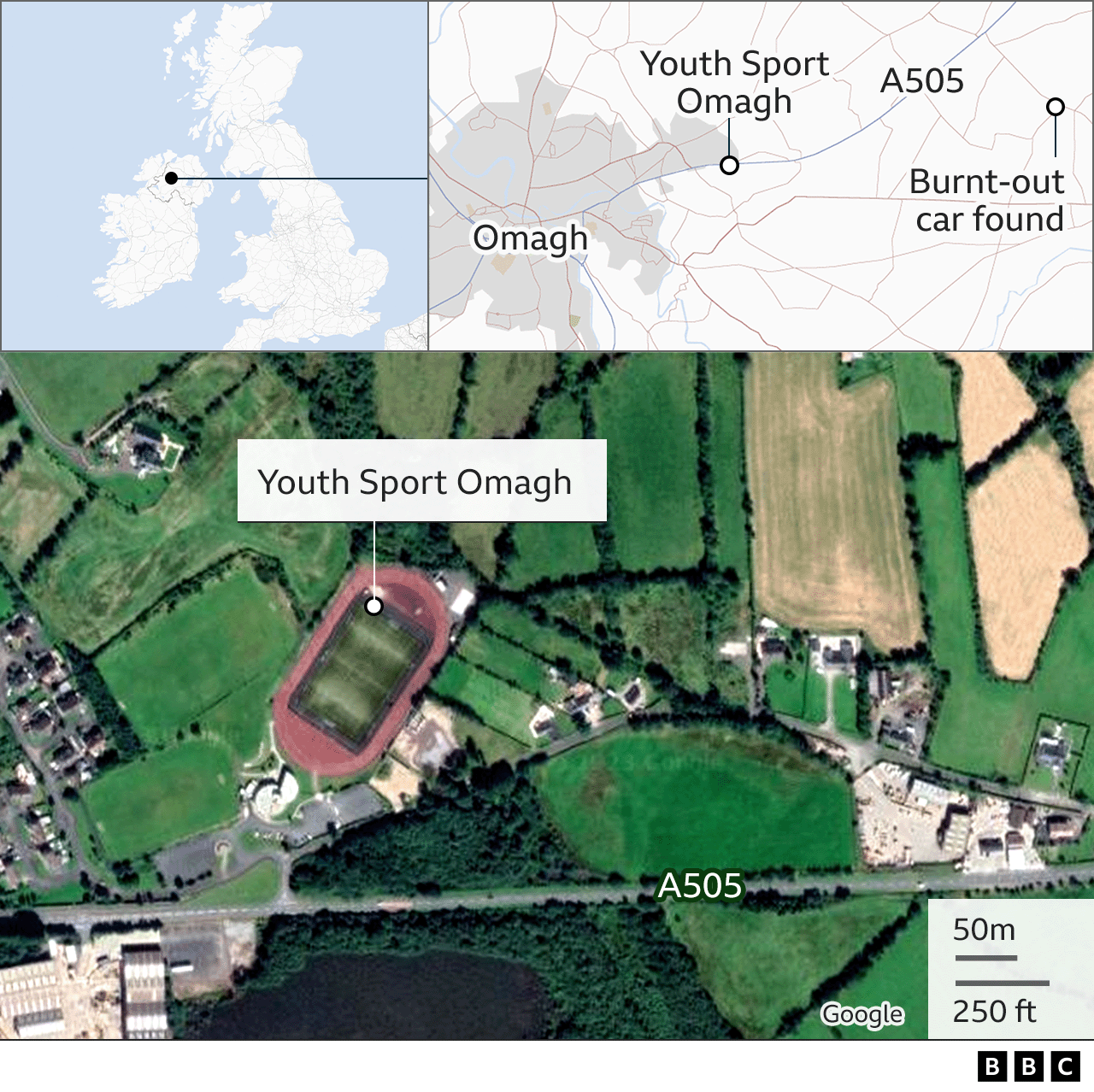 Children ran in terror when the shots rang out in the car park, and Beragh Swifts chairman Ricky Lyons said the club was supporting the young players who witnessed the shooting.
"He was taking a kids' training session – it's hard to compute that someone would try to attempt to kill John at that moment," said Mr Lyons.
Terrorism threat level scrutinised
Politicians have condemned Wednesday's attack as reprehensible and callous.
Representatives from the Policing Board, which includes assembly members from the five main Stormont parties, were briefed by PSNI Chief Constable Simon Byrne on Thursday.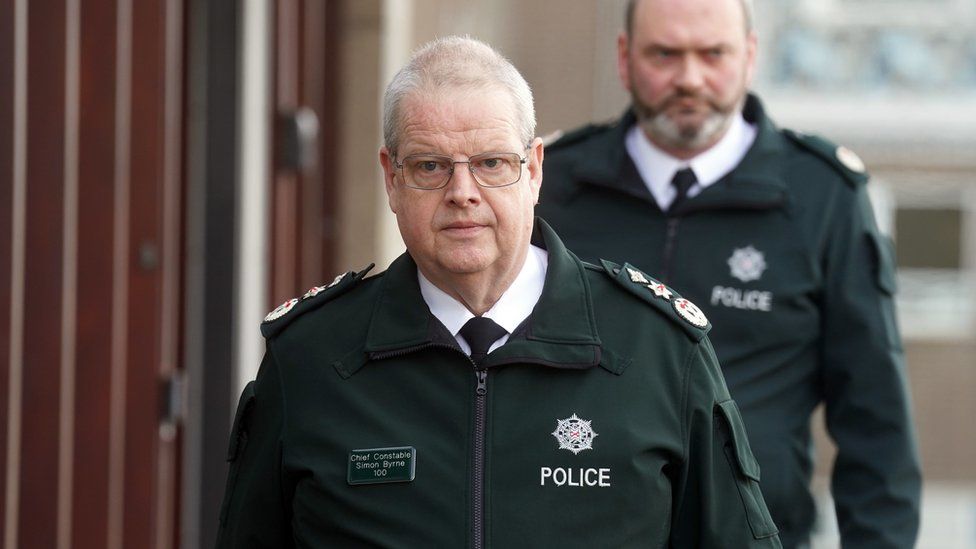 Sinn Féin deputy leader Michelle O'Neill said politicians from her party, the Democratic Unionist Party, Alliance, Ulster Unionist Party and Social Democratic and Labour Party would discuss Northern Ireland's current terrorism threat level when they meet Mr Byrne later.
Last March, that threat level was lowered from severe to substantial for the first time in 12 years.
The decision to lower the threat level was taken by the Security Service (MI5) after assessing a wide range of information, independently of ministers.
Since 2010 it had been "severe", meaning attacks are highly likely. It is now "substantial", meaning attacks are likely.
The threat level is assessed over a period of time rather than in reaction to one event.
But the narrative that accompanied the downgrade was one of triumph by the security services, who had succeeded in hampering dissident activities, says BBC News NI home affairs correspondent Julian O'Neill.
Wednesday's attack poses questions about whether there was a reduction in intelligence gathering after the threat level was lowered, adds our correspondent.
High-profile figure
Dt Ch Insp Caldwell has been the senior detective in high-profile inquiries including:
He had received a number of threats in the past, BBC News NI understands, and was aware his investigations of dissident republican attacks made him a high-profile target.
He continued to carry out his activities as a football coach and whether that was a pattern that aided the targeting of him is of course a matter for the investigation.
Who are dissident republicans?
The term "dissident republicans" describes a range of individuals who do not accept the Good Friday Agreement – the 1998 peace deal that ended the worst of the Troubles in Northern Ireland.
The Provisional IRA – the main armed republican paramilitary group for most of the Troubles – declared a ceasefire in the run-up to the agreement and officially ended its violent campaign in 2005.
Dissident republicanism is made up of various groups which broke away from the Provisional IRA in the 1980s, 1990s and 2000s, including the Continuity IRA and New IRA.
They have continued to use violence to attempt to unite Northern Ireland with the Republic of Ireland in a single state, but their activities have been sporadic and often undermined by the security services.
While much smaller than the Provisional IRA, the groups have access to high-calibre weapons and have used improvised explosive devices and mortars in attacks and attempted attacks.
The biggest and most active group is the New IRA, which is strongest in Londonderry and County Tyrone.
Previous security assessments estimated it had about 100 members prepared to commit violent acts, and about 500 supporters.
It has been put on the back foot by several successful security operations run by MI5, leading to the 2022 terrorist threat level reduction.