Det Ch Insp John Caldwell is critically ill after being attacked in front of his son at a sports club.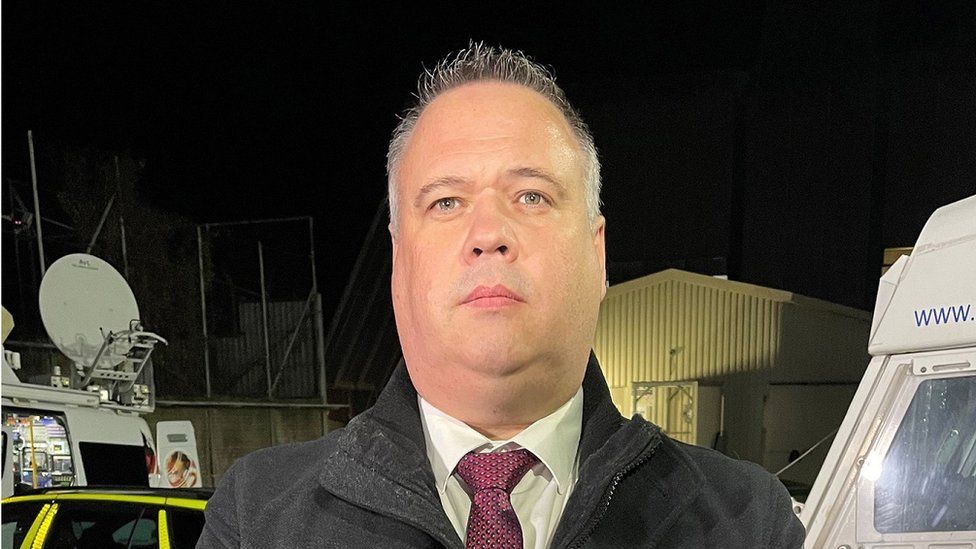 The Police Service of Northern Ireland has arrested a fifth man in connection with the shooting of Det Ch Insp John Caldwell on Wednesday.
The man, aged 43, was arrested in the Stewartstown area of County Tyrone on Friday evening.
Two gunmen shot the 48-year-old several times as he was putting footballs into his car in Omagh on Wednesday.
Investigators confirmed their line of enquiry was dissident republican group the New IRA.
Dissident republicans oppose the 1998 Good Friday Agreement and continue to use violence to attempt to unite NI with the Republic of Ireland.
Three men – aged 38, 45, and 47 – arrested in the Omagh and Coalisland areas of Tyrone on Thursday – remain in custody.
A fourth man, aged 22, was arrested in Coalisland over the attempted murder on Friday morning.
Det Ch Insp Caldwell is critically ill after he was shot in front of his son.
He remains heavily sedated in hospital. His wife and son had been left seriousily affected by his shooting, Chief Constable Simon Byrne said.
'Sense of outrage'
Mr Byrne provided an update alongside leaders from Northern Ireland's five main parties on Friday.
Political leaders presented a united front with the chief constable, which Mr Byrne said was a significant show of solidarity that showed the "sheer sense of outrage at this pointless and senseless attack".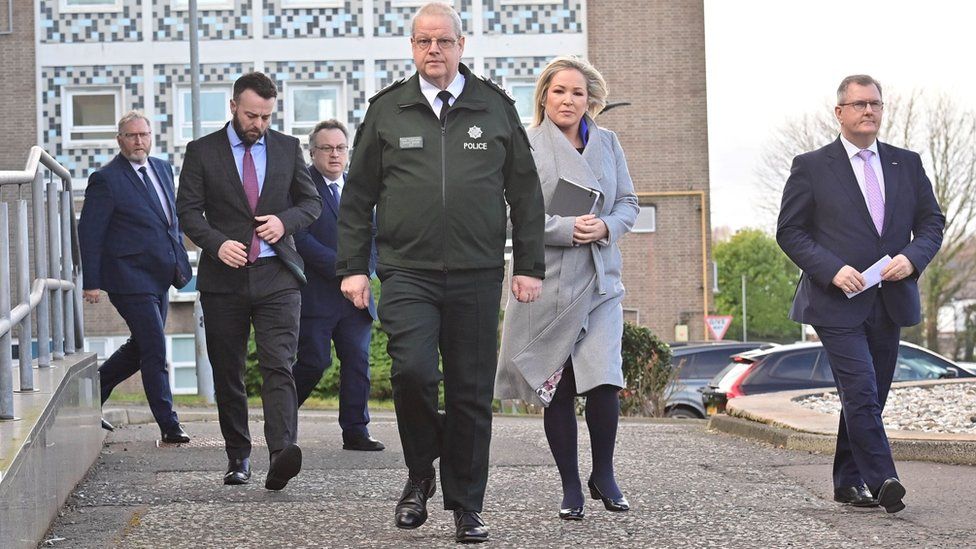 He is one of the best-known detectives in the PSNI, often fronting press conferences on major inquiries during his 26-year career.
He had coached a Beragh Swifts training session at Youth Sport Omagh when the gunmen approached and shot him at about 20:00 GMT on Wednesday.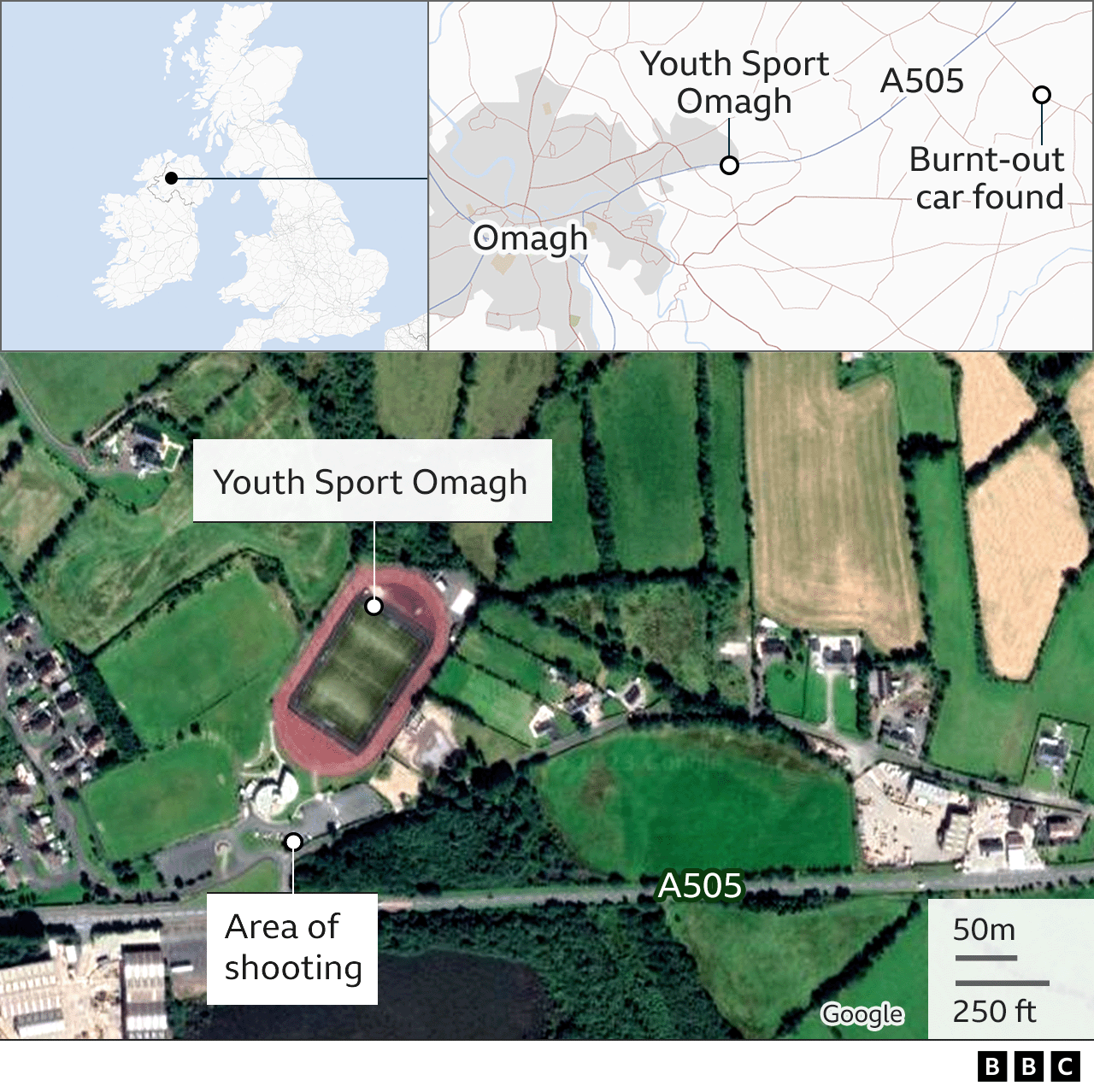 Children ran in terror when the shots rang out in the car park of the sports complex.
Two gunmen, who were dressed in dark clothing, carried out the attack and fled the scene of the shooting on foot, police said.
At least two other vehicles were struck by their volley of shots.


The attack appears to underscore the re-emergence on the New IRA after nearly four years of surface-level inactivity.
In 2019 the dissident republican grouping shot dead journalist Lyra McKee as she watched rioting unfold in Londonderry.
Within a year, its suspected leadership was rounded-up by the PSNI following a surveillance operation run by MI5 using an alleged agent.
Ten individuals are currently awaiting trial on almost 50 terrorism charges as a result of Operation Arbacia.
In the aftermath, the New IRA was viewed as being in complete disarray and last year, for the first time in more than a decade, the government announced the threat level in Northern Ireland was being lowered from severe to substantial.
It might not have sounded much, but it was a hugely symbolic moment.
Attacks, or attempted attacks, dropped markedly: the years 2020-22 saw a virtual absence of activity.
But the New IRA was re-organising and in November it mounted a roadside bomb attack, using military grade explosives, on a police patrol car in Strabane.
The armour-plated vehicle did its job and two officers inside escaped injury.
The attack has now been followed up with the attempted murder, less than 20 miles away, of Det Ch Insp Caldwell.

Police believe the gunmen then made off in a small, dark car, which was found burnt out at Racolpa Road, outside Omagh.
The Racolpa Road was closed between the Rushill Road and Crocknacor Road.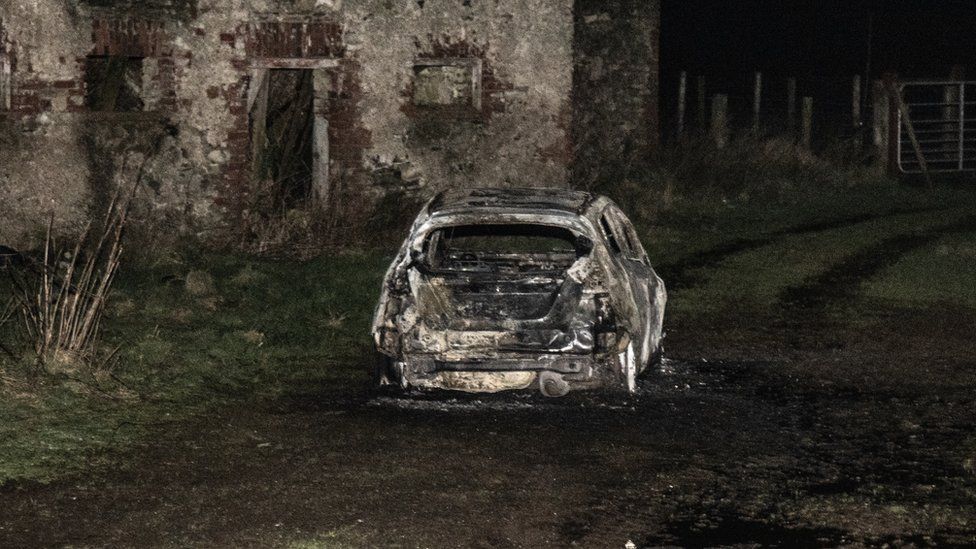 Beragh Swifts chairman Ricky Lyons said the club was supporting the young players who witnessed the shooting.
"He was taking a kids' training session – it's hard to compute that someone would try to attempt to kill John at that moment," said Mr Lyons.
Irish Football Association (IFA) President Conrad Kirkwood said he had received a message from Det Ch Insp Caldwell earlier this week about hosting a football seminar at his club.
"This is a guy who, despite having a busy day job, is absolutely invested in trying to make things better – it makes it even more tragic," he added.
A recovery vehicle carrying two cars left the Youth Sport Omagh complex under police escort on Thursday night.
On Friday evening a police cordon put in place at the scene was lifted.
Terrorism threat level scrutinised
A rally to condemn the attack will be held at Omagh's courthouse on Saturday morning.
A walk of solidarity will also take place at Beragh Swifts Football Club on Saturday, with attendees encouraged to wear the club's colours.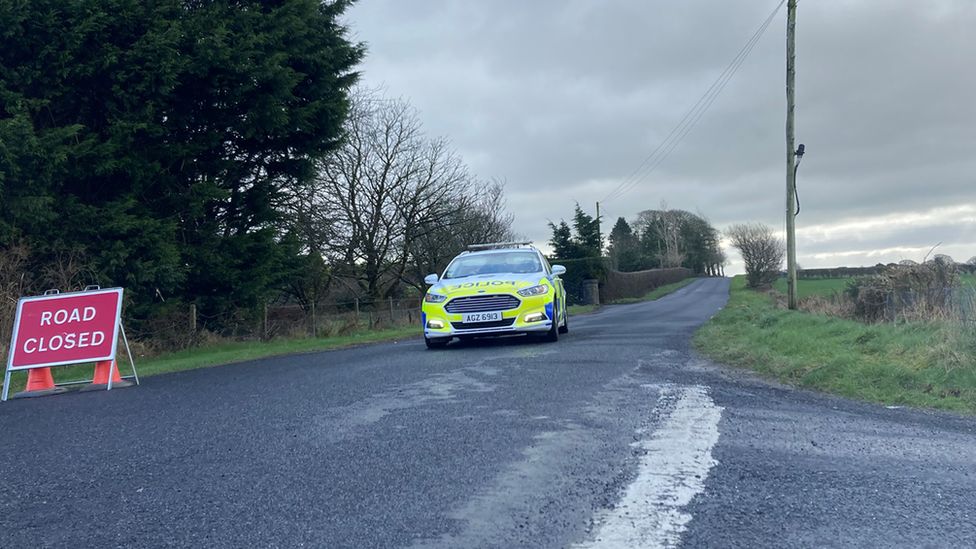 An Garda Síochána (police in the Republic of Ireland) continue to work closely with the PSNI after the shooting, a spokesperson said.
Gardaí previously said it had intensified patrolling in border counties following the attack.
It added that it will provide the PSNI with assistance as required as the investigation continues.
Last March, the the threat level posed by dissident republican terrorism in Northern Ireland was lowered from severe to substantial for the first time in 12 years.
The decision to lower the threat level was taken by the Security Service (MI5) after assessing a wide range of information, independently of ministers.
Since 2010 it had been "severe", meaning attacks are highly likely. It is now "substantial", meaning attacks are likely.
The threat level is assessed over a period of time rather than in reaction to one event.
High-profile figure
Dt Ch Insp Caldwell has been the senior detective in high-profile inquiries including:
He had received a number of threats in the past, BBC News NI understands, and was aware his investigations of dissident republican attacks made him a high-profile target.
He continued to carry out his activities as a football coach and whether that was a pattern that aided the targeting of him is of course a matter for the investigation.
The last gun attack on a PSNI officer was in January 2017.