The union says it would only pause next week's strikes if the government offers a "serious proposal".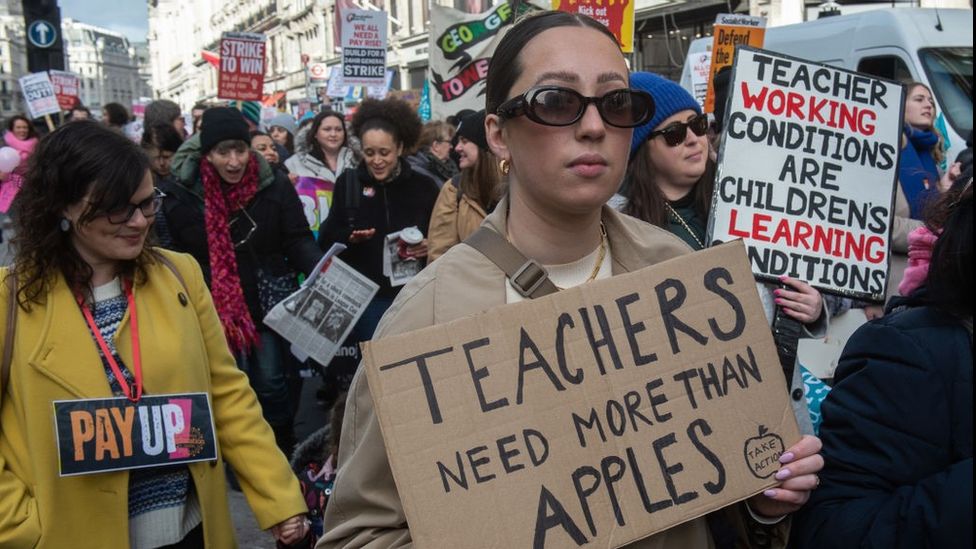 Teacher strikes will go ahead next week unless there is "real progress" in talks over pay before Saturday, the National Education Union (NEU) says.
The NEU said it would recommend calling off strikes to its executive committee on Saturday – but only if a "serious proposal" had been made by ministers.
The government, meanwhile, said it would only hold formal talks if the strikes were called off.
Teachers are due to walk out across the north of England next Tuesday.
Strikes will follow in the Midlands and the NEU's eastern region on Wednesday, then in Wales and the south of England on Thursday.
The NEU's announcement, put in writing to ministers, comes after the government proposed a 3% pay rise for most teachers next year.
Most state school teachers in England and Wales had a 5% rise in 2022.
The NEU, which is calling for an above-inflation pay rise, said the latest offer was not enough.
On Tuesday, the Department for Education (DfE) said it was willing to "move into formal talks on pay, conditions and reform" – but only if the NEU called off next week's strike action.
In response, Dr Mary Bousted and Kevin Courtney, joint general secretaries of the NEU, said ministers were "requiring the NEU to give up the only thing that has brought government to the negotiating table, without any assurance that the negotiations are, indeed, serious and in good faith".
"We are prepared, should the negotiations make real progress, to pause next week's strikes," they said.
"But the government has to show good faith. We ask ministers to drop its preconditions and to begin serious negotiations."
The NAHT school leaders' union called the government's announcement on Tuesday an "olive branch with thorns attached" and said it had "no understanding of how to conduct good industrial relations".