Strike action planned for next week is paused as the Royal College of Nursing holds "intensive talks" with government.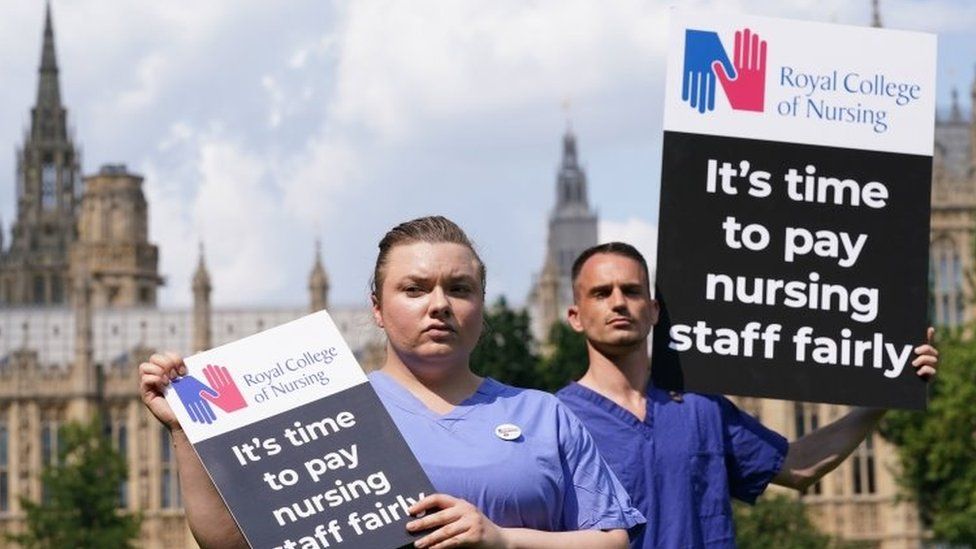 The Royal College of Nursing has called off next week's 48-hour strike in England to re-start talks with the government.
Both sides said in a joint statement they had agreed to enter "intensive" negotiations.
Ministers, officials and RCN leaders will meet on Wednesday to start talks.
The RCN originally asked for a pay rise of 5% above inflation, but has since said it would be willing to meet the government half-way.
Next week's walkout was due to start on Wednesday at 06:00 GMT.
It was set to be the biggest strike of this winter's pay dispute with half of frontline services affected.
The RCN had also said it would no longer exempt key services such as critical care and chemotherapy.
'Both sides committed to finding settlement'
The government had for months refused to talk about this year's pay award, which amounted to 4.75% extra on average.
But the breakthrough comes as the government submitted its evidence to the independent NHS pay review body for the pay rise due to come in in April.
One source close to the negotiations said this had opened the door for that pay award to be backdated into this year so giving nurses and other staff – they are all on the same contract – an extra boost in pay.
The joint statement issued by the RCN and Department of Health and Social Care said: "The government and RCN have agreed to enter a process of intensive talks.
"Both sides are committed to finding a fair and reasonable settlement that recognises the vital role that nurses and nursing play in the NHS and the wider economic pressures facing the UK and the prime minister's priority to halve inflation.
"The health secretary will meet with the RCN on Wednesday to begin talks. The RCN will pause strike action during these talks."
This breaking news story is being updated and more details will be published shortly. Please refresh the page for the fullest version.