Nurses, teachers and police officers would get below inflation rises, under government proposals.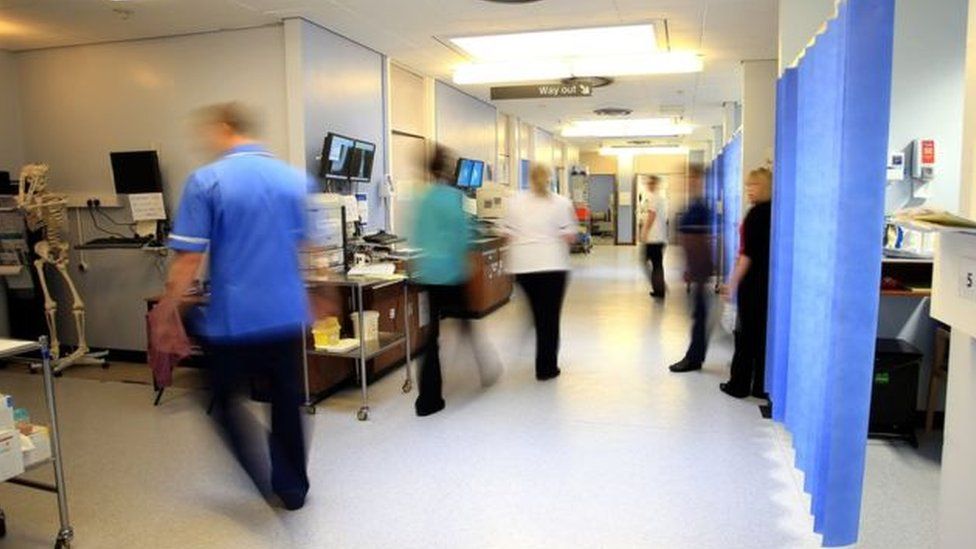 The government has recommended offering millions of public sector workers below inflation pay increases.
Judges, police officers, teachers, nurses doctors and dentists in England will be offered a 3.5% pay increase under proposals.
The recommendations will now be considered by independent pay review bodies.
Various government departments published their evidence to pay review bodies for the 2023-24 financial year on Tuesday.
Pay review bodies can decide to suggest a higher award but the government will make a final decision.
The government has left room for increases above 3.5% for some workers, if the economic outlook improves, cuts are made elsewhere or borrowing is increased.
The GMB union called the pay offer a "disgrace" which will not prevent ongoing ambulance strikes.
The proposal "shows this government's true colours", Rachel Harrison, GMB's national secretary, said.
"Ambulance workers – and others across the NHS including cleaners, porters and care workers- who are the backbone of the health service deserve better.
"Ministers have no intentions of recognising the true value of the entire workforce."

Pay proposals at-a-glance:
Nurses in England would get 3.5% in 2023-24
Doctors and dentists in England would get 3.5% in 2023-24
Police officers in England and Wales would get an increase of 3.5% in 2023-24
Teachers' starting salary in England increased to £30,000
"Experienced teachers", which covers the majority of the workforce, would see a 3% pay rise in 2023-24
Judges in England and Wales would be offered 3.5%
Prison officers in England and Wales to see a £2,000 pay increase for those on the lowest band ranging to £500 for those on highest band

Education Secretary Gillian Keegan has written to the National Education Union urging it to call off teachers strikes next week across the North of England if it wants to negotiate pay.
NEU joint General Secretary Kevin Courtney said there was "nothing substantial" in the education secretary's letter and the strikes would go ahead.
But he added: 'Our national executive meets on Saturday, they could change that decision.
"There is time for the DfE to make clear that they will talk about pay rises for this school year and would fund those potential pay rises.
"There is time for them to tell us they are willing to move beyond a 3% pay rise for next September and to fund such pay rises".
Sara Gorton, head of health at the union Unison, said: "If the government was actively trying to worsen the crisis in the NHS, it couldn't have done better than this.
"Vacancies are at an all-time high and this pitiful pay suggestion does nothing to solve the growing staffing emergency."