In separate speeches, Russia's leader targets the West but the US president says his lust for land will fail.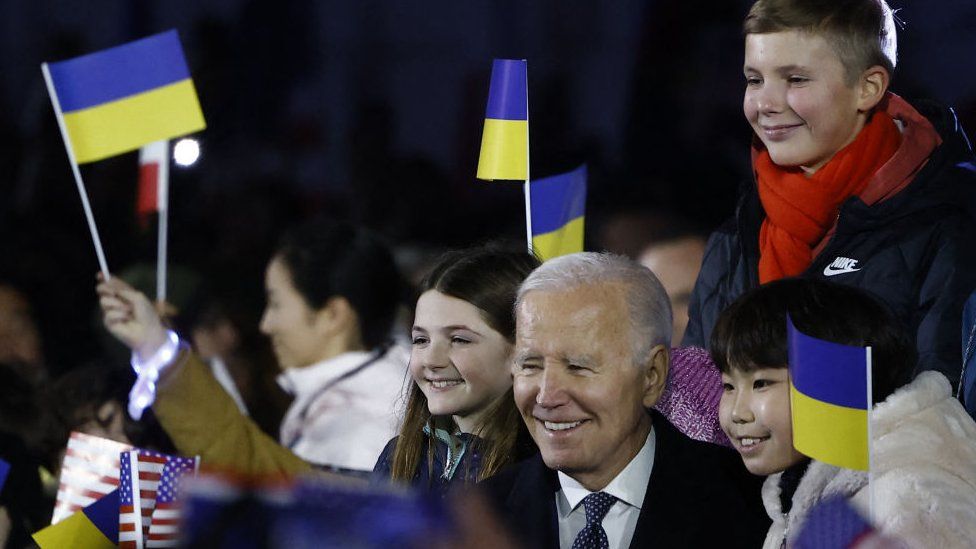 Vladimir Putin has sharpened his vitriol towards the West as President Joe Biden, fresh from a visit to Kyiv, praised Western democracy for standing up to naked Russian aggression.
In a week heavy with events ahead of Friday's anniversary of Russia's Ukraine invasion, Mr Putin spoke first.
The West had enabled Nazi Germany, he claimed, and had turned Ukraine into a neo-Nazi regime that was "anti-Russia".
Hours later Mr Biden said autocrats understood only one word: "No, no, no!"
"Putin thought the world would roll over, he was wrong," he said, vowing that Nato was more united than ever. Kyiv stood strong, proud, tall and free and Western support for Ukraine would not fail, he added.
Welcoming him to Warsaw's royal castle, Polish President Andrzej Duda said that by travelling to Kyiv Mr Biden had shown the free world did not fear anything. Nato's role was to defend and support the free world and Ukraine "must win this war".
Mr Putin's speech barely touched on the progress of Russia's military in Ukraine and there was no indication of how the war might end. The main news involving Russia's military came from Wagner mercenary group leader Yevgeny Prigozhin, who accused the chief of staff and defence minister of trying to destroy his group and starve it of weapons.
Russia's president did announce he was suspending the New Start nuclear arms control treaty signed with the US in 2010. The deal caps nuclear warhead numbers and Nato, and UK leaders have urged him to reconsider.
He also declared he had put new ground-based systems on combat duty. He had already threatened last year to use "all means at our disposal" to protect Russia and territory it has seized in Ukraine.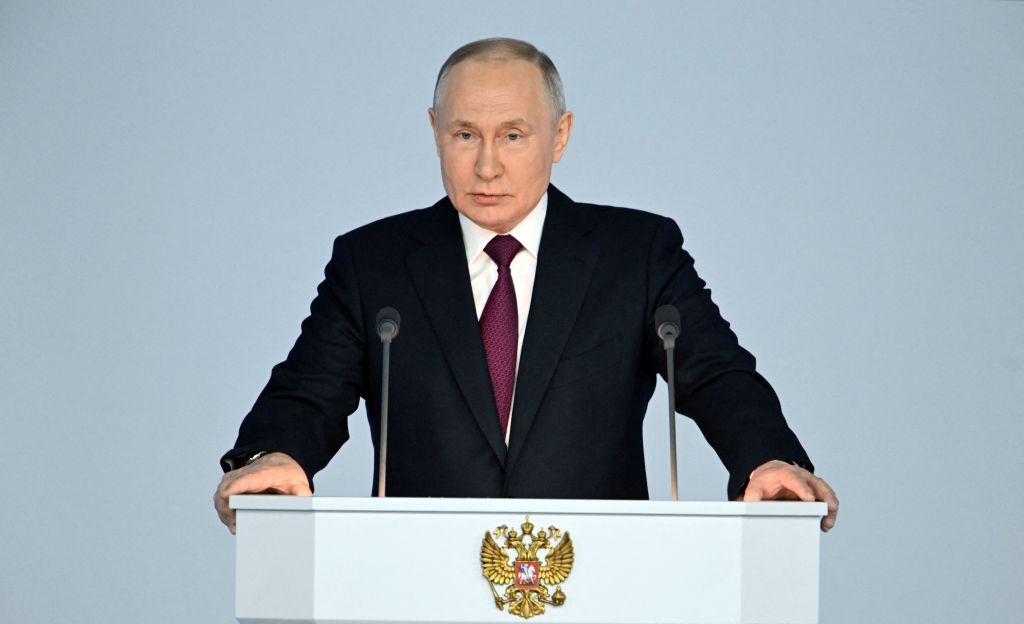 Getty Images
We are not at war with the people of Ukraine. I have made that clear many times. The people of Ukraine have become hostages of the Kyiv regime and its Western handlers

Truth was an early casualty of Mr Putin's lengthy speech, at an exhibition centre a stone's throw from the Kremlin.
No Western troops have been on the ground in Ukraine, but Russia's foreign ministry appeared to double down on the claim when it summoned US ambassador Lynne Tracy on Tuesday, saying that Washington should take steps to withdraw "US-Nato military and equipment" from Ukraine.
Mr Putin has blamed the West and Nato countless times in the past, and he reprised many of his claims from his TV address on the day of the invasion a year ago. He reminded Russians of the war in Iraq and the bombing of Belgrade, but steered clear of Russia's long and devastating role in the Syrian civil war, its invasion of neighbouring Georgia or landgrab in Crimea.
As he spoke there was a deadly reminder of the human cost of Europe's most deadly invasion since World War Two.
Six people died and many more were wounded as Russian shells hit Kherson city, liberated from Russian troops last November. A bus stop, a pharmacy and residential areas were hit in the city centre and local media said a kindergarten was among the buildings that came under attack.

What is the New Start treaty?
Signed in 2010 by two then presidents – Barack Obama and Dmitry Medvedev – the New Start treaty was designed to prevent nuclear war. It limits the number of strategic nuclear warheads that both sides can deploy, and gives each country the power to inspect the other.
The arrangement came into force in 2011 and was extended 10 years later – although weapons inspections were disrupted by the Covid pandemic.
Each side's limit is 1,550 long-range nuclear warheads, a lower number than under the previous Start deal.
Between them, the two former Cold War rivals account for almost all of the world's nuclear weapons. Russia had previously said it wanted to keep the treaty running – despite hostile rhetoric on both sides during the Ukraine war.

President Biden visited Warsaw a day after he had gone to Kyiv to meet President Volodymyr Zelensky, in a highly complex security operation.
The Polish president said the visit had sent "an extremely important political signal, primarily for Ukraine", but it was also a sign that the free world and the president of the US was with them and did not forget.
Mr Biden reserved much of his praise for Mr Zelensky and the Ukrainians who had reclaimed land captured during the first weeks of the war.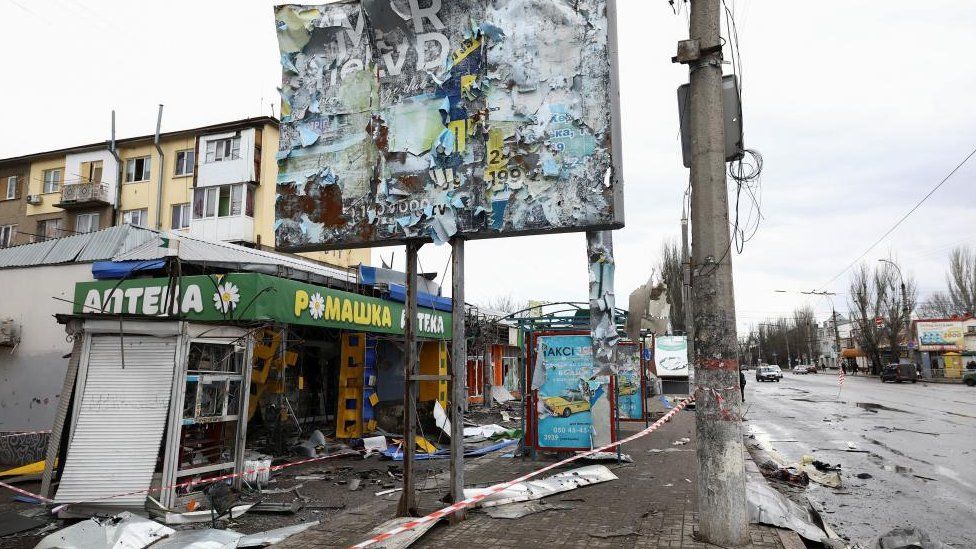 But he also had words of support for Moldova's pro-EU president, Maia Sandu, over allegations that Russia was plotting to overthrow the current government.
President Putin on Tuesday stoked tensions in Moldova on Tuesday by cancelling a 2012 decree that backed Moldova's sovereignty in solving the future of a breakaway region of Moldova called Transnistria, where Russian troops are stationed.
President Biden is due to meet leaders of nine countries on Nato's eastern flank on Wednesday, and he went out of his way to reaffirm American backing for one of the alliance's key pledges.
Under its Article 5, members of Nato pledge to defend any other member that comes under attack. Mr Biden said US commitment both to the alliance and Article 5 was "rock solid".
"Every member of Nato knows it and Russia knows it as well – an attack against one is an attack against all."
Italy's Prime Minister, Giorgia Meloni, followed up Mr Biden's visit to Kyiv on Tuesday with her first trip to Ukraine. Visiting the towns of Bucha and Irpin, where Russian troops murdered hundreds of civilians, she said Ukrainians could count on Italy: "We have been with you since the start and we will be until the end."