Supermarkets are facing shortages of some fresh fruit and veg due to extreme weather and rising energy costs.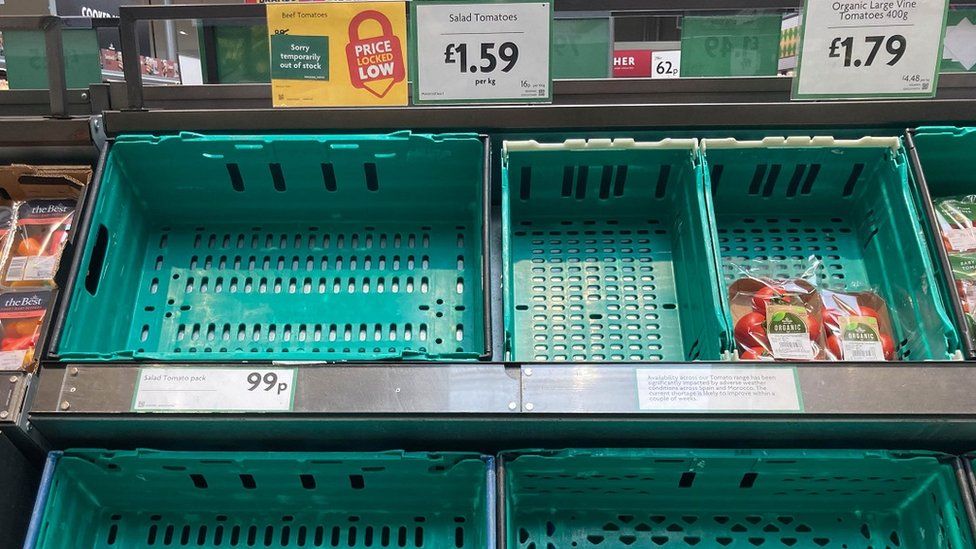 Asda has put limits on purchases of fruit and vegetables as supermarkets face shortages of fresh produce.
The supermarket has introduced a limit of three on tomatoes, peppers, cucumbers, lettuce, salad bags, broccoli, cauliflower and raspberries.
Pictures of empty supermarket shelves have been circulating on social media in recent days.
Extreme weather in Spain and north Africa, including floods, snow and hail, have affected harvests.
An Asda spokesperson said: "Like other supermarkets, we are experiencing sourcing challenges on some products that are grown in southern Spain and north Africa."
Andrew Opie, director of Food and Sustainability at the British Retail Consortium said the disruption was expected to last for "a few weeks".
Supermarkets are "adept at managing supply chain issues and are working with farmers to ensure that customers are able to access a wide range of fresh produce," he added.
High energy prices have also affected production. Farmers in the UK and Netherlands have cut back on their use of greenhouses to grow winter crops, due to higher electricity prices.
Extreme weather has been causing problems in the supply of some crops for months.
The European heatwave last year had a significant impact on the supply of onions, for example, which are usually grown in summer and put into storage. Prices have risen dramatically as a result.
More recently, the supply of crops such as tomatoes, peppers and cucumbers has been affected by unusually cold weather in southern Spain.
At this time of year, a significant proportion of what the UK consumes usually comes from that region.
The usual fallback would be to buy more produce from Morocco, but output there has been affected by flooding, while storms have led to ferries being delayed or cancelled.
Farmers in the UK said lots of factors were causing the shortage..
"There's been a myriad of individual factors" explains Nigel Jenney, chief executive of the Fresh Produce Consortium, which represents around 700 businesses. "Weather, fuel costs, packaging and distribution costs, energy costs."
Anecdotal evidence suggests the UK has been bearing the brunt of the shortages, with little sign of empty shelves in other European countries.
Industry sources suggest the UK may be suffering because of lower domestic production and more complex supply chains, as well as a price-sensitive market. But Brexit is unlikely to be a factor, they say.
The main impact of new border procedures for fruit and vegetable imports will not be felt until January – while imports from Morocco, which is outside the EU, are already subject to border checks.
Ken Mortimer, managing director of Heritage Fine Food Company in Wiltshire, a wholesaler which supplies restaurants, cafes and schools in the south west of England, said many UK businesses have contracts to buy fixed quantities of imported produce. But when they need more, they have to buy it on the open market and prices have been prohibitively high.
"It's not Brexit", says Mr Mortimer "Or at least, I don't think so".
The BBC has also contacted business body, the Irish Business and Employers Confederation (IBEC) for a response.