The ex-PM puts pressure on Rishi Sunak as she urges the UK to "do all we can" to support Ukraine.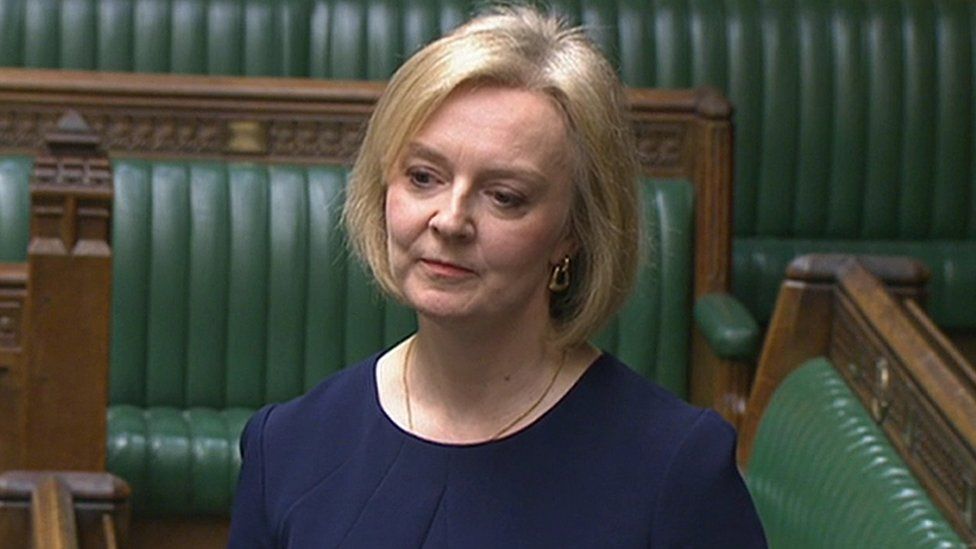 Liz Truss has joined growing calls for fighter jets to be sent to Ukraine, in her first speech in Parliament since resigning as prime minister.
Ms Truss said the UK needed to "do all we can, as fast as we can" to help Ukraine win the war against Russia.
The call puts more pressure on PM Rishi Sunak after former PM Boris Johnson made the same plea weeks ago.
Mr Sunak's government has agreed to train Ukrainian pilots but says supplying jets is a long-term option.
Earlier this month, Ukrainian President Volodymyr Zelensky appealed to European leaders to supply his country with modern fighter jets during visits to the UK, France and Belgium.
The UK is to start training Ukrainian forces to fly Nato-standard jets and Mr Sunak has said "nothing is off the table".
At the Munich Security Conference last week, the prime minister urged world leaders to give Ukraine the most advanced weapons to defend itself in the long term.
He told the BBC it could take months to train pilots and the UK was instead focused on using alternative provision of air cover to the country.
Some Nato member countries are also worried that giving jets to Ukraine would be viewed as escalating the war, risking direct confrontation between the Western military alliance and Russia.
In her speech to MPs in the House of Commons, Ms Truss said "we need to do all we can to make sure Ukraine wins this war as soon as possible".
She urged the UK government to work with allies to provide Ukraine with an option to use fighter jets "otherwise they will not be able to prevail".
Now a backbench Conservative MP, Ms Truss was foreign secretary when President Vladimir Putin's forces invaded Ukraine almost a year ago.
Ms Truss recalled what it was like being in government before and after the invasion was launched.
She described news of the invasion, delivered to her by a private secretary at 03:30 in the morning, as "devastating" but "not unexpected" given Western intelligence about Russia's plans.
It was Ms Truss's first contribution in the Commons as a backbench MP since 2012, when she became a minister.
Sat by her side during a general debate on Ukraine was Simon Clarke, one of the cabinet ministers in her short-lived government.
Ms Truss's speech followed that of Mr Johnson, who repeated his call for fighter jets to be sent to Ukraine.
Mr Johnson said that in the past 12 months since the war began, Western countries had eventually supplied the Ukrainians with the weapons they had requested.
"Let's cut to the chase and give them the planes too," Mr Johnson said.
Underlining the urgency of supplying aircraft to Ukraine, Mr Johnson said "it is becoming ever clearer that China is preparing to arm the Russians".
"We should give them what they need, not next month, not next year, but now," he added.
Mr Biden said the US would back Ukraine for "as long as it takes", as the prospect of a Russian spring offensive looms.