A 20-year tour guide takes the BBC into the Turkish city, where his usual reference points are in ruins.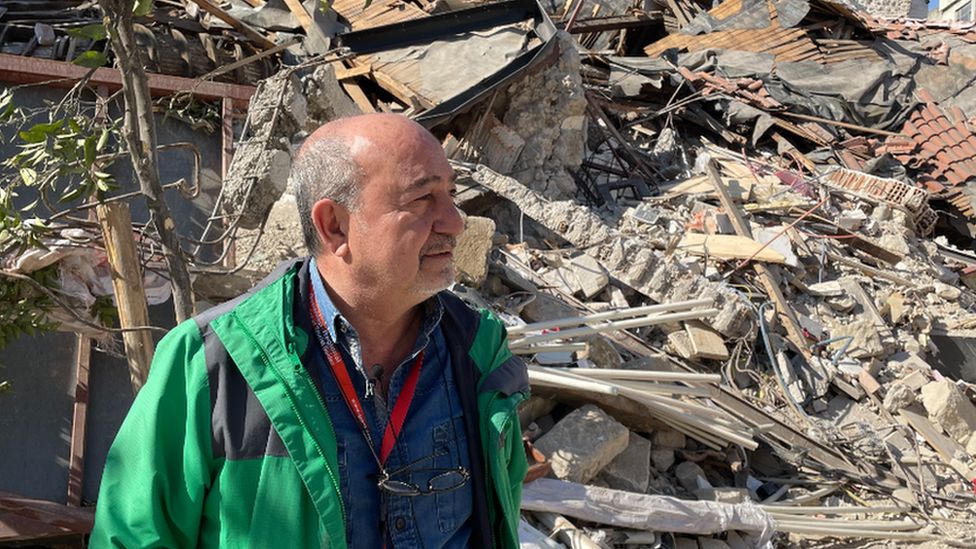 Weaving around fallen slabs of concrete, we make our way deeper into the heart of Antakya, the capital of Turkey's Hatay Province. The city's roads are filled with diggers and rescue workers in hard hats, Turkish military and police.
Our guide, Mehmet Severoğlu, has been a tour guide for 20 years since he retired as an electrical engineer. He has explained the history of Antakya to thousands of tourists, and this is his first time back into the city since the earthquake nearly two weeks ago.
"Antakya is a place where I find my soul," he tells us. "It is a city with so many different ethnicities, different religions and they all live in tolerance here.
"It is multicultural, multilingual – tourists enjoy this area a lot. So did I."
Antakya, known in Roman and medieval times as Antioch, is an ancient city. Founded in 300 BC, it was a regional capital for the Roman Empire. It was also one of the earliest centres of Christianity and important for both Judaism and Islam.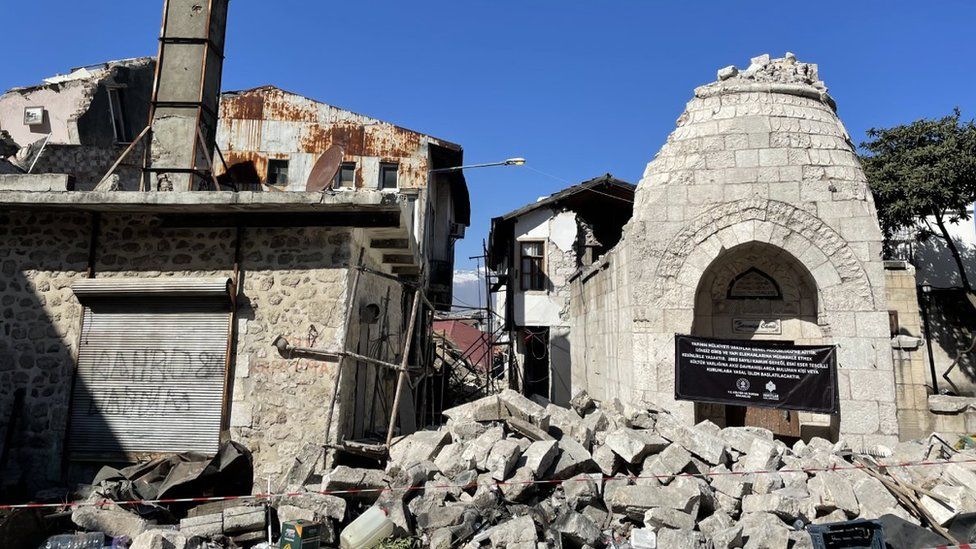 But the city is almost unrecognisable. We park next to the region's government office, where the building's clock has stopped at 04:34, which was the time just a few minutes after the earthquake hit on the morning of 6 February.
We walk past a pile of white stones and black steel ornate gates, the city's Protestant Church. Turning left, we pass a hotel, built when Antakya was under French mandate after World War One. Its stonework is smashed, ripped open to the elements.
"I cant recognise where I am," he says, trying to orientate himself. Almost all his usual points of reference have been destroyed. We try one street, then another, clambering over smashed terracotta roof tiles, splintered wood and bent metal supports.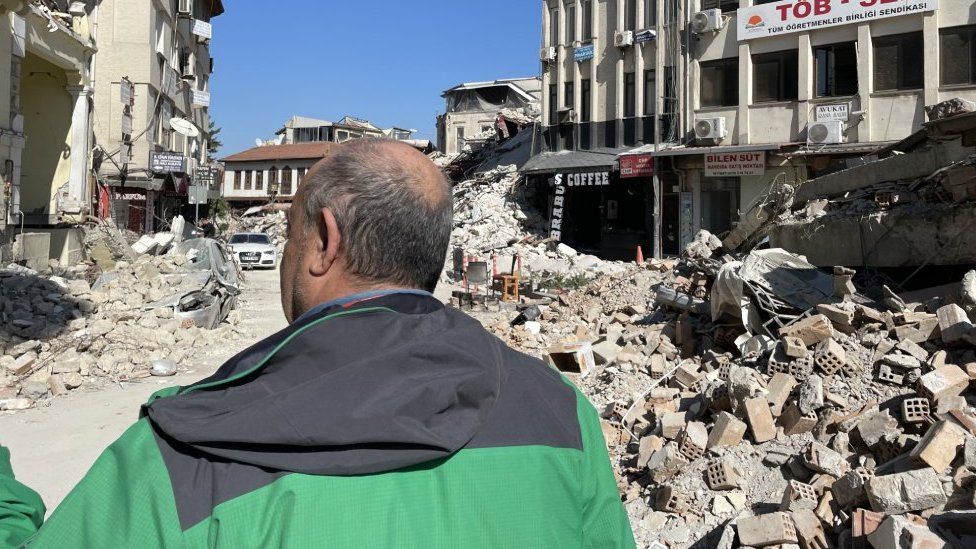 Each time we climb one pile, the next is even higher, until we can't get much further safely. Above us, the contents of homes bulge precariously – beds, chairs, bricks, door frames, bursting through walls and window frames. They're what remain of the lives that were lived here.
Mehmet does recognise one spot from his tours, covered in cement dust, its sign hanging.
"This store used to serve hummus for 150 years, the best hummus place in Antakya," he says. "When we brought our groups to this place, they would welcome us with hot plates. Now I don't think it will ever be back."
I ask him if he knows what happened to the people who ran the shop.
"Two have left [Antakya], but I have no idea about the rest." He pauses, his voice starting to choke. "Very sad."
We find the remains of the Greek Orthodox Church by spotting its bell, which is now lying on its side at the top of a 3m-high (9ft 8in) pile of bricks. The bell tower it stood in is now dust. Using a drone, we can see the remains of its ornate arches, but the rest of the building is gone.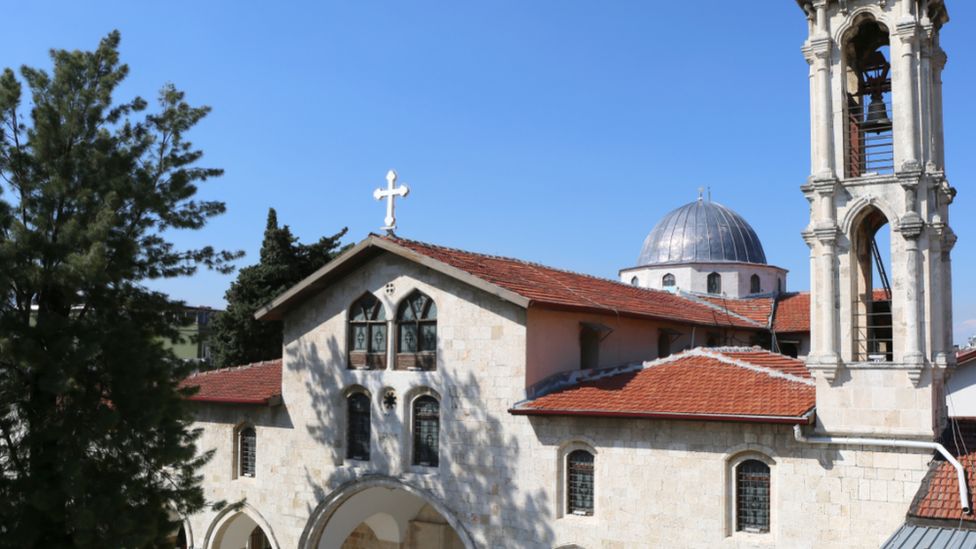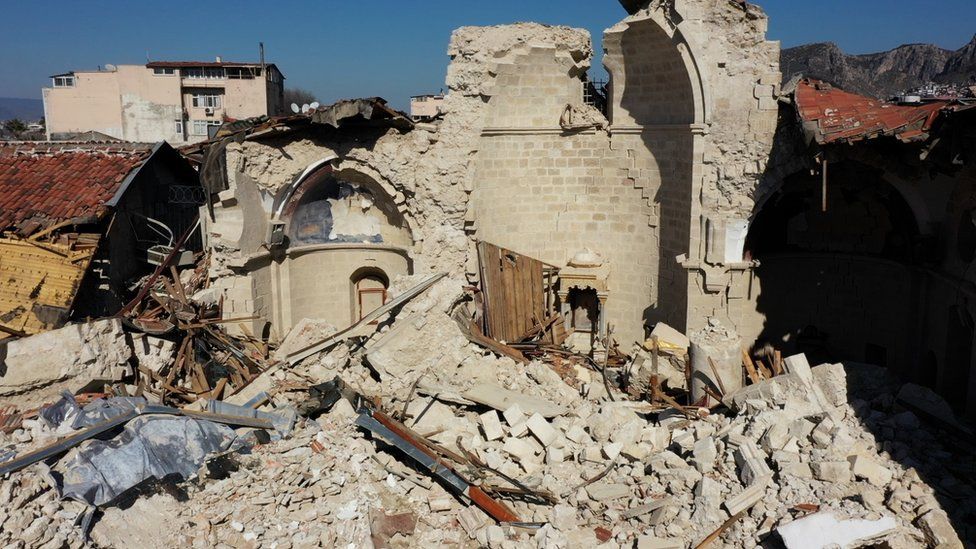 We head to Antakya's synagogue: what would normally be a five-minute walk now requires a 10-minute drive around the few roads that have been cleared.
The doors are locked, but Mehmet tells us the small community were able to rescue their holy books and flee. He makes a phone call to one of his friends whose restaurant looks to be still standing. When his friend picks up, Mehmet is visibly relieved.
"I am glad to hear your voice," he says. "I am afraid to call people because I don't know whether they are dead or alive."
His friend tells him that his family has survived, but that his business partner and their entire family were killed.
Antakya's market is empty, except for a few shop owners trying to clear their stores. We see one man weeping outside a butcher's shop where his nephew worked.
"Our dear one has gone," he says. "The world has ended for me."
We leave him quietly praying.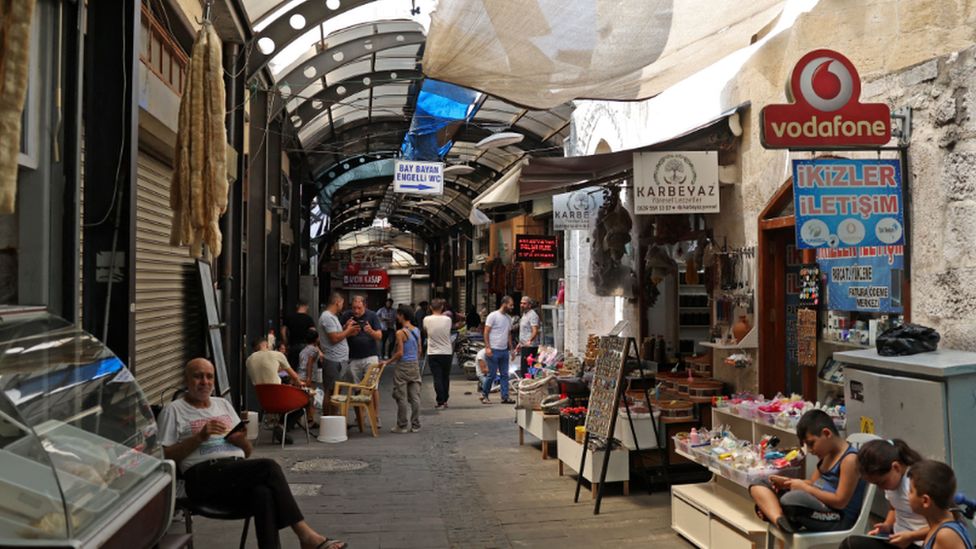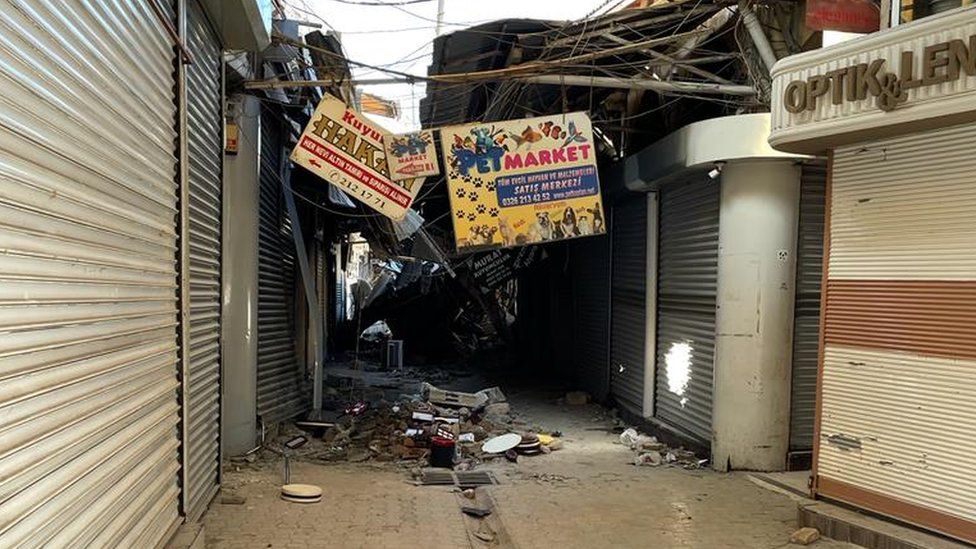 Our final visit is to Habibi Neccar, one of the first mosques in the region of Hatay.
"This mosque's story is the same as Hatay's history," says Mehmet. "So many civilisations have been and gone here.
"It is known that seven big earthquakes have been recorded through history here. It is not the first time that Hatay has been destroyed, but each time we have rebuilt. We will be reborn again."