Allies must give advanced air defence systems and long-term security assurances, Sunak says.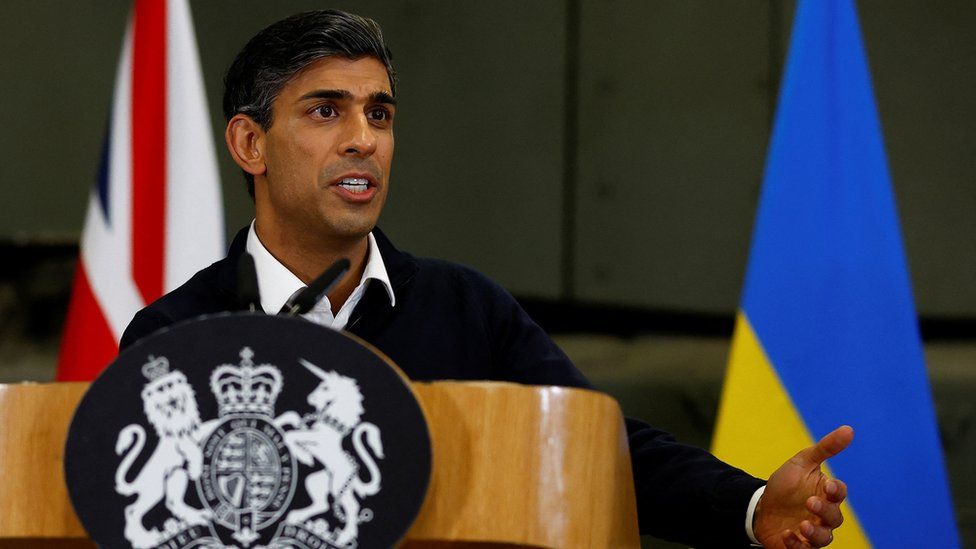 Prime Minister Rishi Sunak has urged world leaders to "double down" on military support for Ukraine.
In a speech at the Munich Security Conference, Mr Sunak said allies must give the country "the most advanced air defence systems" to defend itself.
But he went further and called for Nato to offer long-term security assurances against Russian aggression.
The underlying theme of the conference is an attempt by allies to remake the case for defending Ukraine.
The three-day gathering to discuss global security, taking place in Germany a few days ahead of the first anniversary of Russia's invasion, will provide a key test of Western support for Kyiv as both sides in the war prepare for spring offensives.
Ukraine's allies are trying to demonstrate their resolve, trying to convince the Russian government that they will not give up or give in, even if the cost in "blood and treasure" increases in coming months as both sides launch fresh military campaigns.
Most of those attending the conference – from heads of state and ministers to diplomats and spies – are from Europe or the US, including US Vice-President Kamala Harris and nearly 30 European heads of government. No Russian officials have been invited.
Ahead of the conference, the UK's prime minister said the summit was "an opportunity for me to talk to our partners and allies around the world about our efforts to increase our support to Ukraine so they can defeat Russian aggression".
Speaking from Downing Street, Mr Sunak said he wanted "to make sure other countries follow our lead" in providing battle tanks, and training soldiers and aviators on Nato-standard aircraft.
In his speech in Germany, he said: "When Putin started this war, he gambled that our resolve would falter. Even now he is betting we will lose our nerve.
"But we proved him wrong then, and we will prove him wrong now."
Calling for a new Nato charter to provide assurances of long-term support, Mr Sunak said allies "must demonstrate that we'll remain by their side, willing and able to help them defend their country again and again".
He also said the international community's response to Russia's aggressions had "not been strong enough" and called for a "new framework" to ensure Ukraine's long-term security.
Before his speech, Mr Sunak also met German Chancellor Olaf Scholz and both agreed on the need to sustain "the record level of international support for Ukraine", a No 10 Downing Street spokeswoman said. Mr Sunak also stressed the need for allies to think about strengthening Ukraine's long-term defences, the spokeswoman added.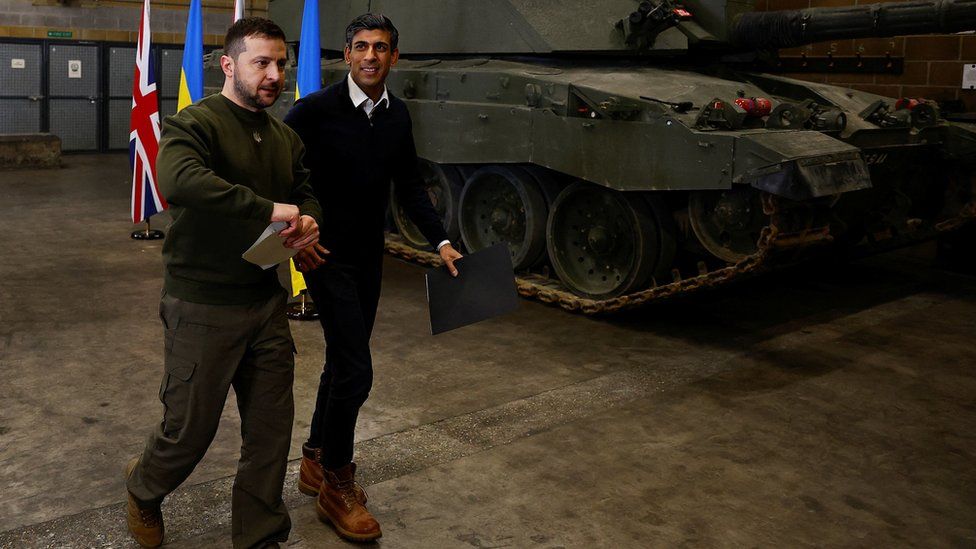 The unspoken question in Munich is what will happen if the participants meet this time next year and the war is still going on.
Of particular concern is whether the political and economic costs of the war could prove too much to bear, as the Russian leadership assumes, or the western alliance will stand firm behind Ukraine.
The uncertainty around these issues is another reason why allies want to step up support now, to ensure Ukraine can see off any Russian offensive and launch a counter-attack on its own. President Volodymyr Zelensky is not the only one urging speed.
Last week, the Ukrainian leader visited the UK, as well as Paris and Brussels, where he appealed for European leaders to supply his country with modern fighter jets.
The UK is to start training Ukrainian forces to fly Nato-standard jets and Mr Sunak has said "nothing is off the table".
He told the BBC it could take months to train pilots and the UK was instead focused on using alternative provision of air cover to Ukraine.
Some Nato member countries are also worried that giving jets to Ukraine would be viewed as escalating the war, risking direct confrontation between the Western military alliance and Russia.
Since Russia invaded on 24 February last year, the UK has spent £2.3bn on military assistance, making the country the second biggest donor behind the US. The government has said it plans to match this spending again this year.
Military equipment provided by the UK so far includes tanks, air defence systems and artillery.
However, Kyiv has become increasingly frustrated by the time Western weapons have taken to arrive. Deliveries of battle tanks – promised last month by countries including Germany, the US and the UK – are still thought to be weeks away from arriving on the battlefield.
Meanwhile, Mr Sunak will also use his trip to Munich to have talks with European Commission President Ursula von der Leyen about the Northern Ireland Protocol.
Sources suggest a deal on the post-Brexit trading arrangements could be reached between the UK and the European Union as early as next week, after more than a year of negotiations.