The former US president will "spend his remaining time at home with his family", the Carter Center said.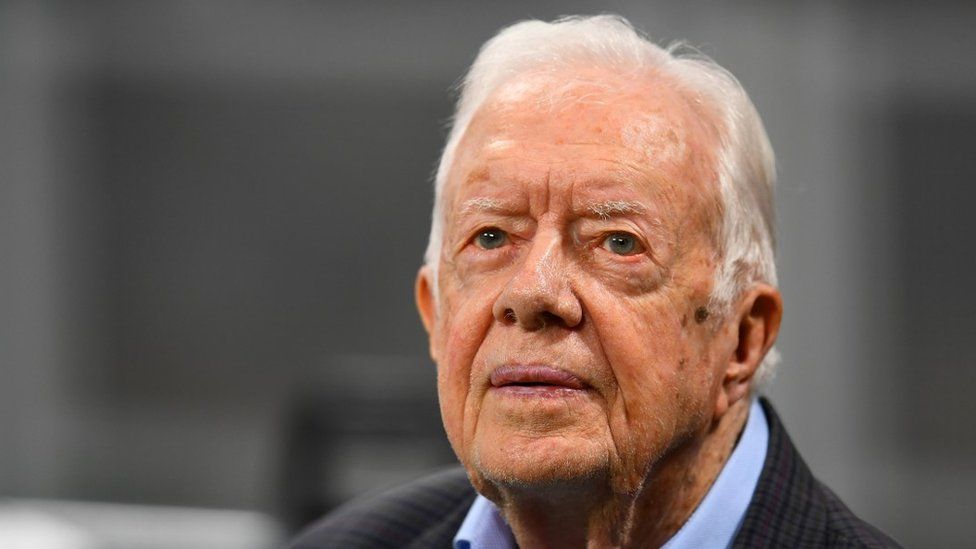 Former US President Jimmy Carter will receive hospice care and "spend his remaining time at home with his family" instead of additional medical intervention, the Carter Center said.
Mr Carter, 98, is the country's oldest living former leader.
The Democrat served one term from 1977 to 1981. He was defeated in his re-election bid by Ronald Reagan.
He has suffered from recent health issues including a melanoma that spread to his liver and brain.
"He has the full support of his family and his medical team. The Carter family asks for privacy during this time and is grateful for the concern shown by his many admirers," the Carter Center said in a statement.
Mr Carter has the distinction of being a former US president longer than anyone else.
Since leaving the White House, Mr Carter has remained active, carrying out humanitarian work with his Carter Center.
He went on to gain an international reputation for his work in promoting human rights, winning a Nobel Peace Prize in 2002.
Born in Georgia in 1924, Mr Carter entered politics in the 1960s when he was elected as state senator, before becoming the state's governor in 1971.
Five years later he defeated the sitting Republican President Gerald Ford to become the 39th president.
In August 2015, Mr Carter had a small cancerous mass removed from his liver. The following year, he announced that he needed no further treatment, as an experimental drug had eliminated any sign of cancer.