Ferry operator P&O is advising passengers to use the toilet before arriving at the port of Calais.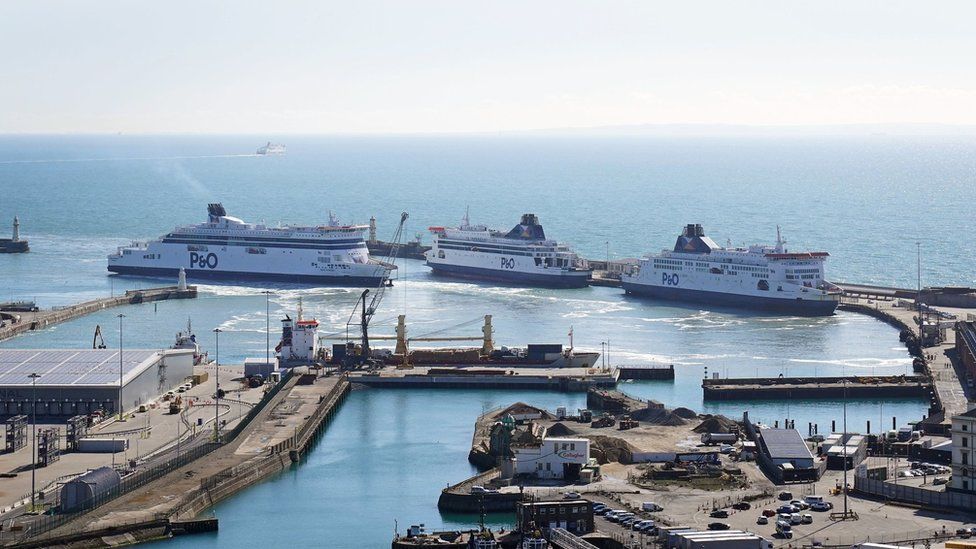 Coach passengers returning to the UK are facing waits of more than six hours at the border in Calais.
Ferry operator P&O has advised passengers to use the toilet before arriving and to come prepared with refreshments.
Border Force staff in Calais, Dunkirk, Dover and the Coquelles Channel Tunnel terminal are on a four-day strike over pay.
The Home Office said it was working to minimise delays.
The BBC understands the delays at the border have been made worse by the high volume of coaches bringing pupils home from half-term trips.
Teachers and students from Surrey returning from a ski trip in Austria waited for six and a half hours to board a ferry back to the UK.
A Twitter account for the school ski trip tweeted that the journey was "what can only be described as a nightmare of UK passport control".
Queues began forming on Saturday morning and P&O Ferries issued an update to passengers, asking them to plan for a wait by bringing snacks, drinks and entertainment.
Members of the Public and Commercial Services union (PCS) are on the second day of a four-day walkout.
The union said on Friday that they believed inexperienced staff were being brought in to cover for striking Border Force workers.
PCS general secretary Mark Serwotka said: "Ministers say their priority is security – it obviously isn't.
"They say they have no money to give our hard-working members a fair pay rise, but then find money to pay non-striking workers a healthy bonus, to pay for their transport across the country and to pay for four nights' hotel accommodation.
"If ministers were serious about security, they would resolve this dispute immediately by putting money on the table to ensure fully-trained, experienced professionals are guarding our borders."
A Home Office spokesperson said: "The queues at the Port of Calais today are not due to industrial action. Border Force operations there remain fluid with all booths open and no significant wait times.
"Border Force and port operators are working hard to ensure all travellers have a safe and secure journey, however we have been clear those entering the UK should expect disruption during strike action.
"We continue to work closely with port operators at a local and national level to minimise delays.
"Those travelling into the UK today should keep up-to-date with the latest advice from operators to check how the strike action will affect their journey".