Footballer Christian Atsu has been found dead under a collapsed building almost two weeks after the Turkey earthquake, his agent confirms.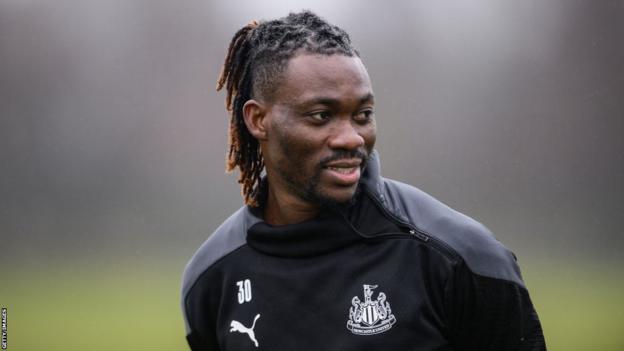 The Ghana international, 31, had spells with Premier League sides Everton, Chelsea and Newcastle.
Atsu had been missing since the 6 February quake that caused the collapse of his apartment in Antakya, Hatay.
"There are no words to describe our sadness," tweeted his Turkish top-flight club Hatayspor.
"We will not forget you, Atsu. Peace be upon you, beautiful person."
In the aftermath of the quake, Hatayspor initially reported Atsu had been rescued "with injuries", but a day later that position changed.
His agent Nana Sechere, who has been in Hatay, confirmed the news on Saturday on Twitter, writing: "It is with the heaviest of hearts that I have to announce to all well wishers that sadly Christian Atsu's body was recovered this morning.
"My deepest condolences go to his family and loved ones. I would like to take this opportunity to thank everyone for their prayers and support."
Atsu joined Hatayspor in September 2022 after a season with Saudi Arabian team Al-Raed and scored the winning goal in a Super Lig match on 5 February.
He won 65 caps for Ghana and helped his country reach the 2015 Africa Cup of Nations final where they lost to Ivory Coast on penalties. Atsu was later named player of the tournament.
He joined Chelsea from Porto in 2013 and had several loan spells at clubs including Everton and Bournemouth.
An initial loan spell at Newcastle in 2016, in which he helped the team win promotion from the Championship to the Premier League, was made permanent in 2017.
"We are profoundly saddened to learn that Christian Atsu has tragically lost his life in Turkey's devastating earthquakes," Newcastle said in a tweet.
"A talented player and a special person, he will always be fondly remembered by our players, staff and supporters."
Everton said they were "deeply saddened" by the news, while Chelsea said they were "devastated".
The earthquake and aftershocks in southern Turkey and northern Syria are known to have killed more than 40,000 people.