Rishi Sunak says "we have not got a deal yet" as speculation mounts that one may come next week.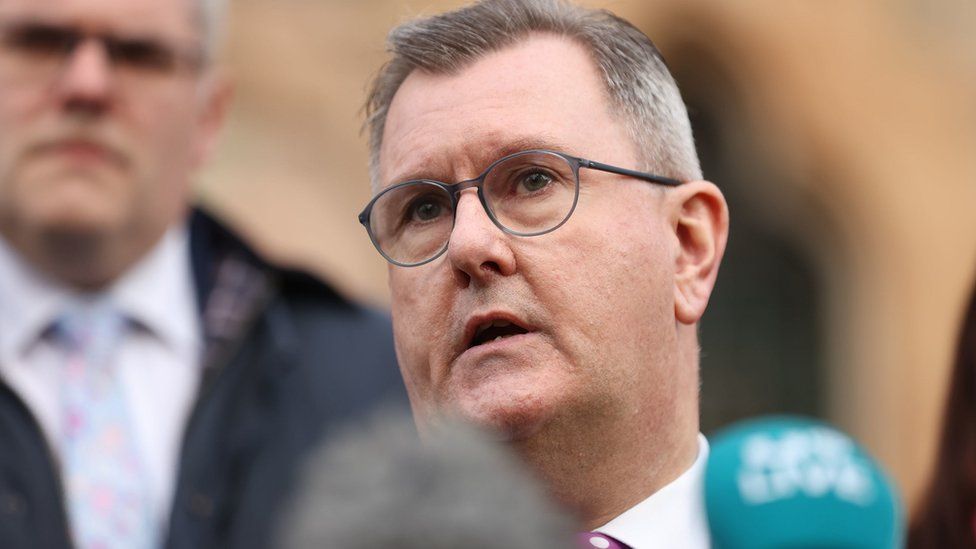 The prime minister faces a "big moment" to agree to the "right deal" on post-Brexit trade arrangements, the Democratic Unionist Party (DUP) has said.
Prime Minister Rishi Sunak has met Northern Ireland's political parties amid speculation a deal on the Northern Ireland Protocol could soon be struck.
Sources suggest an agreement could be reached as early as next week.
DUP leader Sir Jeffrey Donaldson said he believed further work was needed.
However, he added his party had yet to see the final text of an agreement.
Sinn Féin President Mary Lou McDonald said she believed "very significant progress has been made".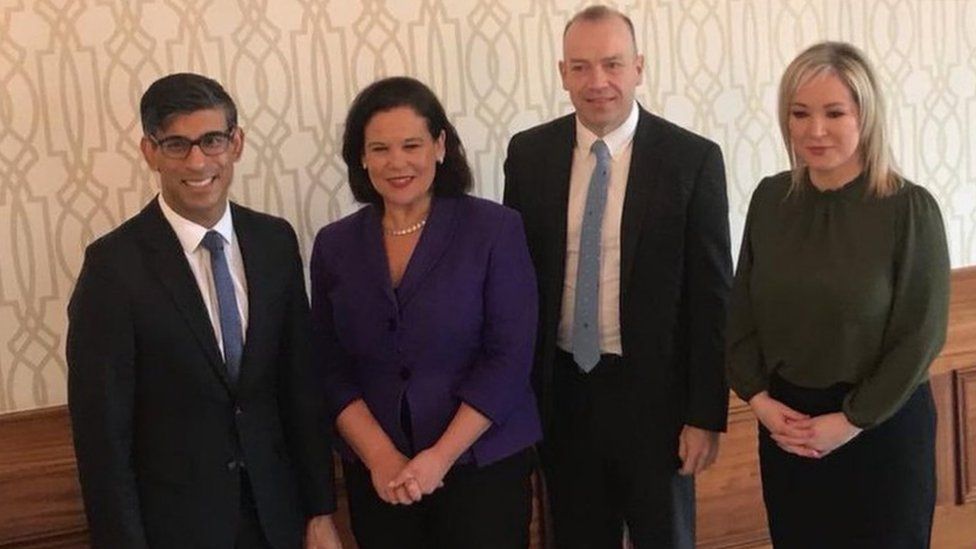 The Northern Ireland Protocol is the trade deal that was agreed to ensure the free movement of goods across the Irish land border after Brexit.
It is at the heart of a political impasse in Northern Ireland, with unionist parties arguing that placing an effective trade border across the Irish Sea undermines Northern Ireland's place within the UK.
The largest of those parties is the DUP which refuses to take part in Northern Ireland's power-sharing government – introduced in the 1990s as a way of ending decades of violence – unless its concerns are resolved.
Speaking after his meeting with the prime minister, Sir Jeffrey said: "Clearly this is a big moment."
"The next generation of Northern Ireland and its people requires us all, I think, collectively to use our best efforts – particularly the prime minister and the European Commission president – to get these issues resolved and to get to a place where the political institutions can be restored."
The DUP has said it must be satisfied with any settlement before it agrees to return to power-sharing.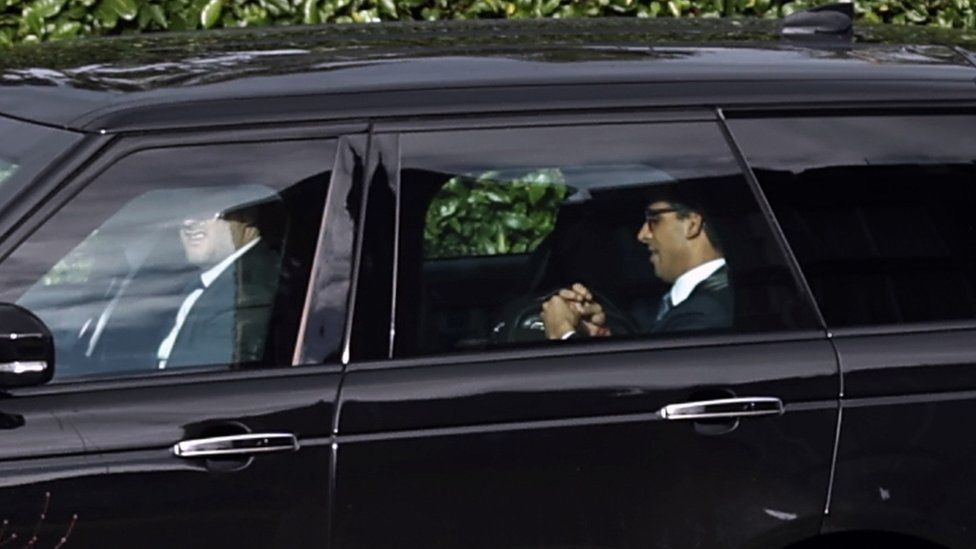 Mrs McDonald said "above all else" Sinn Féin wanted to see the institutions restored.
"I think we've all seen in recent weeks certainly an upping in the pace of political engagement and activity that to our mind is a very, very positive thing."
'Hard work continues'
The protocol has split political opinion and the UK and the EU have been in lengthy negotiations about making changes to how it operates.
Mr Sunak was in Northern Ireland before travelling to meet EU leaders in Germany.
Meanwhile, the foreign secretary has also met European Commission Vice-President Maros Sefcovic in Brussels.
After the meeting, James Cleverly said they discussed the work ongoing between Great Britain and the EU to find a solution to the protocol.
Mr Sefcovic said it had been a constructive engagement, but that "hard work continues".


The only glimpse any of us got of the prime minister was his motorcade departing after the talks had already ended.
He spent the bulk of his time with the DUP – no surprise there given it is them he needs to win over if Stormont is to come back.
Discussions with the party began last night and more today – the DUP insist they've not yet seen the text but undeniably there was a change of tone from its leader about where things are.
Sir Jeffrey repeatedly talked of "real progress" – and while there's every chance this process could still stumble, the stakes – and expectations – have been raised by the PM's visit.
Downing Street insists his trip was all about listening and testing the waters. It may have been more about sussing out the DUP's bottom line before the PM heads for talks with EU leaders.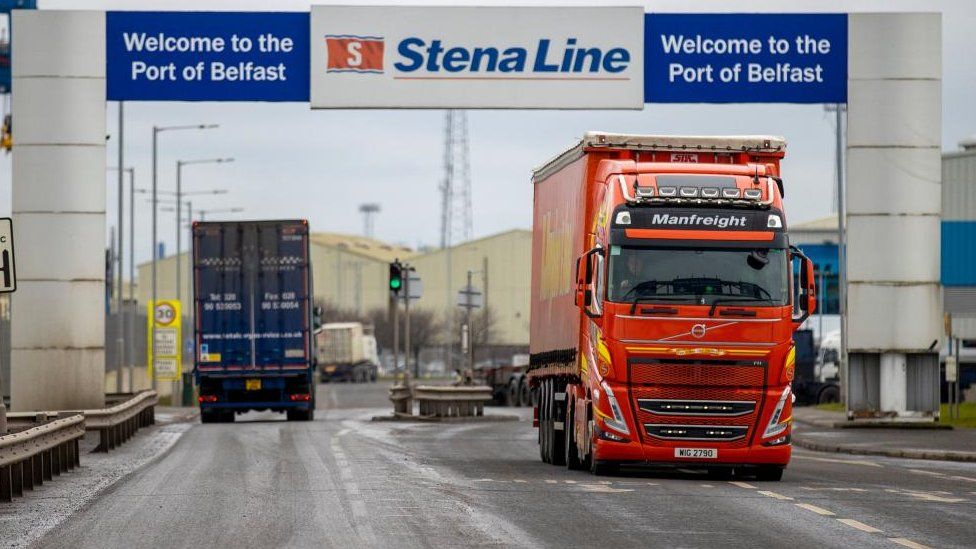 What are the main stumbling blocks?
There are two main areas of focus in the UK-EU negotiations: the movement of goods and how any disputes should be resolved.
As far back as October 2021 the EU and UK had some form of agreement on the movement of goods.
They both had proposals that goods coming into Northern Ireland from Great Britain, and which are being consumed there, should face only light touch controls.
However, there has been no deal on what this would mean in practice.
Dispute resolution is mostly about the role of the European Court of Justice (ECJ) which is the ultimate arbiter of EU law.
The UK government appears to want an arrangement where the ECJ's role would be diluted or put at arms length.
Some Conservative MPs want the ECJ removed from protocol disputes altogether but the EU has said that would be impossible.
'Not over the line yet'
Ahead of Mr Sunak's visit, No 10 said: "Whilst talks with the EU are ongoing ministers continue to engage with relevant stakeholders to ensure any solution fixes the practical problems on the ground, meets our overarching objectives and safeguards Northern Ireland's place in the UK's internal market."
Sinn Féin President Mary Lou McDonald said it was her understanding following her meeting with the prime minister that "very significant progress has been made" and it was "game on".
"I believe that a deal is absolutely possible and absolutely necessary and I hope that we see a speedy successful conclusion to matters," she told reporters.
The Alliance Party's leader, Naomi Long, the first to meet the prime minister, said "things are gradually moving in the direction of a potential deal, but we are not over the line yet".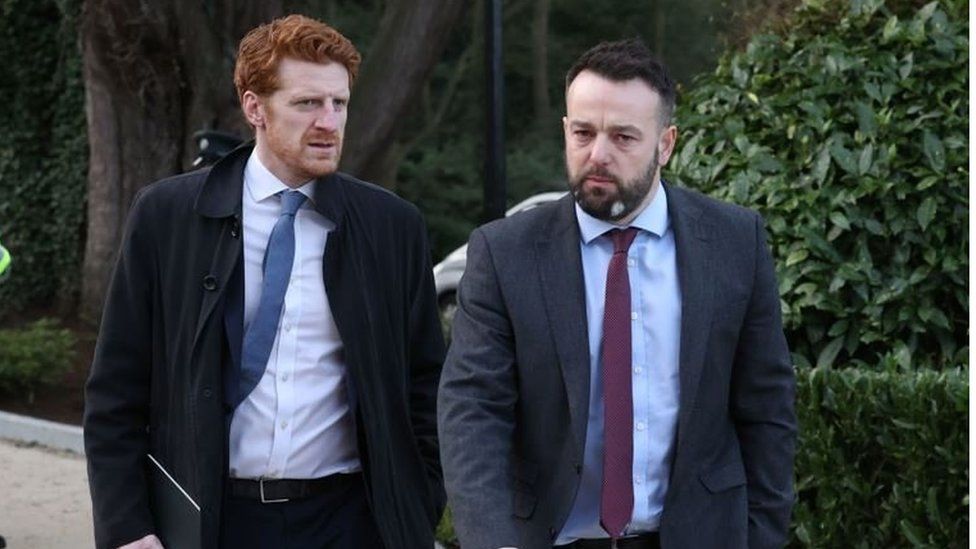 Ulster Unionist leader Doug Beattie said: "I don't leave here knowing much more than I did when I went in, but certainly the prime minister was enthusiastic, engaged and positive."
Social Democratic and Labour Party leader Colum Eastwood MP said "detail was scant" during his talks with Mr Sunak, but he left feeling "fairly optimistic" that an agreement was close.
After the meetings the prime minister will travel to Munich for a security summit, during which he will meet the European Commission President Ursula von der Leyen.
This meeting is currently planned for Saturday.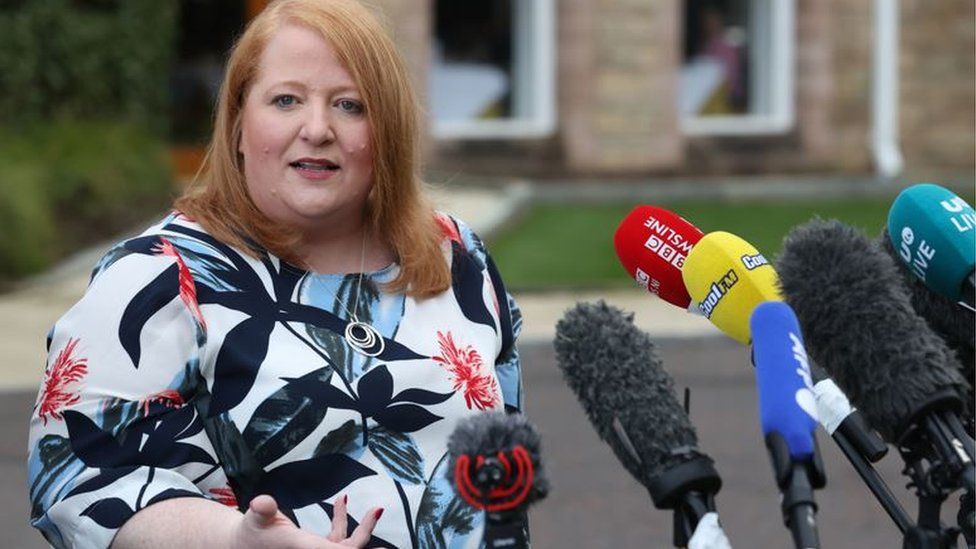 The pair will "address the state of play" of the Northern Ireland Protocol talks – amongst other issues, her spokesperson said.
Negotiations on the protocol are "ongoing" according to the European Commission.
'No deal better than bad deal'
The prime minister's efforts to reach a deal on the protocol have exposed tensions within his Conservative Party.
Former Brexit Minister Lord Frost told the Telegraph that a "feeble deal now" would "make things worse not better", adding that "no deal is still better than a bad one".
David Jones, deputy chairman of the European Research Group – a Eurosceptic group of Tory MPs – tweeted that Northern Ireland "must cease to be subject to laws made in Brussels". "It's as simple as that," he said. "Anything less won't work."
Speaking on Thursday night, Tánaiste (Irish deputy prime minister) Micheál Martin said the latest stages of the protocol talks had been "serious and substantive" and trust had been built between UK and EU negotiators.
The Northern Ireland Protocol was put in place as part of the post-Brexit deal agreed between the UK and the EU in December 2020.
It was required because Northern Ireland has a land border with the Republic of Ireland, which is an EU country.
It aims to ensure free movement of trade across the Irish land border by conducting checks between Northern Ireland and Great Britain instead but it has been a source of tension since it came into force at the start of 2021.
Despite concerns among unionist parties, many members of the Northern Ireland Assembly are in favour of the protocol in some form remaining in place.
Sinn Féin, the Alliance Party and the SDLP have said improvements to the protocol are needed to ease its implementation.