It comes after the world's biggest food company increased its prices by 8% last year.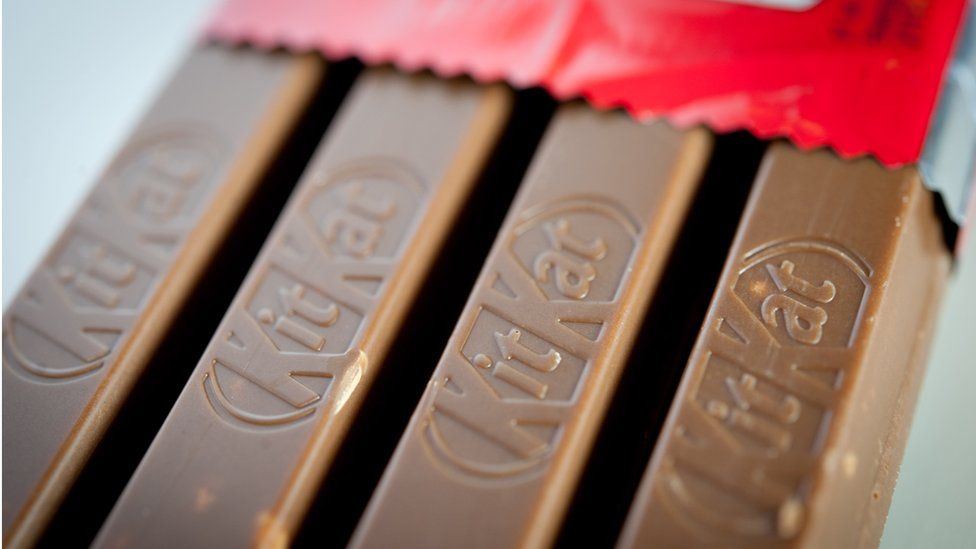 KitKat maker Nestle has said it will raise its prices again this year, despite an 8.2% increase in 2022.
The world's biggest food company said it would be forced to charge more to cover the increasing cost of ingredients.
Nestle, which also makes Buitoni pasta, Buxton mineral water and Nescafe coffee, said it was taking a "massive" hit to its margins at the moment.
It refused to say how much prices would climb this year.
Boss Mark Schneider said the company suffered in 2022 because of the "many challenges and tough choices for families, communities and businesses" which led to lower spending on many of the firm's products.
Nestle's net profits for the year were 9.27bn Swiss francs (£8.34bn), which was much lower than the 11.58 billion francs (£10.42bn) expected by analysts.
As a result the company will spend 2023 "with a focus on restoring our gross margin", said Mr Schneider.
Surging prices
The news will come as a fresh blow to hard-up British consumers, already reeling from record inflation and soaring food prices.
Prices across the board have jumped since the war in Ukraine hit the cost of commodities such as food, fuel and energy.
Grocery prices were up 16.7% in the year to January, leaving food inflation at a 45-year high.
Other big food businesses are busy raising prices with Coca-Cola saying it will raise the price of its fizzy drinks again this year, after increasing them by 11% in 2022. Rival Pepsi increased prices by 14% during the year.
McDonalds announced on Wednesday it is increasing prices by up to 20% for some items, such as its Mayo Chicken which is going up from 99p to £1.19. Last year it hiked the price of a cheeseburger by the same amount.
Nestle sells more than 2,000 brands covering coffee, pet care, baby food, drinks, cereals and prepared dishes.
In the UK it's best known for confectionery such as KitKat and Smarties, cereals such as Shreddies and Cheerios, Nescafe and Nespresso coffee, fizzy drink San Pellegrino, and Purina pet food.
Last month it said it would cut 94 jobs at its Dolce Gusto factory in the Midlands.
This year it's planning to shut its confectionery factory in Newcastle – where the likes of Fruit Pastilles, Toffee Crisps and Rolos have been made since 1958 – which will result in 475 jobs going.