The coin is the third in the Harry Potter and the Philosopher's Stone 25th anniversary collection series.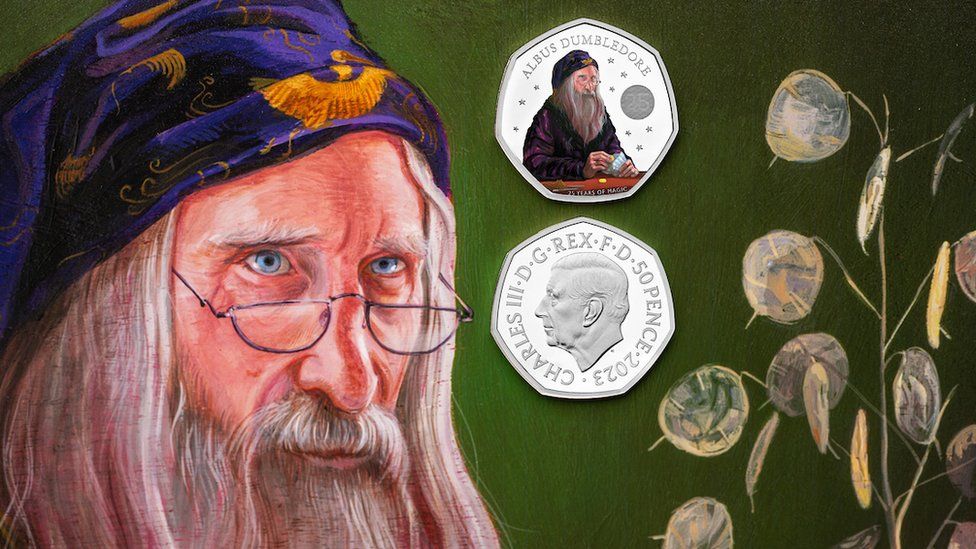 A coin featuring Harry Potter character Albus Dumbledore is the first one to feature King Charles III's portrait.
The coin is the third in a series celebrating the 25th publishing anniversary of Harry Potter and the Philosopher's Stone.
The King is displayed on the "heads" sign of the coin, while a portrait of the Hogwarts wizard features opposite.
The Royal Mint said it was "one of a small number" of coin collections that will see a change in royal portrait.
The previous two coins in the series – depicting Hogwarts and Harry Potter himself – carried a portrait of the late Queen Elizabeth II.
All three coins feature the work of artist Jim Kay, who created the first fully illustrated edition of Harry Potter and the Philosopher's Stone.
In a nod to the magic that brought the series to life, some of the coins in the collection are in colour and some have a "latent feature", which rotates in the light to reveal a lightning bolt and the number "25" to mark the anniversary year.
The coins have had international appeal, the Royal Mint said. So far Harry Potter enthusiasts across 86 countries have bought at least one coin in the range.
While the designs are featured on a 50p, prices for the collector's items start at £11.
Fans can pay £20 for a colour version, and up to £5,215 for a £200 denomination gold coin.
Rebecca Morgan, director of collector services, said: "We are delighted to be continuing our spellbinding Harry Potter coin collection with Professor Albus Dumbledore featuring on his very own 50p.
"The Royal Mint's Harry Potter coin collection has seen a popular response among collectors worldwide, not only for the books being a global phenomenon, but due to the collection being one of a small number that will see a change of portrait during the series.
"This collection of coins serves as a permanent reminder of the fascinating transition from Britain's longest reigning monarch to His Majesty the King's first appearance on UK coinage."
JK Rowling's Harry Potter and the Philosopher's Stone first hit the shelves in 1997. The books about the secret wizarding world grew into a seven-part series, with sales exceeding £500m worldwide.