Health officials reportedly take precautions to protect Aya from kidnapping and adoption fraud.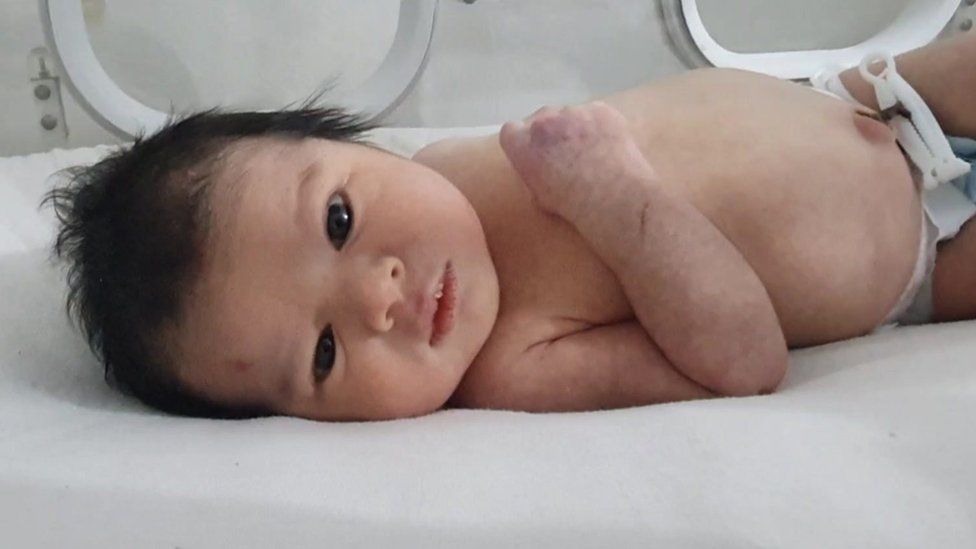 An orphaned Syrian baby born under the rubble of her collapsed home after last week's earthquake has been moved to a "safe location" by a health authority.
The Afrin Health Directorate took the precautionary measure to protect the girl, Aya, from possible kidnapping and adoption fraud, a source told the BBC.
On Monday, there was a violent incident at the hospital in the opposition-held region where she was being treated.
A male nurse, accompanied by two armed men, allegedly beat the manager.
The head of the health directorate, Dr Ahmad Hajj Hassan, denied claims on social media that it was a foiled attempt to kidnap Aya.
"The kidnap allegations were a misunderstanding. This was a wholly internal hospital-related issue and had no connection whatsoever with the baby," he told the BBC.
Thousands of people offered to adopt the baby last week, after her story was widely reported by local and international media.
However, the health directorate is determined to prioritise her welfare and act cautiously with the adoption process, according to the source.
Aya's mother went into labour soon after their family home in the town of Jindayris was destroyed by the 7.8-magnitude earthquake that struck southern Turkey on 6 February.
She died after giving birth to Aya, who was still connected by her umbilical cord when she was found by rescuers.
Dramatic footage shared on social media showed a man carrying the baby, covered in dust, after she was pulled from debris.
Aya's father, four siblings and an aunt were also killed in the disaster.
Khalil al-Suwadi, a distant relative who was there when she was pulled to safety, brought the baby to the hospital in Afrin.
She responded to treatment and by the next day her condition had stabilised.
The hospital's manager said his wife was breastfeeding Aya alongside their own four-month daughter and that they would care for her until she was adopted.
Jindaryis, about 8km (5 miles) from the Turkish border, was one of the worst-hit towns in Syria. Some 200 buildings there have completely collapsed.
The White Helmets, whose volunteer first responders have been leading the search and rescue effort in opposition-held areas, say 517 bodies have been pulled from the rubble there.
The deaths represent almost a quarter of the total reported by the White Helmets and opposition authorities across the region, where 90% of the 4.6 million population needed humanitarian assistance even before the disaster.