The Valentine's Day mural in Margate shows a 1950s housewife with a swollen eye and missing tooth.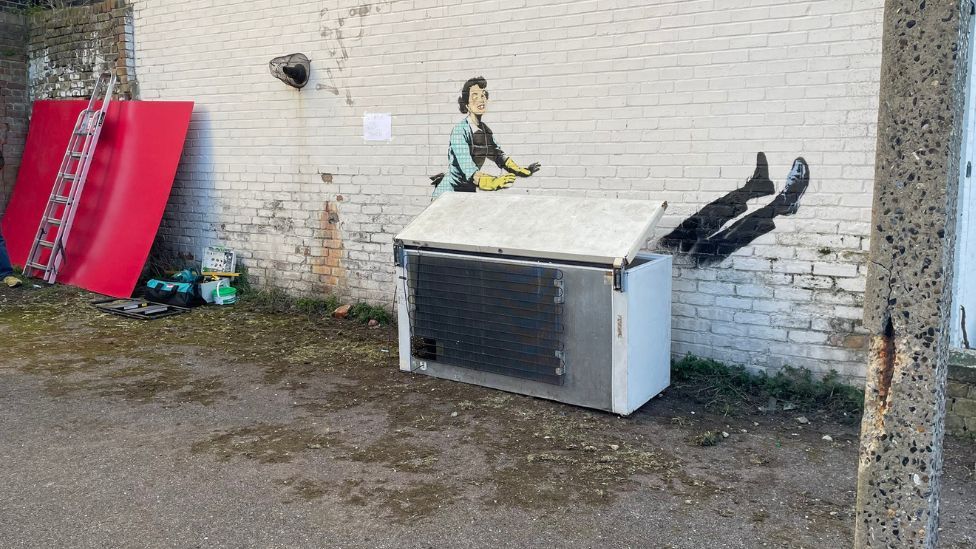 A Banksy artwork in Margate that was dismantled by the local council has had a piece returned.
The mural shows a 1950s housewife with a swollen eye and missing tooth, apparently shutting a man in a freezer.
The artwork – called "Valentine's day mascara" – had incorporated a broken freezer, a broken garden chair, a blue crate and an empty beer bottle, which were all removed.
However, the freezer has since been returned.
Thanet District Council previously said the freezer would return "once it has been made safe".
On Wednesday afternoon, a council spokesman said the freezer was made safe and returned to its original position.
"The council has a duty to ensure the ongoing safety of the public; it was necessary to carry out works to the freezer for health and safety reasons," he said.
"Banksy raises the important issue of domestic abuse in this artwork. We are in touch with the owner of the property to understand their intentions around the preservation of the piece and to secure the best possible outcome for the local community and victims of domestic abuse."
Banksy published a picture of the work on his Instagram page on Valentine's Day morning, and many of the comments suggest he is referencing fighting violence against women.
The artist also posted pictures showing a close-up of the woman's smiling, but seemingly battered, face.