Lucie Jones was among the winners at Sunday's WhatsOnStage Awards for her performance in Wicked.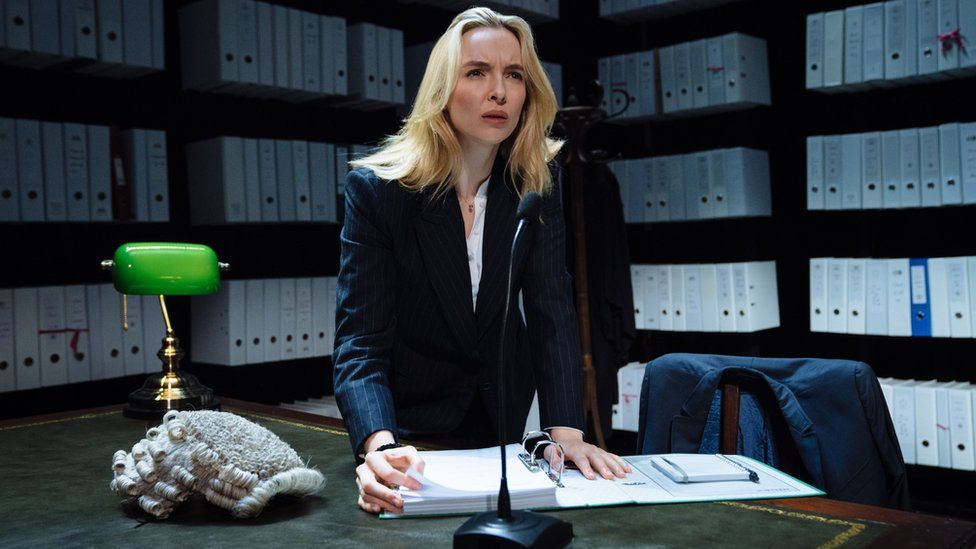 Jodie Comer was among the winners at the first gender-neutral WhatsOnStage Awards, which saw all four of the major acting prizes go to women.
The Killing Eve star was named best performer in a play at Sunday's ceremony after starring in sexual assault drama Prima Facie last year.
Other winners included the stars of To Kill A Mockingbird and Legally Blonde.
There was only one male winner for acting – in a newly created additional category for best professional debut.
The WhatsOnStage Awards, where the winners are voted by the public, have run annually since 2008, but this is the first year where the leading and supporting categories were named "best performer" instead of best actor or actress.
More awards ceremonies have been going gender neutral in recent years to allow non-binary performers to compete. But at other ceremonies, this has often resulted in an imbalance in favour of men.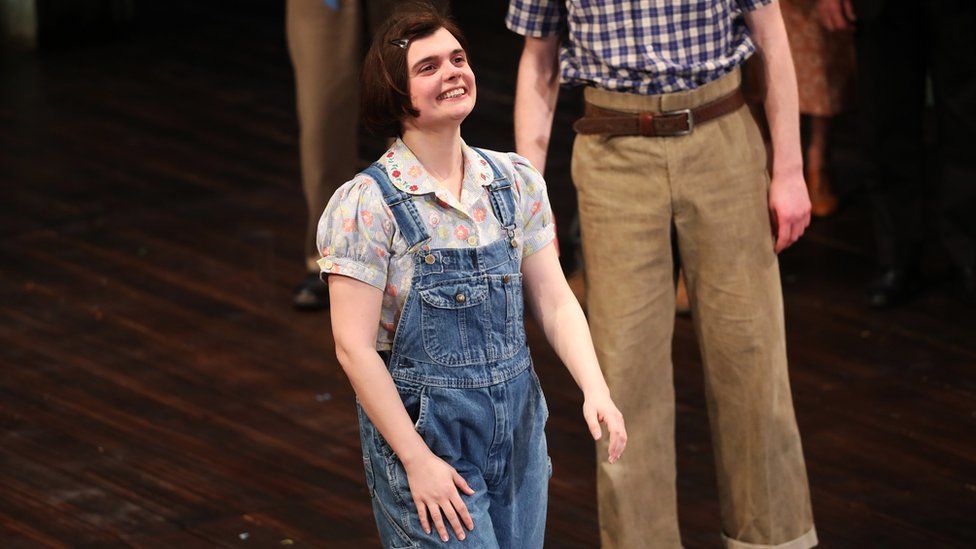 The first gender-neutral WhatsOnStage Awards saw men nominated in all of the major acting categories, but the four main prizes went to women.
They were Comer for Prima Facie, To Kill a Mockingbird's Gwyneth Keyworth, and Legally Blonde stars Courtney Bowman and Lauren Drew.
The decision to merge the gendered categories meant the number of acting prizes was cut from eight to four, although the ceremony maintained separate awards for plays and musicals.
However, the awards body also introduced an additional acting prize this year for newcomers. The inaugural best professional debut trophy was won by 19-year-old Joe Locke, who appeared in The Trials at the Donmar Warehouse.
Comer was praised for her portrayal in the one-woman show Prima Facie of a lawyer who struggles to reconcile her job of defending men accused of rape after she is sexually assaulted herself.
Other big winners at Sunday's awards included My Neighbour Totoro, a stage adaptation of the Japanese animation classic, which won five of the nine awards it was nominated for.
Legally Blonde, an adaptation of the Reese Witherspoon film about a fashion-loving lawyer, also won big, scooping two of the acting prizes.
Bonnie & Clyde the Musical and Rodgers & Hammerstein's Oklahoma! won best new musical and best musical revival respectively, while Prima Facie and Cock were named best new play and best play revival.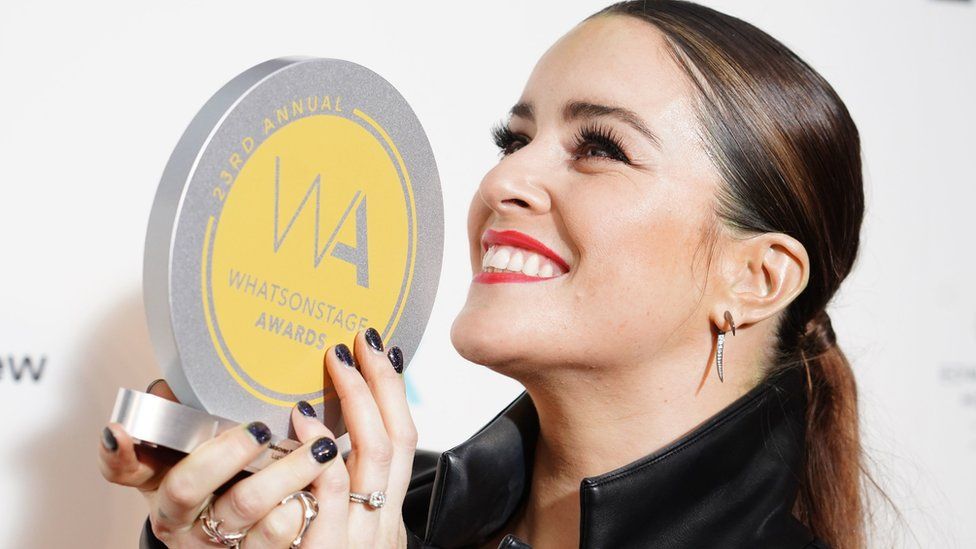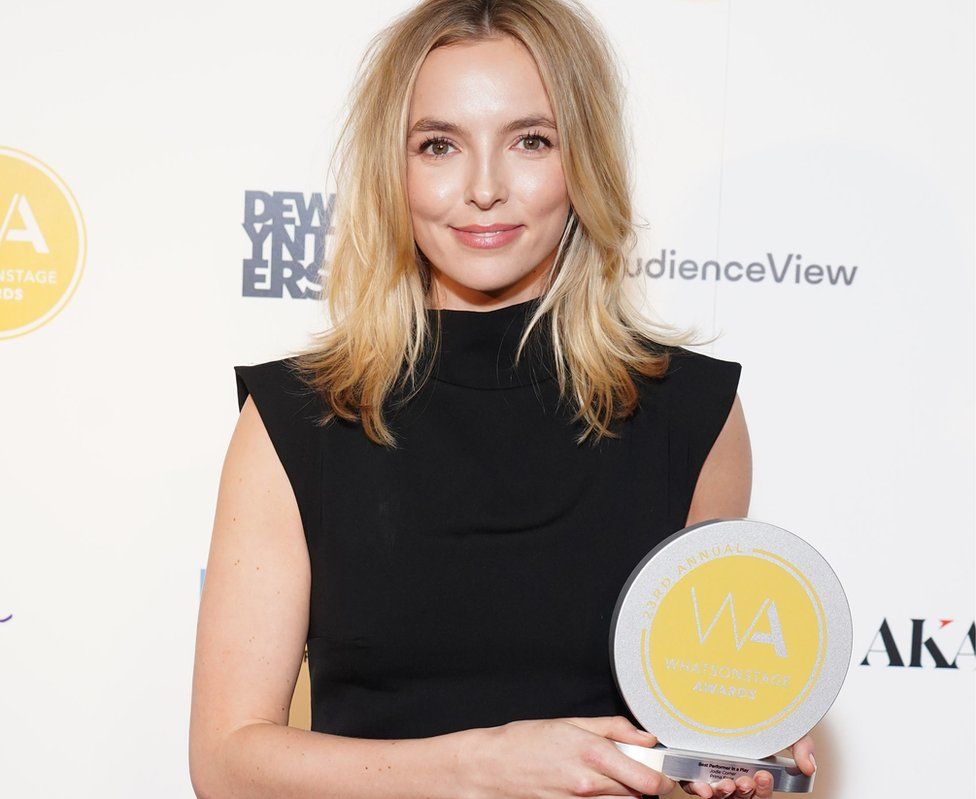 A West End transfer of To Kill A Mockingbird, Aaron Sorkin's adaptation of the classic Harper Lee novel, won an acting prize for Keyworth, who plays Scout Finch – the young girl whose perspective the story is told from.
Former X Factor contestant Lucie Jones, who currently stars in the long-running Wicked, won best takeover performance – an award given to an actor who has inherited a major role from a previous actor.
The WhatsOnStage Awards have been held annually for 15 years, although during a Covid lockdown in 2021 the ceremony was held virtually, and while theatres were closed it instead honoured members of the public who had supported theatre during the pandemic.

The winners in full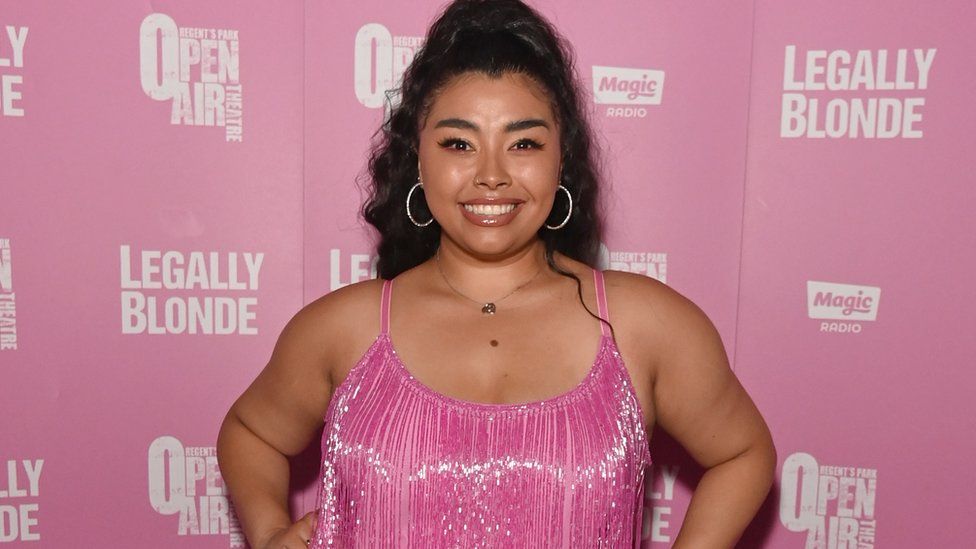 Best performer in a musical – Courtney Bowman, Legally Blonde, Regent's Park Open Air Theatre
Best supporting performer in a musical – Lauren Drew, Legally Blonde, Regent's Park Open Air Theatre
Best performer in a play – Jodie Comer, Prima Facie, Harold Pinter Theatre
Best supporting performer in a play – Gwyneth Keyworth, To Kill a Mockingbird, Gielgud Theatre
Best takeover performance – Lucie Jones, Wicked, Apollo Victoria Theatre
Best professional debut performance – Joe Locke, The Trials, Donmar Warehouse
Best new musical – Bonnie & Clyde the Musical, Arts Theatre
Best musical revival – Rodgers & Hammerstein's Oklahoma!, Young Vic
Best new play – Prima Facie, Harold Pinter Theatre
Best play revival – Cock, Ambassadors Theatre
Best West End show – Six, Vaudeville Theatre
Best regional production – Billy Elliot the Musical, Curve, Leicester
Best off-West End Production – But I'm A Cheerleader: The Musical, The Turbine Theatre
Best concert event – Stephen Sondheim's Old Friends, Sondheim Theatre
Best direction – Phelim McDermott, My Neighbour Totoro, Barbican Theatre
Best musical direction/supervision – Bruce O'Neil and Matt Smith, My Neighbour Totoro, Barbican Theatre
Best casting direction – Pippa Ailion and Natalie Gallacher, Spring Awakening, Almeida Theatre
Best choreography – Arlene Phillips, Grease, Dominion Theatre
Best costume design – Gabriella Slade, The Cher Show, UK tour
Best lighting design – Jessica Hung Han Yun, My Neighbour Totoro, Barbican Theatre
Best set design – Tom Pye and Basil Twist, My Neighbour Totoro, Barbican Theatre
Best sound design – Tony Gayle, My Neighbour Totoro, Barbican Theatre
Best video design – Joshua Thorson, Rodgers & Hammerstein's Oklahoma!, Young Vic
Best graphic design – Studio Doug, Prima Facie, Harold Pinter Theatre