The cuts come as boss Bob Iger presented his set of financial figures since his shock return to the firm.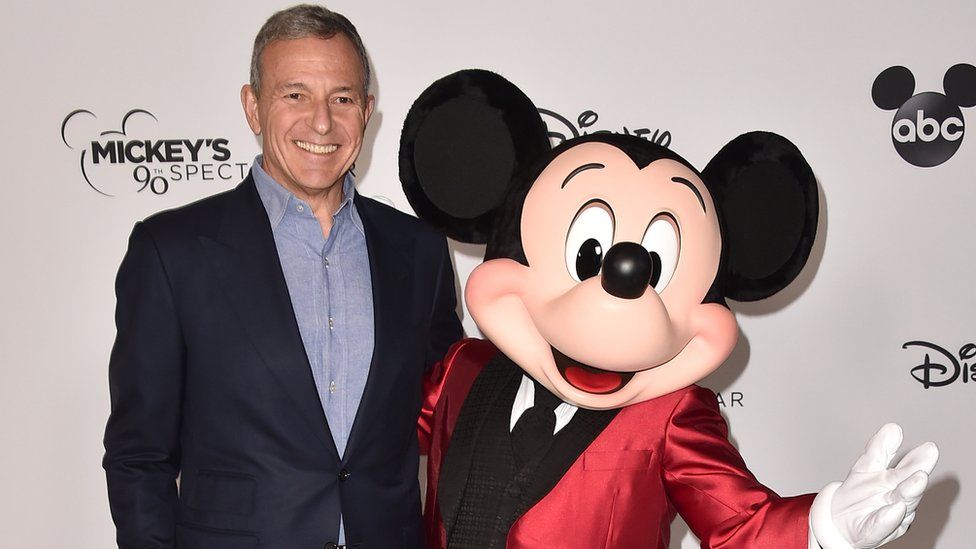 Disney chief executive Bob Iger says he is cutting 7,000 jobs as part of a major shake-up of the entertainment giant.
The layoffs are part of a plan to save $5.5bn in costs and make the Disney+ streaming service profitable.
The move comes as Mr Iger announced the first set of financial results since his return to the company in November.
The figures showed a rise in earnings but the first drop in Disney+ subscribers since its launch in 2019.
"We believe the work we are doing to reshape our company around creativity, while reducing expenses, will lead to sustained growth and profitability for our streaming business, better position us to weather future disruption and global economic challenges, and deliver value for our shareholders," Mr Iger said.
The job cuts amount to around 3.6% of Disney's workforce around the world.
Mr Iger made the restructuring announcement alongside financial results for the last three months of 2022.
The figures showed that revenue rose 8% to $23.5bn (£19.45bn) for the period and net income was up by 11% to $1.3bn.
During the quarter the number of Disney+ subscribers fell by around 2.4m to 161.8m.
The plan will see the company restructure into three segments – an entertainment unit, including film, TV and streaming; a sports-focused ESPN unit; and Disney parks, experiences and products.
"This reorganisation will result in a more cost-effective, coordinated approach to our operations," Mr Iger told analysts on a conference call.
The company's streaming service remained its top priority, he added.
Disney shares rose by more than 5% in extended trade after the announcement.
The changes address some of the criticisms raised in recent months by billionaire activist investor Nelson Peltz, who criticised Disney of overspending on its streaming business.
In response to the announcement Mr Peltz's Trian Group said: "We are pleased that Disney is listening."
Mr Iger made a shock return as Disney's chief executive, less than a year after he retired from the firm.
He was brought back to steer the company through turbulent times after its share price plummeted and Disney+ continued to make a loss.
Mr Iger, who had previously headed Disney for 15 years, replaced Bob Chapek, who took over as chief executive in February 2020.
Mr Chapek was ousted after Disney's streaming business posted a $1.5bn quarterly loss.
At the time he said he had tasked a group of executives with designing "a new structure that puts more decision-making back in the hands of our creative teams and rationalises costs".

You may also be interested in: