President Zelensky steps up calls for the West to supply fighter jets, on a surprise visit to the UK.
Ukrainian President Volodymyr Zelensky has urged the UK to provide his country with fighter jets as he addressed Parliament during his first UK visit since Russia's invasion of Ukraine.
In an impassioned plea, he likened combat aircraft to "wings for freedom".
His call comes as the UK announced it will begin training Ukrainian forces to fly Nato-standard fighter jets.
President Zelensky concluded his speech with the hope that he would soon be thanking the UK for providing planes.
Later, Downing Street said that Mr Sunak has asked the defence secretary to investigate what jets the UK could potentially give to Ukraine, but emphasised it was "a long-term solution".
Addressing a huge crowd of MPs and peers in the historic setting of Westminster Hall, President Zelensky said: "Freedom will win – we know Russia will lose," adding the UK was with his country on a march to "the most important victory of our lifetime".
Thanking the UK for its "grit", he said the country, through its support of Ukraine, had not compromised the "spirit and ideals of these great islands".
He also singled out Boris Johnson for praise saying the former prime minister had united others "when it seemed impossible".
During his speech, which was met throughout with applause, the Ukrainian leader gave the House of Commons Speaker Sir Lindsay Hoyle the helmet of a Ukrainian pilot.
The writing on the helmet reads: "We have freedom, give us wings to protect it."
Reflecting on his last visit to the UK, he recalled thanking his hosts "for delicious English tea".
"I will be leaving Parliament today, thanking you all in advance for powerful English planes."
Mr Johnson echoed his calls in a statement saying: "It is time to give the Ukrainians the extra equipment they need to defeat Putin and to restore peace to Ukraine. That means longer range missiles and artillery, it means more tanks, it means planes."
BBC defence correspondent Jonathan Beale says that while the president gave an impassioned plea for Britain to give Ukraine fast jets, it still doesn't look likely that he'll get them, at least for now.
He says that it is still possible that a few Western nations could provide a small number of modern fighter jets to Ukraine at some time in the future, and that while Kyiv has made clear it would like US made F-16s, which are operated by a number of Nato countries, so far US President Joe Biden has said no.


President Zelensky is acutely aware of the need to keep his Western backers engaged in this war lest 'compassion fatigue' kicks in and the supply of arms and financial aid dries up.
He takes a risk every time he travels anywhere and the UK is only the third country he's visited since the start of the war, the others being the US and Poland.
But he knows that his powerful charisma and persuasive rhetoric can translate directly into the military aid packages Ukraine relies on.
If those were to stop then Ukrainians would have little to no hope of ever pushing the Russian troops out of their country.

As the first anniversary of Russia's invasion approaches, the UK has announced that its training of Ukrainian forces will be expanded to cover marines, as well as Nato-standard fighter jet pilots.
Western countries have been considering how to bolster support for Ukraine, with the country braced for a renewed Russian offensive later this month.
The expansion of the UK's training programme signals a shift, after the UK said it was "not practical" for it to send its aircraft to Ukraine.
Earlier this year, the UK also announced it would send 14 battle tanks to Ukraine. President Zelensky praised Mr Sunak for taking this "powerful defensive step".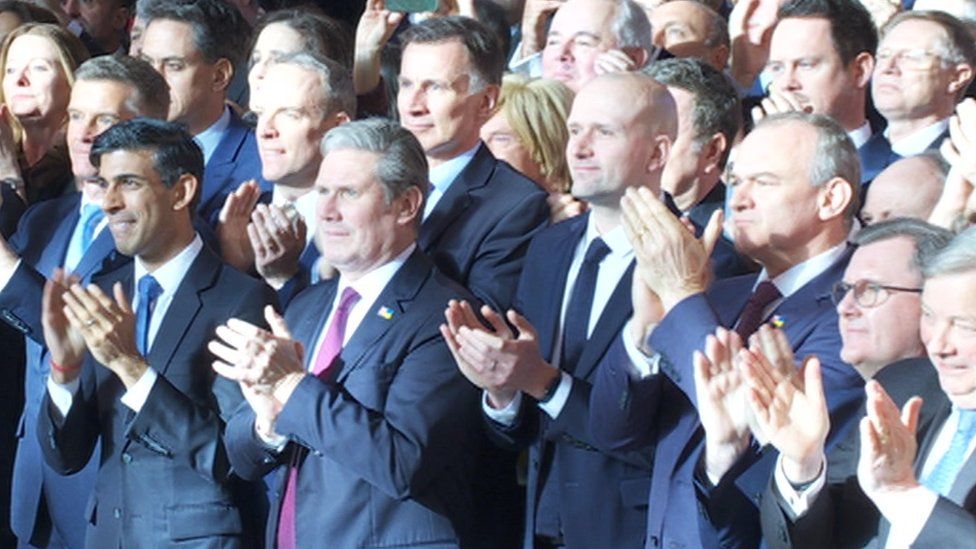 In his address, he also urged the UK and the West to continue imposing sanctions "until Russia is deprived of any possibility to finance the war".
"Anyone who invests in terror must be held accountable, anyone who invests in violence must compensate those who have suffered from terror."
On Wednesday, the UK announced a fresh round of sanctions targeting Russia.
The latest sanctions target IT companies, as well as manufacturers of military equipment such as drones and helicopter parts.
Before speaking to Parliament, President Zelensky held talks with Mr Sunak in Downing Street, and has met King Charles.
He is now expected to join the prime minister on a visit to the south-west where Ukrainian troops are training to use Challenger 2 tanks.
The two men will sign the London Declaration – a statement affirming the UK-Ukraine partnership – before holding a joint press conference.
Later, he is expected to meet French President Emmanuel Macron and German Chancellor Olaf Scholz at the Elysee Palace in Paris.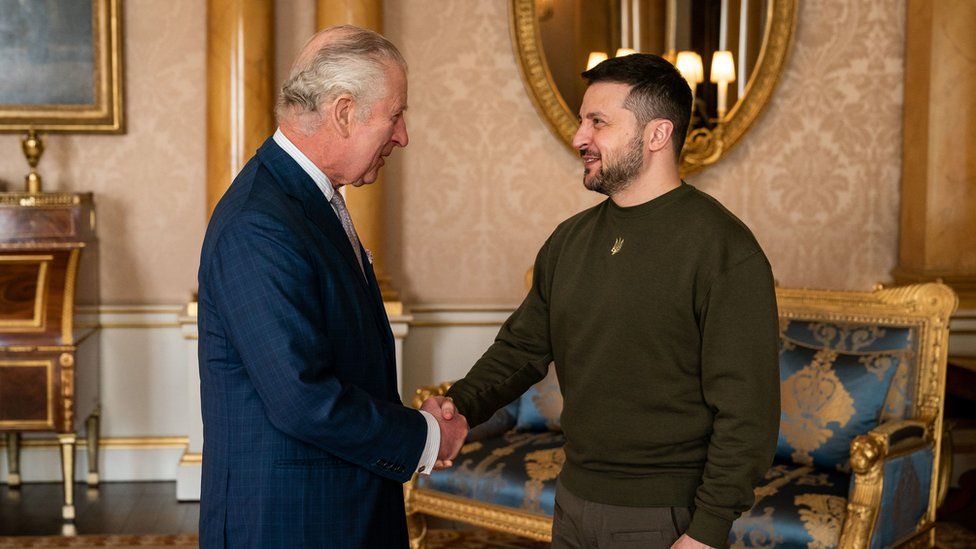 'The real deal'
Political reporter Brian Wheeler from Westminster Hall
"He's the real deal. You don't get many leaders quite like that in the world."
Labour's Stephen Doughty – like many crowded into Westminster Hall – was left with a sense of awe by President Zelensky's speech.
One or two were overcome with emotion, brushing away a tear as they listened to his impassioned words, delivered entirely in English.
For Mr Doughty, a member of the all-party Ukraine group, who has visited the country recently, it was Mr Zelensky's "V for victory" sign at the end of his speech that was the most powerful moment.
The president had made a reference to Sir Winston Churchill, as he often does when addressing a British audience.
But it was the fact Mr Zelensky was bathed in sunlight streaming through stained glass windows that are a memorial to those lost in two world wars that will stay with the Labour MP.
"The symbolism of that is incalculable," he said.