Sefton Council and a local MP opposed converting the resort into asylum accommodation.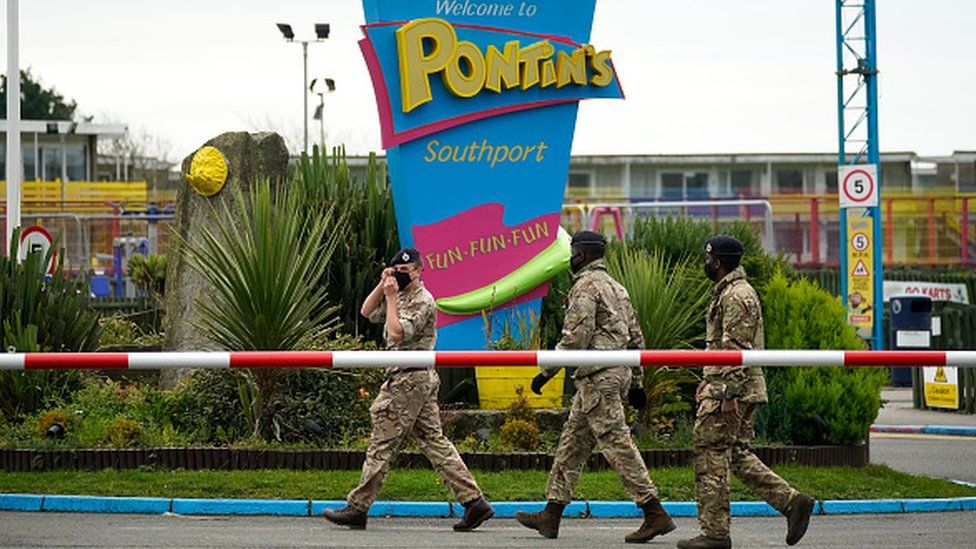 The government has abandoned plans to house asylum seekers in a Pontins Holiday Park on Merseyside, the local authority has said.
Sefton Council and Southport MP Damien Moore had opposed converting the resort in Ainsdale into asylum accommodation.
Ministers are searching for large sites to replace the costly use of hotels to house asylum seekers waiting for their claims to be assessed.
The Home Office said it would not comment on any individual site.
Sefton Council was approached by Home Office officials late last year about the Pontins Park, which is currently still operating as a holiday resort.
The authority is understood to have raised a number of objections, including the logistics of accessing the site and the impact on the local tourism industry.
"We have now been informed that the Home Office no longer wish to pursue plans to house Asylum Seekers at the Pontins site in Ainsdale. We are awaiting written confirmation of this decision," a council spokesperson said.
Privately, Home Office officials acknowledge they will face local obstacles to opening any new large-scale asylum accommodation.
But the BBC understands that discussions are now focusing on fewer than 20 potential sites considered viable.
The Conservative MP for Southport, Damien Moore, described the Pontins proposal as "completely inappropriate".
He said an influx of vulnerable families would have added further pressure on local children's services – which have been rated "inadequate" by the regulator, Ofsted.
Mr Moore also criticised the government for failing to communicate with him properly over a key issue affecting his constituency.
"MPs should be updated by Home Office officials on how discussions are going," Mr Moore said.
The government says it wants to end the reliance on hotels to house asylum seekers who are awaiting decisions on their claims, which the Home Office says is costing £6.8m a day.
Immigration Minister Robert Jenrick is trying to find larger alternative sites which he says will be cheaper – including former student halls of residence, holiday parks and surplus military sites.
But none has yet been given the go-ahead.
A plan to turn a former RAF base in Linton-on-Ouse in North Yorkshire into an asylum centre was scrapped last summer in the face of local opposition.
A Home Office spokesperson said: "The number of people arriving in the UK who require accommodation has reached record levels due to the unacceptable rise in small boat arrivals and our commitment to accommodate those from Afghanistan.
"We therefore continue to look at all available options to source appropriate and cost-effective temporary accommodation."