Deputy Prime Minister Dominic Raab is under investigation after being accused of bullying.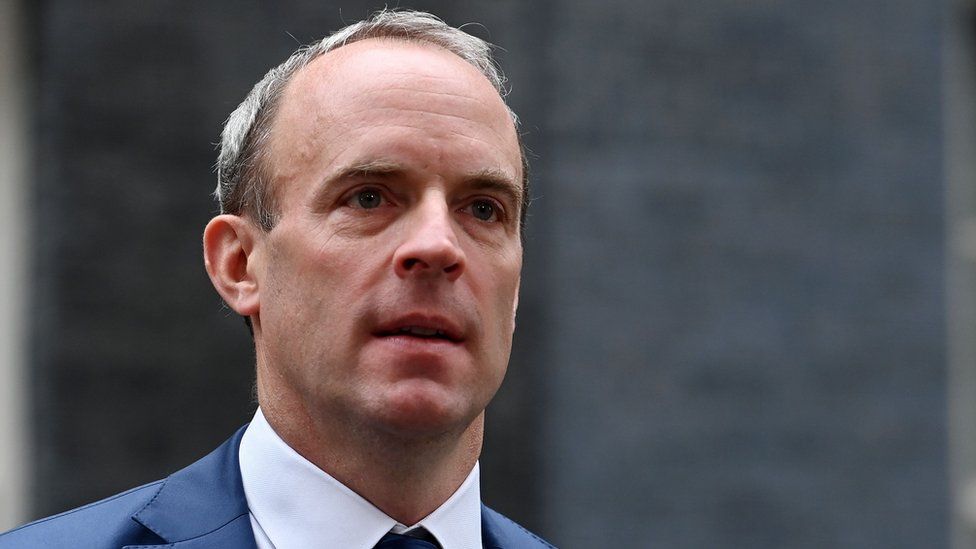 Another senior civil servant who worked with Dominic Raab has given evidence as a witness to the inquiry into his behaviour.
Both individuals ran government departments in which Mr Raab was a minister.
The investigation is looking at complaints of bullying by Mr Raab in several ministerial roles.
Mr Raab, who is currently deputy prime minister and justice secretary, has denied allegations of bullying.
Senior lawyer Adam Tolley KC was asked to launch the probe in November.
On Monday, the BBC reported that at least one permanent secretary who worked with Mr Raab had given evidence to the inquiry.
Now the BBC has learned another permanent secretary has also provided evidence as a witness.
Permanent secretaries are the UK's most senior civil servants who run government departments.
Mr Raab is facing multiple complaints from civil servants, who worked with him when he was foreign secretary, Brexit secretary and justice secretary.
It is understood Mr Raab has had an initial meeting with Mr Tolley but has not yet sat down with him for a substantial conversation about the allegations against him.
Mr Tolley's report is not expected to be completed for several weeks.
Privately, many Conservative MPs, including ministers, fear the allegations could yet cost Mr Raab his job.
One minister told the BBC "he should have gone ages ago", describing the situation as a "ticking timebomb", adding that Mr Raab was "totally unsuitable for high office".
Someone else who worked with Mr Raab said his behaviour was "arbitrary, pernickety" and he was "very hard on junior staff" and "extremely difficult to work with".
But one former senior civil servant who worked with Mr Raab said: "He was very professional to me."
He described Mr Raab as "incredibly hard working" and "very demanding".
"Being on the end of his expectations wouldn't be nice if you're not prepared for it. It's tough. There's perfectionism there," he added.
"He had a view how he wanted things done. He expected delivery but doesn't understand how to get it done."
Labour and the Liberal Democrats have called on Prime Minister Rishi Sunak to suspend Mr Raab while he is under investigation.
But Mr Sunak has said he will wait for the outcome of Mr Tolley's inquiry before taking any action.
Former Conservative cabinet minister Jacob Rees-Mogg said it was "completely sensible" for Mr Raab to remain in post while the investigation is ongoing.
Asked about the allegations against the deputy prime minister, Mr Rees-Mogg told Sky News: "I think we've got to be slightly careful about the bullying allegations.
"We mustn't be too snowflakey about it. People need to be able to say this job has not been done well enough and needs to be done better."
The comments were described as "outrageous" by the FDA union, which represents civil servants.
The union's general secretary, Dave Penman, accused Mr Rees-Mogg of "trivialising bullying that we know has ruined lives and careers".
Labour said Mr Rees-Mogg was "seeking to belittle the serious claims of bullying and intimidation" made against Mr Raab and "he should be ashamed of himself".
Mr Raab was justice secretary and deputy prime minister in Boris Johnson's government.
He was sacked by Liz Truss, who briefly replaced Mr Johnson at No 10, but was reappointed to these roles by her successor Mr Sunak.
Mr Raab previously served in the cabinet as foreign secretary from 2020-21 and Brexit secretary in 2018.
Last week, Mr Raab told the BBC: "I'm confident I behaved professionally throughout, and of course the government takes a zero-tolerance approach to bullying."
Mr Raab added that he was "always mindful of the way I behave" but made "no apologies for having high standards".