The Rail Delivery Group makes an offer to the RMT union in the ongoing dispute over pay and conditions.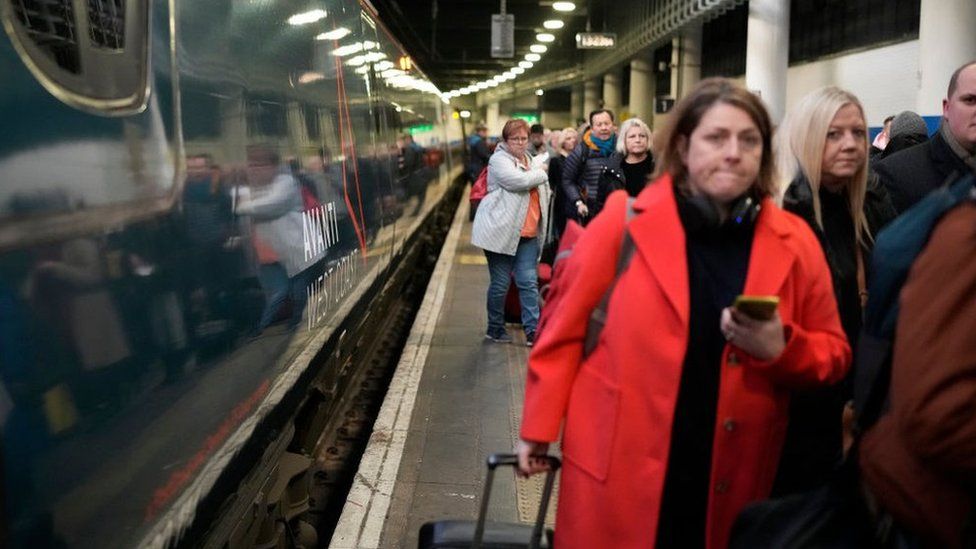 The group representing train companies in the rail dispute has made its first offer to the RMT union in a bid to stop strikes in the run-up to Christmas.
The latest round of strikes by RMT members at Network Rail and 14 train companies is due to begin in nine days.
The Rail Delivery Group said its offer includes a pay increase for staff of up to 8% over two years.
It urged the RMT to put the offer to its members to "remove the threat" of industrial action over Christmas.
In the ongoing row over pay, working conditions and job security for rail workers, industrial action is currently due to take place across four 48-hour periods on 13-14 and 16-17 December, and 3-4 and 6-7 January.
The RDG described the offer it made on Sunday is an "outline framework agreement", which includes a package of proposed changes to current working practices like repurposing or closing ticket offices, with staff having new multiskilled roles, and Sunday working where it is not in place already.
These would help to fund a pay rise for staff of 4% this year, backdated to the beginning of the financial year, followed by another 4% next year.
It also includes a guarantee of no compulsory redundancies until April 2024.
The group called on the union to avoid "upsetting the travel plans of millions and cause real hardship for businesses which depend on Christmas custom".
A spokesperson for the Rail Delivery Group said: "This is a fair and affordable offer in challenging times, providing a significant uplift in salary for staff.
"If approved by the RMT, implementation could be fast-tracked to ensure staff go into Christmas secure in the knowledge that they will receive this enhanced pay award early in the New Year alongside a guarantee of job security until April 2024."
If the RMT union accepts this outline offer, it would then go to individual train companies and local representatives to decide whether or not to accept it.
Other proposals by the Rail Delivery Group include a move to driver-only trains where possible.
The group said there would be opportunities for redeployment and voluntary redundancy programmes for those rail workers who wished to leave.
But this is separate to negotiations with Network Rail, which employs about half of the workers in the dispute.
Network Rail, which maintains the railways throughout Britain, first made an offer back in the summer and is still in negotiations to try to agree some areas of change which might allow its current pay offer to increase.
Those talks have been continuing over the weekend.
But it says that if strikes are to be called off, it will need to happen by the end of Monday to avoid disruption for passengers.