The Human Fertilisation and Embryology Authority finds a lack of Asian egg and black sperm donors.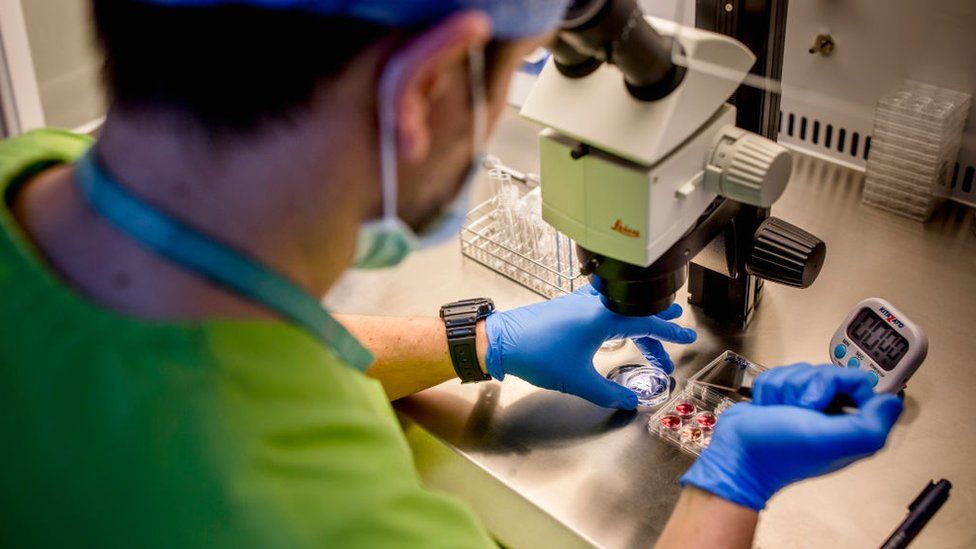 A report into the growth of egg and sperm donation in the UK has found a lack of ethnic diversity among donors.
Asian egg and black sperm donors were under-represented by 50% compared with the population, the Human Fertilisation and Embryology Authority (HFEA) found.
The number of babies born from donor eggs, sperm or embryos rose from 2,500 in 1993 to 4,100 in 2019.
Annual donor registrations also rose, from under 1,000 to over 2,300 – but so did the proportion of imported sperm.
The lack of diversity means mixed-heritage and black sperm has to come from abroad, although white and Asian is more readily available in the UK.
Julia Chain, who chairs HFEA, said she was "concerned" about people having to import sperm because using "online donors can be extremely risky".
UK clinics are required to complete health tests on donors and they must complete legal paperwork to make them aware of rights or responsibilities they might have in relation to a child born using their donation.
The UK also limits the number of times their eggs or sperm can be used, which cannot be guaranteed with imported donations.
'Having a West Indian donor is impossible'
Diane – not her real name – used a sperm donor from the HFEA's approved list of clinics to have her son in 2018.
The 45-year-old wanted one from a similar background to her, West Indian.
But she tells BBC News: "When I looked on the sperm bank, there weren't that many in my criteria.
"There were four [Asian donors], so I opened the search so I was able to pick a sperm donor from the big range.
"What it would have meant is that my child would have had a similar skin tone to me, my parents and my family.
"It would have been nice to have a donor from a similar ethnic background to myself but having a West Indian donor is almost near impossible."
Diane wanted a UK donor, who are not allowed to remain anonymous, her son, when he turned 18, could contact or even visit.
She adds: "I wanted to make sure there were stringent rules in place – for example, in other countries there could be hundreds of families using the same sperm donor."
The increased demand for donors, the HFEA says, is driven by:
singles
same-sex couples
people with genetic diseases
older people
Egg, sperm and embryo donation now accounts for one in 170 of all births and one in six IVF (in vitro fertilization) births.
In 2018-19, birth rates for IVF patients aged 43-50 rose from 5% when using their own eggs to over 30% when using donor eggs.
"Donating eggs or sperm has helped overcome heartache for thousands of people who might not be able to conceive a child," Ms Chain said.
"Over time, fertility preservation and treatment techniques have dramatically improved and this, along with changing social attitudes, has led to the birth of over 70,000 donor-conceived children since 1991."