The US comedian spent 10 days receiving treatment after being burned in a fire at his garage.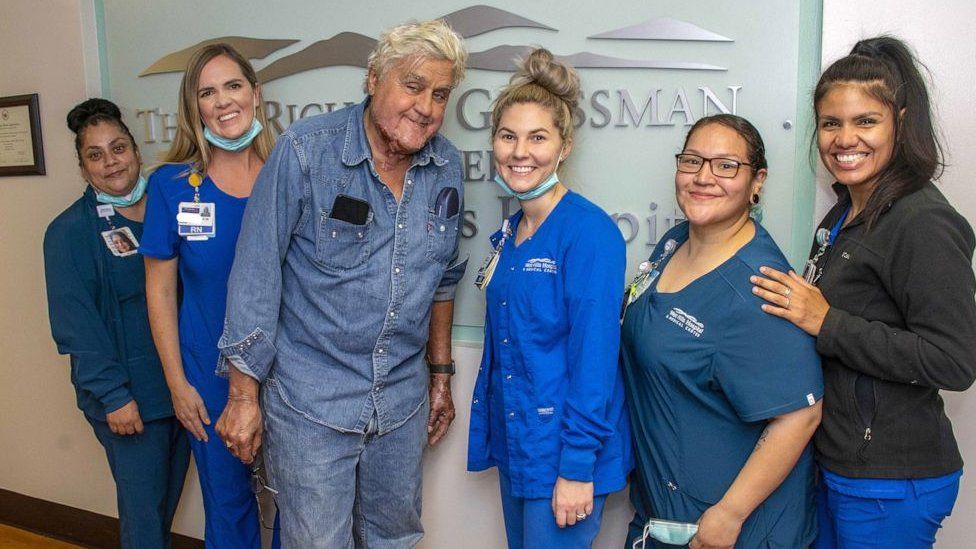 US comedian Jay Leno has been discharged from hospital after receiving treatment for burns suffered in a fire at his California garage.
Leno, 72, spent 10 days at a Los Angeles hospital after suffering injuries to his face, chest and hands.
He will continue to receive follow-up care and "is very appreciative of all of the well wishes" he has received, the Grossman Burn Center said.
Leno's doctor said he was pleased with his patient's progress.
Dr Peter Grossman, a burn and cosmetic surgeon, said he was optimistic the former Tonight Show host would make a full recovery.
The hospital also released a photo of Leno smiling with hospital staff, with injuries visible to his jawline, neck and hands.
Leno suffered serious and significant second-degree burns on 12 November in an explosion sparked while he was working underneath a vintage car in his garage.
He received two skin graft surgeries while at the burn centre but Dr Grossman has said Leno remained in good spirits, even making jokes and once handing out cookies to children also being treated at the burn unit.
Leno "is looking forward to spending Thanksgiving with his family and friends and wishes everyone a wonderful holiday", the hospital said on Monday.
The comedian left The Tonight Show in 2014. In 2015 he launched a TV programme called Jay Leno's Garage, where he drives rare and vintage cars with famous people.
In an episode last month, US President Joe Biden featured on the show, racing a 1967 Stingray Corvette at speeds of up to 118mph (190km/h).