The new order means the Infowars host has to pay $1.44bn after branding the school shooting a hoax.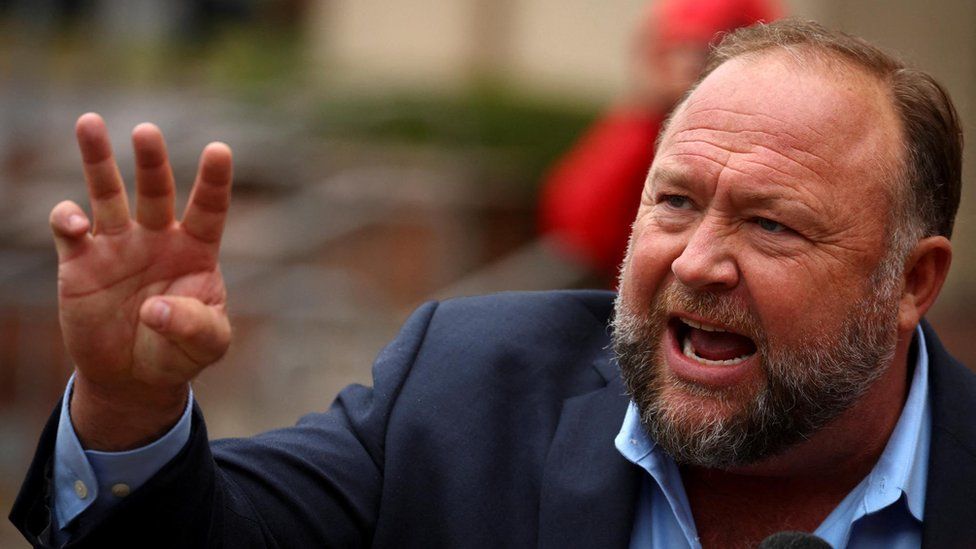 Conspiracy theorist Alex Jones has been ordered to pay an extra $473m (£405m) for falsely claiming the Sandy Hook school shooting was a hoax.
The Connecticut judge's order brings to $1.44bn the total amount Jones has to pay following the defamation trial.
Plaintiffs had asked for extra damages, citing Jones's "utter lack of repentance" and "historic" wrongdoing.
Jones now admits the attack in which 20 children and six adults were killed on 14 December 2012 was "100% real".
The case in Connecticut is one of three Jones is facing over the claims that the massacre in Newtown, Connecticut, was a "staged" government plot to take guns from Americans and that "no-one died".
He had called the parents of victims "crisis actors" and argued that some of them never actually existed.
In the Connecticut defamation trial, families of eight victims, and an FBI agent who responded to the attack, had sought at least $550m. They alleged the right-wing radio host's misinformation led to a decade of harassment and death threats.
The trial follows a similar case in Texas in August that saw Jones ordered to pay $49.3m in damages to other Sandy Hook parents.
Judge Barbara Bellis imposed the extra punitive damages on the Infowars host and his company on Thursday.
However, it is unclear how much money the families will actually receive, with Jones saying on Wednesday there "ain't no money".
He and his company have filed for bankruptcy protection in Texas, where a forensic economist has testified that he and his company are worth around $270m. Jones has disputed that figure.
Jones broadcast himself watching last month's verdict and scoffing at the court proceedings.
His lawyer Norm Pattis has argued for a new trial.
Jones still faces a third defamation trial over the Sandy Hook shooting that begins in Texas later this year.